Deobandi Jamiat-i-Ulama Hind forms RSS like Youth Clubs – Indian Media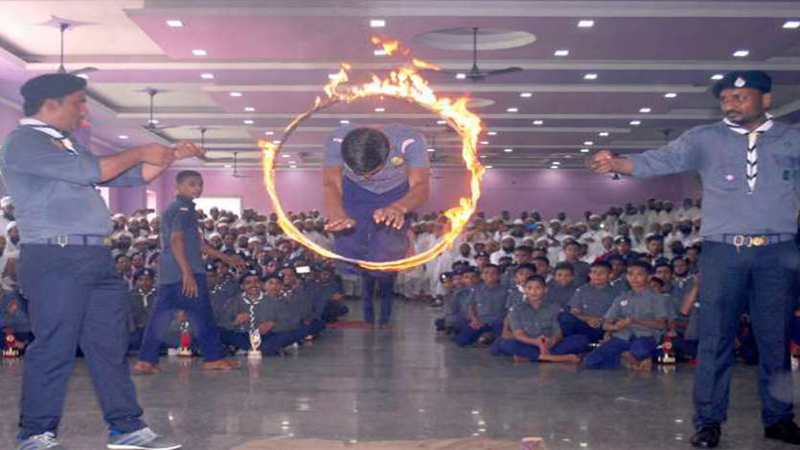 Note: In the current atmosphere of the alleged targeting of the minority community, country's leading Deobandi Sunni  organisation Jamiat Ulama-i-Hind introduced its pilot project 'Jamiat Youth Club' that will provide the young members the training in various self-defence techniques to deal with the crisis within the community.
Deobandi cleric Maulana Mahmoud madni, General Secretary of JUH inaugurated first JYC exhibition at Deoband Firdus Garden and said, ' "The Bharat Scouts and Guides is an organisation in our country that besides providing physical training, also works on youths' mental training… there is syllabus available with them, how to behave with your parents, how to live with your neighbours and help people in the need.'
Many Muslim and Non-Muslim intellectuals, writers criticized this step taken by JUH and they say that it may led to unwanted direction.
Our history also shows that such so called self defense organizations made by different sects had went towards more violent and sectarian path. Big example in our Indo-Pak Muslim history is of Khaksar Tehreek of Maulana Anyatullah Mashraqi. Then we can see transforming Majlis-i-Ahrar-ul-Islam into violent organization. Even Jamat-i-Ahmadiya also had formed its Self Defense Wing. This wing then was not also involved in terrorist activities against Muslim sects but its members went to Kashmir to wage so called Jihad and they committed heinous crimes against local population.
Some Deobandi clerics including Maulana Mazhar Ali Azhar, Maulana Abdul Shakoor set up such Self-defense wing of their Tehreek Madah Sahabah in UP and Punjab. Its Headquarter was set up in Lucknow city and that wing later involved Shia-Deobandi riots in 1929-30. Such semi-militant organizations set up by different sects in fact later transforms in full-fledged militant organizations.
Ram Puniyani is saying same things in his fresh article. We are producing it here because here in Pakistan some circles argue that minorities should start here self defense organizations to combat sectarian and faith base violence.
The violence against religious minorities has been on the rise during last few years. Many a reports tell us not only about the overall rise in the violence but also about the portents of violence orchestrated in the name of Mother Cow and nationalism in recent times. It has increased the insecurity among the religious minorities to no end; leading to ghettotization, which has started affecting the social fabric in very adverse way. It is in this background that the efforts of Jamiat-e-Ulama Hind to start youth clubs for self defense have to be seen and assessed whether this is the right step?
Maulana Mahmood Madani, the chief of the organization while telling about the efforts of his organizations gave an outline of the things to come. As per him the motto of the initiative is "to make youths capable of dealing with tough situations and help the country whenever there is a situation of crisis. He said that the outfit will provide training to the youths just like the Scouts and Guides." Reacting to this the likes of Vinay Katiyar and spokesmen of RSS related organizations said that this may promote violence and that this is an attempt to copy RSS model, but it will not work. While Madani focused on the training like that of Boys Scouts and Guides, the self defense logic may lead it to an unwanted direction.
Many a spokesmen from Muslim organizations have opposed this step of Jamiat by saying that Muslims have full faith in justice system and that giving safety and security to the citizens is the duty of the state. It's undeniable that the feeling of insecurity among the Muslim and Christian community has seen an unprecedented rise; with the coming of Modi Sarkar to power. As such it has been RSS and its progeny which introduced the training in wielding lathi (baton), guns in a systematic way. RSS shakhas began with lathis in their shakhas. The question is that time the major problem of Indian society was with the British rule. Could they have used lathis against British? No way! It was primarily for the use within the society itself.
From last few decades the Bajrang Dal and Durga Vahini have been given training in guns as well. All this has been done in the name of self defense! What comes to one's mind is that in post independence period we have the rule of law with Indian Constitution as the fulcrum of our values. Here we have police, judiciary for protection and justice. So what justifies the program of RSS combine in so called arms training? RSS is very fascinated with arms and every Dusshera day they worship armaments. They have an exhibition of armaments. There are reports doubting whether the police have information about these armaments with RSS, while they do hold license for that. While talking of non violence; RSS has glorified the arms and indulged in training the young boys and girls in these weapons.
On the top of this RSS affiliates have undertaken Trishul (trident) distributions. These trishuls, which have been distributed times and over again; have contributed to rise in hate sentiments. Trishul has religiosity associated with Lord Shiva and is blunt; while the trishuls distributed by these groups have sharp edges like knife. Legal positions apart; such 'self defense' organized by communities is a negative phenomenon.
Dilemmas of Muslim community and organizations like Jamiat are well taken. What should be the role of minority organizations in such troubled times? There are Muslim organizations which are opposing Jamiat's move. Community's plight cannot be saved by training some youths in techniques of scouts and guide, neither in copying the methods of RSS combine. What is needed is to call for proper implementation of justice and policing mechanism. Most of the communal violence reports tell us about the partisan attitude of the police and the lax attitude of political parties is the main reason for violence going up and up. Justice has not been delivered in 1984 anti-Sikh massacre; it might have given the major boost to the culture of impunity. In Mumbai Sri Kirshna Commission report was not implemented, boosting the trend of where criminal can get away, innocents suffer and justice is denied. In Gujarat violence, post Godhra, which took place right under the nose of the most efficient chief minster; nearly two thousand Hindus and Muslims were done to death, while state was accomplice in the violence.
The Jamiat leadership should think whether they are going in the right direction. Good intentions alone are not enough. Let's identify the core cause of violence. It's the Hate manufactured in society. Hate in turn has peaked to mountainous heights due to the misconceptions about the minority community enhanced lately due to abuse of social media in a systematic and planned way. Islam has been demonized as violent religion and Christians are looked down as converters. In Gujarat the travails of the likes of Teesta Setalvad, foremost human rights activist, tell us that getting justice is a humongous task. The need to counter the divisive propaganda done by our TV channels, done through section of media and spruced up by social media needs to be countered. The perceptions about our medieval period, freedom movement and all inclusive nature of Indian nationalism need to be taken far and wide.
What is needed is a broad alliance of those concerned about the security and protection of human rights of all. Right to life has lately been compromised heavily. All those working for preservation and promotion of rights of citizens need to come to uphold the basic Indian ethos of pluralism and the core values of Indian Constitution. Jamiat like organizations will do better by focusing on training the youth in the abilities to counter Hate by spreading the message of peace and love, by training them in countering the prevalent misconceptions against religious minorities and against weaker sections of society.
Source:
Deobandi Jamiat-i-Ulama Hind forms RSS like Youth Clubs – Indian Media
Comments
comments