The landmark corruption case against Nawaz Sharif provides useful excuses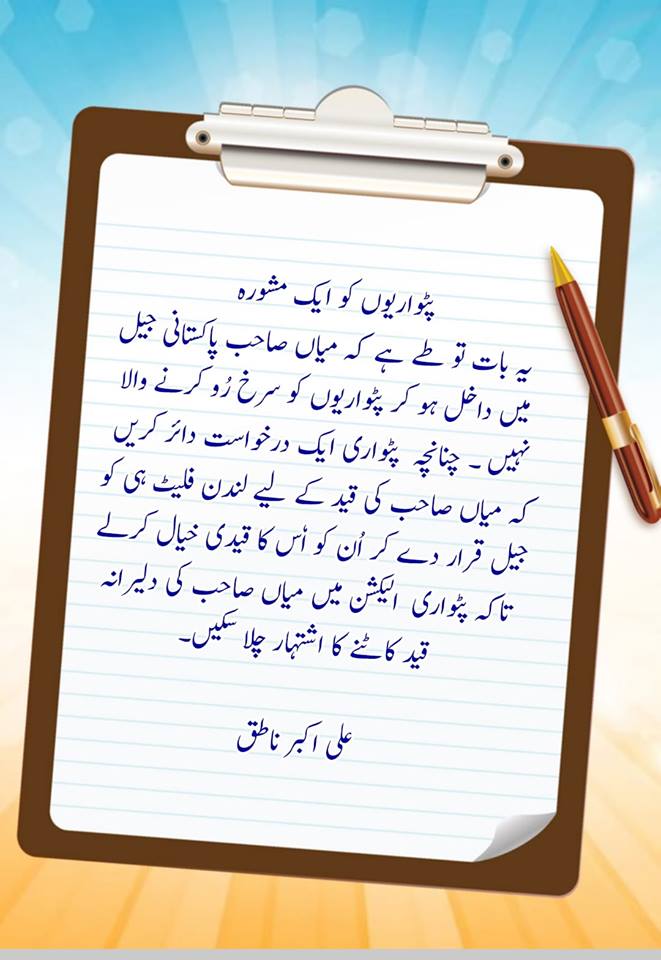 We all know that the Avonfield Apartments in Mayfair were purchased by the pre teen children of Nawaz Sharif in 1994. They earned these millions of pounds like any kid does in Pakistan – they set up Rooh Afza sherbet stands where Captain Safdar helped them chop the lemons.
The Sharifs are victims of the ISI ever since DG ISI Hamid Gul helped them rig the 1988 elections and Osama Bin Laden helped them with the 1990 palace coup against Benazir Bhutto.
In 2006 and 2013, DG ISI and then COAS General Kiyani requested Comrade lawyers and Comrade Taliban to help Comrade Sharifs.
In 2014, as the rest of Pakistan turned against the Taliban, Nawaz Sharif and Imran Khan competed on who could be more loyal to the Taliban – Imran Khan lost but then General Bobby betrayed them both by going after some Taliban. But Then General Bobby made amends by protecting Nawaz Sharif from protests and he was rewarded with a plum job by the Saudis.
In 2017, with the help of Comrades Cyril, Sethi and the gang, Comrade Nawaz Sharif rebranded himself as Che Nawaz and Maryam Nawaz invented Calibri font. And Captain Safdar cemented the "liberal-secular" legacy of Nawaz Sharif.
Last month, in 2018, ISI went rogue and caused heavy rainfall in Paris aka Lahore to make Sharifs look bad.
But don't worry, surveys published by companies linked to Sharif's show they will sweep Punjab – even as they barely have any ticket holders left in South Punjab.
Next time, if any of you ever get caught in embarrassing financial situations, blame invisible agencies. Get Mushahid Hussain, HH and Sethi to head your propaganda, Ooops, I meant advocacy. Latch on to a Movement. Blame the weather. Buy some liberals. Get them plum positions in private universities, VOA and corporate media houses. Make sure your London visas and Dubai permits are valid. Have some sick relatives and ministers to use as emotional props. Buy influence in some more corporate media houses. Blame the judiciary. Buy some more judges. Claim that you support "peace with India" even if you support Jaish and are sponsored by the same Kingdom that also sponsors the Taliban and LeT.
Don't worry though. Aunty Saudi and Uncle Sam will be there to ensure your safe exit and make sure you are with Aunty Teresa if the judges decide to go rogue. They will still leave you an out.
Comments
comments
Tags: Al-Qaeda, Commercial Liberals & Fake Liberals, Corruption, Friends of Taliban, ISIS Daesh ISIL, Nawaz Sharif, PMLN, Riaz Malik Hajjaji, Sipah-e-Sahaba Pakistan (SSP) & Lashkar-e-Jhangvi (LeJ) & Ahle Sunnat Wal Jamaat (ASWJ), Takfiri Deobandis & Wahhabi Salafis & Khawarij, Taliban & TTP, Terrorism