Lashkar Jhangvi Appeals for Funds to wipe out Shias from Pakistan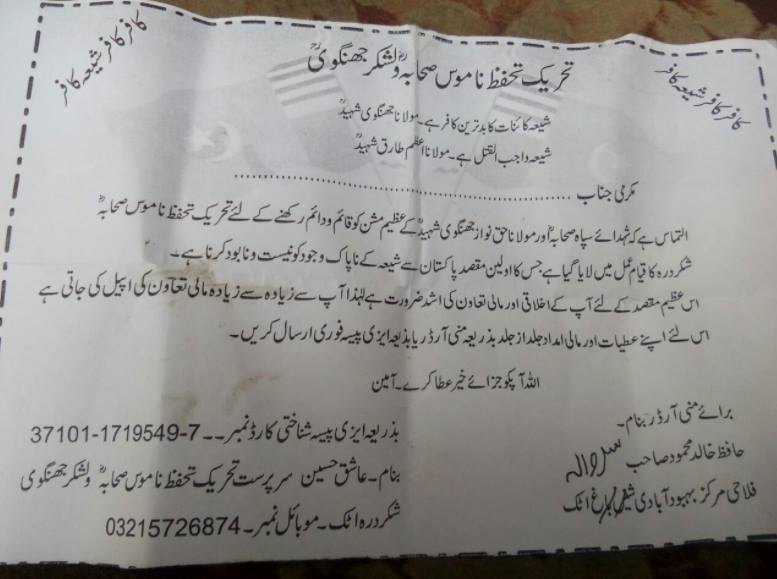 Hate and violent campaign is continuing against Shia community from Takfiri Deoandi network without any hurdle despite big claims of wiping out menace of terrorism made by Punjab government like federal and other provincial governments in Pakistan.
(So called) Tehreek-i-Namos-i-Sahabah wa Lashkar-i-Jhangvi( Movement for Protection of Companions of Prophet PBUH and Army of Jhangvi) has distributed a pamphlet in Attock district of Punjab. In this pamphlet funds appeal was made for the organization working for wiping out of shias of Pakistan. According to this pamphlet, founding father of organization Sipah Sahabah Pakistan-SSP/ Ahle-e-Sunnat-wa-Jamat-ASWJ( a Takfiri Deobandi terrorist organization is banned but only in papers) Haqnawaz Jhangvi's view was that Shia are worst apostates of this universe and third head of this organizations Azam Tariq had asked to kill all Shias and their killing is obligatory for every Muslim. This pamphlet was distributed in the area of Shakardra Attock district of Punjab having address to send donations through Money Order and also having National Identity Card number along with mobile number require for sending donation through Easy Paisa.
Distribution of this hatred pamphlet against Shia community in the area of district of Punjab once again proves that Punjab government led by PML-N has no objection on distribution of such hatred pamphlets against Shia community and has no problem with proliferation of Takfiri ideas by Takfirist networks emerged from Deobandi Sect. Takfiri Deobandi can distribute pamphlets and make fund appeals for strengthening themselves to run slow genocide campaign of Shia community in Pakistan.
ASWJ despite being banned is functional fully all over the country and has been registered in the Election Commission of Pakistan under new name Pakistan Rah-i-Haq Party and is planning to take part in elections 2018.
If a banned organization is registered under new name in Election Commission of Pakistan then how government can stop terrorist activities against Shia community?
Pamphlet has been written in Urdu and its text says:
"Shias are worst apostates of this world- Haqnawaz Jhangvi (Founder of Takfiri terrorist banned organization ASWJ/SSP/LeJ"
"To kill Shias is religious duty of every Muslim- Tariq Azam( Third head of ASWJ/SSP)"
(Two quotes are mentioned on top of pamphlet after name of the organization which distributed it)
Dear,
Thereek Namos Sahabah wa Lashkar Jhangvi has been established to fulfill mission of Martyrs for companions of Prophet PBUH and of Haqnawaz Jhangvi. Main and basic objective of this organization is to wipe out Shias of Pakistan. For accomplishment of this great and holy mission we need your financial and moral cooperation. We request you to give us more and more donations and to provide our organization more financial help. You can send your donations through Money Order or Easy Paisa.
God Bless you,
Address for Money Order: Hafiz Khalid Mahmoud Social Walfare Office Sarloa Attock
Through Easy Paisa:
CNIC: 37101-1719549-7
Mobile: 03215726871
To: Ashique Hussain(Patron-in-Chief TTSLJ)
Shakardra Attock District Punjab
Comments
comments