A curious Muslim boy's love for Christmas in Karachi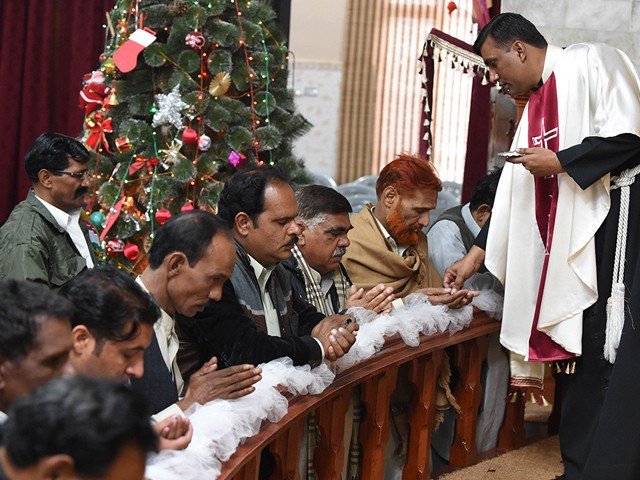 As a first grader, there are a few things that cause wonderment and excitement, and for me, the sight of a huge green decorated tree was right up there. It was just before the winter break and as I walked into the corridor in front of the classes, I saw it. To a six-year-old, the six feet tree looked impossibly large and beautiful bedecked with colourful balls, luminescent stars, tiny boxes that promised much and what looked to be real snow.
And goodness, was that candy cane on the branches!
I looked back at my father who smiled and quickly slipped a largish package to my teacher, Mrs Fernandes. She had kept us busy colouring snowmen, reindeers, jolly fat old men in red and snowflakes with which my class was festooned with. Sinatra sang "Jingle Bells" on the sound system and the principal greeted each student with a cheery "Merry Christmas"! It was Christmas day. That means candy, gifts and songs! Wow!
As the winter solstice rolls about and Karachi gets gusty and cool, my mind travels back to this particular moment. My elder sister was at Mama Parsi School and I was lucky enough to have parents who enrolled me and my younger brother in a missionary school which completed the academic multiculturalism. My institute, St Michael's Convent School, had been founded on the 125th anniversary of its big brother, St Patrick's High School through the efforts of Father Anthony Lobo who later became His Grace, Bishop Lobo. It was named after by the Archangel Michael who defeated Satan in the form of the Dragon of Evil.
Michael translates to "Who is like God" and the evil he slayed corresponded with ignorance and falsehood, an apt symbol for an academic institution. Back then, Michael's, as its alumni call it, was a proper missionary school with several nuns and friars involved in the administration. In fact, the principal was a French nun, Sister Monique, the kindest and gentlest soul I have met and who would start each day with a prayer for the people of Pakistan and extol us to work hard for God and the country. For a boy coming from a street school in Federal 'B' Area, it was heady and a steep learning curve but thanks to some rigorous home schooling program and luck, I managed to pull through.
Michael's had a semester system with exams taking place in the first week of December and come Christmas time, all of us would get busy in putting together the decorations for the big Christmas party. The package which my father handed to the principal was really my Christmas gift which Santa Claus would bring to me in the course of the proceedings.
How we would wait for Santa! He would take his time, poor guy, going class to class being jumped upon by 30 or so sugared-up kids clamouring to sit on his lap and take their gift. I remember the first time in first grade. We had seen his pictures and the idea was that it would be a white, apple cheeked man with blue eyes and lots of funny looking horses about which we had been singing about. To whet our appetite, one of the sports instructors, Mr Ariel, would keep poking his head asking whether we were ready for Santa, at which he would get a shrill and resounding affirmative.
Finally, I heard a loud "Ho Ho Ho!" and Santa bounded in with a jingling of bells but no horses, not even a tiny little fawn. The next shock was that Santa was dark and did not have blue eyes! Still, he had a huge bag and adults with bags overflowing with gift boxes can't be a complete disappointment.
He was sweaty in his warm suit and the beard kept moving about, but his bear hug and the huge gift more than made up for any appearance issues. I ripped off the wrapping and saw my present – a children set of bowling balls and pins complete with a wipe cloth and scoring sheet. After taking our gifts, each student had to respectfully thank Santa and offer him cookies. The bolder ones pulled his beard and ran off with his bag but were deftly put aside by the vigilant Mrs Fernandes. Like a desi groom, the poor man was doling out the good stuff for hours and was being forced to swallow sweets, which he kept doing because he did not want to disappoint a single child.
A few years later, I found out that Santa was the vice principal and was crestfallen. Thankfully, I was made of sterner stuff and in any case had had my suspicions ever since I saw "Santa" trying to adjust his dishevelled beard every few seconds.
After the distribution of gifts, the Christian students and staff would go to a tiny chapel on the top floor and have a little service. Fascinated with different cultures from an early age, I once sneaked into Mass one morning and walked away with a lasting appreciation of the lovely service.
Christmas at Michael's also meant carols which we learned in the music class with Mr Braganza. I can see him now, seated at the piano, fingers gliding over the ivory and ebony keys and coaxing us to get into some sort of rhythm. He was a natural musician and occasionally would sing something just to get the mood going, his voice a mix of Bing Crosby and Dean Martin. I wasn't much of a singer but Mr Braganza was kind enough to lavishly praise my high pitched "Frosty the Snowman" and put me in the singing choir. Unfortunately, my dreams of making it as a singer shattered with puberty and my clear soprano crumbled into a raspy bass, fit only for yelling out fares at a crowded train station. Still, the carols continued to be fun and we were taught to do a gentlemanly bow (or curtsy in case of females) at the end of each Christmas Day performance.
As I entered O'Levels, Christmas became an occasion to be invited to the home of a Catholic friend, Julian Pereira, where Aunty Catherine would serve a feast of Christmas goodies and Uncle Joe would regale us with stories of his youth and growing up in the Saddar of 70s. There, sitting next to a Renaissance painting of Christ, we would gobble down copious amounts of chicken vindaloo and bread pudding, humbled by the generosity of these wonderful people. After dinner, we would take a majestic and suitably festive Victoria carriage from Lucky Star, Saddar and go to one of the large hotels to see the Christmas tree. Ah, what joys we would have! Sometimes the carriage driver would allow us to take the reins and like lords of yore we would make our way into the hotel entrance, unencumbered by security checks or sniffer dogs.
With time, Karachi has changed and not always for the better. I don't hear carols being practiced or see trees being decorated. However, I can still count on friends to bring me a few slices of Christmas cake at work or even invite me over for a bit of Christmas cheer.
This year, I will take the family to Saddar to see the buildings lit up in shades of green and red and hopefully one of them will be blaring Sinatra. My dream has always been to attend Christmas Mass at Karachi's St Patrick's Cathedral and maybe one year I will be able to listen to the hymns I had heard as a curious little boy in a small room in my school.
In the meantime, I can decorate the small plastic tree in my home and like an overgrown Tiny Tim say,
"A Merry Christmas to us all; God bless us, every one!"
Source:
https://blogs.tribune.com.pk/story/31094/a-curious-muslim-boys-love-for-christmas-in-karachi/
Comments
comments
Tags: Al-Qaeda, Christmas, Commercial Liberals & Fake Liberals, Iraq, ISIS Daesh ISIL, Religious extremism & fundamentalism & radicalism, Sectarianism, Sipah-e-Sahaba Pakistan (SSP) & Lashkar-e-Jhangvi (LeJ) & Ahle Sunnat Wal Jamaat (ASWJ), Syria & Syrian Civil War, Takfiri Deobandis & Wahhabi Salafis & Khawarij, Terrorism