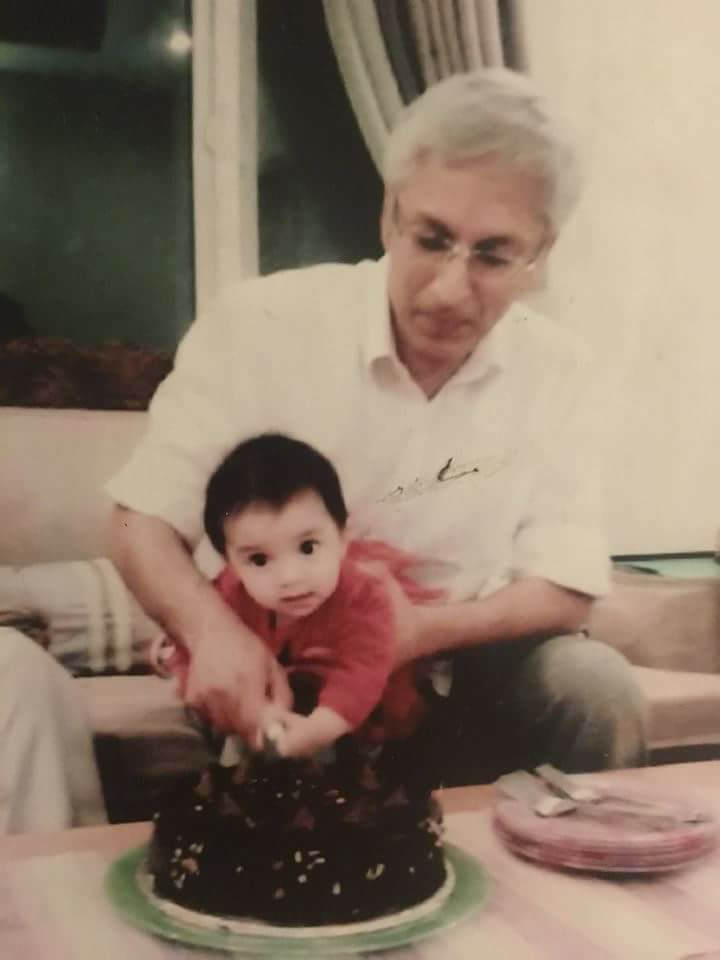 Note: Doctor Ali Haider, Professor of Optholmology was going to drop his 12-yars-old son Murtza Ali at his school, when he was attacked by Takfiri Deobandi terrorists and he and his son both shot dead. His widow Fatima Ali Haider has written this sad sorrow in happiness and happiness in sorrow providing letter, appeared on a page Grief Directory on Facebook. We are reproducing it here with courtesy to that page.
"Dear Ali Haider!
Writing to you on this special day as a document of what has been a year of change for all your loved ones: some of them very positive ones but some painful as well.
This year we lost daddy; during the last 20 years, I saw him recounting today's events, first with great pleasure and pride and then with sobs and tears; since he is not here today, I will share some of what I remember in keeping with his tradition; he would tell us how Bobo Ji (your paternal grandmother) sent a telegram from Pakpattan on that day when she heard about your birth. I still have that telegram saved somewhere as document for Bano and Asad in which Bobo Ji had expressed her desire to name you Qamar Haider; I remember teasing you that I would not have married you, had your name been Qamar Haider!!
Bano has learnt to write this year and her favorite word to write is BABA in Urdu; I see her repeating that word aloud many times after writing it as if trying to savour the taste of that word in an effort to feel you; I try controlling my tears and have done a fair job at it this year though it breaks my heart nonetheless.
Just to reassure you, Asad is growing into a very strong young man, still hurting but wise beyond his years and a huge source of support not only for me and Bano but also for both his grandmothers and his aunts, following in your footsteps. I am very proud of him.
I am enclosing two pictures with this letter; one of your last day where Bano is in your lap cutting the cake; this year has been one of painful questions and answers for me and Bano; because this year she has started asking the questions which I have been dreading all along but still knew were inevitable; that when will you and Murtaza come home and why couldn't we call you and why God Almighty doesn't have a cell phone so we could talk to you; mustering up all my courage, I told her that you and Murtaza won't be coming back and that talk to you was not a possibility; then in an effort not to break her hopes and her heart completely, I told her that we will go and meet you one day; she replied by asking me when; in response to this, we then made a list of all the things we had to to do before we joined you and Murtaza; that she has to grow up, get education, be a professional, get married, have children and then raise them and then perhaps one day we will come and meet you. With a spark of hope in her eyes, she then dropped the subject.
The second picture is from today to document the journey of these last five years of celebrating your birthdays without you. I told her that it was your birthday the next day. She repeated the word Baba a couple of times and then said, 'Happy Birthday Baba' as if she sensed you somewhere around her. For her to remember your birthday as a day of happiness, I took her to her favorite play area.
Although one of the resolutions of this year has been not to dwell in the WOULD HAVE BEENS but on this very special day, I take the luxury to do that. I wish you were here today so that Bano could sit in your lap and cut the cake and so Asad could hug his 'Ga Ji' as he used to call you. And for my sake, I wish Murtaza had been here too so I could give him one more hug…
HAPPY BIRTHDAY ALI HAIDER!!!!"
– Fatima
Comments
comments