Why remain a petro-puppet?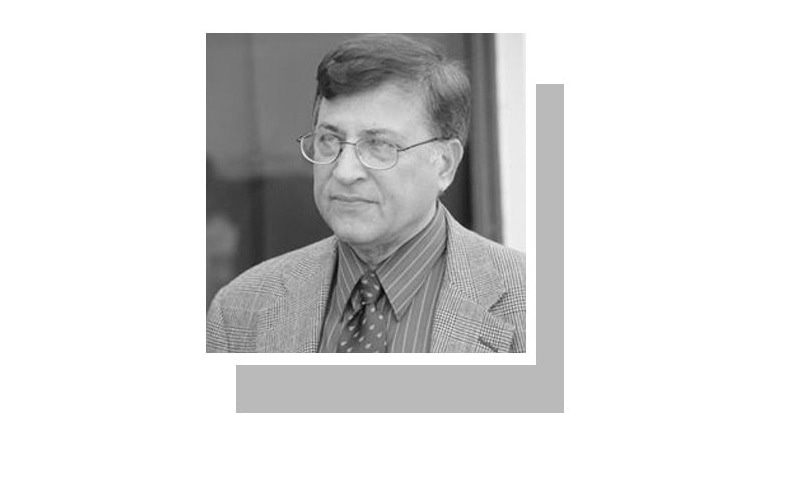 NOW that Qatar is being choked of food and water by a Saudi-led coalition of five Arab countries, Pakistan must once again ask itself why it belongs to the wider Saudi-led so-called Islamic Military Alliance of 41 Sunni-majority countries. Popularly known as the Islamic Nato, IMA is headed by ex-hero retired Gen Raheel Sharif. Ostensibly a counterterrorism coalition for fighting the militant Islamic State (IS) group, in fact IMA is a Saudi-American-Israeli instrument squarely pointed at Iran.
Lingering doubts of the IMA's actual purpose disappeared after President Donald Trump's speech in Riyadh last month. Announcing a whopping 110-billion-dollar sale of weaponry to KSA, Trump singled out Iran as the world's sponsor of terrorism: "From Lebanon to Iraq to Yemen, Iran funds, arms, and trains terrorists, militias, and other extremist groups that spread destruction and chaos across the region. For decades, Iran has fuelled the fires of sectarian conflict and terror."
To Israel's delight, CIA director Mike Pompeo thoroughly agrees. Soon after being appointed by Trump, he castigated Tehran for being "intent on destroying America" and tweeted that he was looking forward to "rolling back" Obama's "disastrous" nuclear deal with Iran. He wants regime change in Tehran: "Congress must act to change Iranian behaviour, and, ultimately, the Iranian regime."
Here's why being a member of IMA is bad for Pakistan and why we must withdraw immediately.
First, we don't have a dog in the fight. Whereas Trump's tweet that Qatar's isolation could mark the "beginning of the end to the horror of terrorism" must please KSA, we Pakistanis know otherwise. As KSA's obedient puppets, Maldives and Mauritania cut ties with Qatar but it would be stupid for us to, for example, ban Qatar Airways from Pakistani airspace.
Feuds between Bedouin tribes and inter-Arab brawls are not our business. It matters hugely to KSA — but not at all to us — that the largest mosque in Doha (Qatar) is wrongly named as the Shaykh Muhammad ibn Abd al-Wahab Mosque. Nor do we care that an unnamed Qatari prince is right or wrong in claiming Abd al-Wahab as his great grandfather.
Pakistan did wonderfully well when parliament unanimously voted in April 2015 to decline a military role in KSA's war against Yemen, the poorest country of the Arab world. Over the next 18 months, the Saudi coalition, supported by the US and the UK, killed at least 10,000 Muslims. According to the United Nations human rights office, "The coalition has unlawfully attacked homes, markets, hospitals, schools, civilian businesses, and mosques." Most casualties have come from coalition air strikes.
Unfortunately, after briefly standing up, our government lost nerve. To soothe an irritated octogenarian Saudi monarch and his angry princes, our prime minister, chief of army staff, minister for defence, foreign secretary and various high officials had to scurry to Riyadh while wearing contrite expressions. If they had moral courage they would not have so panicked. Sending Pakistani troops to kill and be killed in some overseas civil war is wrong, and no quantity of free oil or fat bales of cash can make it right.
Second, Pakistan must not commit itself to either side of the Muslim world's bloody Shia-Sunni sectarian divide or make more enemies. The Persian-Arab conflict goes far back in history. However it is equally a battle for regional influence. Iran is an insurrectionary, revolutionary power with Iranian mullahs openly calling for the overthrow of all monarchies. On the other hand KSA, which relies on American weapons and imported soldiers, wants to maintain and extend its hegemony.
The Saudi-Qatar conflict is evidence of a power tussle, not a sectarian divide. Officially, Qatar is a Sharia state run according to Hanbali law, but both Shia Iran and Sunni Turkey are breaking KSA's blockade by rushing water and food to fasting Qataris. Turkey's parliament has just approved the dispatch of 3,000 troops to bolster Qatar's defences.
Third, Pakistan must not side with a country that works relentlessly to prevent modernisation of the Arab world. No Muslim country is more socially and culturally regressive than Saudi Arabia. Although KSA and IS are now bitter enemies, they share identical world views. Neither, for example, believes in democracy. To preserve the legitimacy of the ruling family, Saudi ideology insists that Wahabism — which frowns upon democracy — is the only true Islam. Calling for democracy in KSA can send you to prison — or perhaps even to the chopping block.
Fourth, being part of the Saudi camp takes away from Pakistan's traditional support for Palestine. Indeed, one part of the Saudi-Qatar feud is that the kingdom wants Qatar to cut ties with Hamas, which it has so far refused. Whereas Hamas has used terrorist tactics that cannot be justified, it is effectively now the only force that resists Israeli occupation.
Fifth, bowing to petro-power has diminished Pakistan's self-esteem. Whereas we insist upon calling Saudis our brothers, Pakistanis in KSA are called miskeen — alms seekers. Many Pakistani labourers there experience terrible abuse. Official Saudi statistics say that in 2012-2015, 243,000 Pakistanis were deported with another 40,000 over four months this year. Human Rights Watch and other rights organisations say mass deportations often involve illegal beatings and are largely over matters of unpaid wages, contract violations, etc.
Saudi disrespect is not reserved exclusively for poor Pakistanis. Our prime minister had to listen glumly to Islamophobe Donald Trump — famed for stoking anti-Muslim hysteria — as he lectured on Islam before a Saudi-invited audience. Together with 30 other Muslim heads of state, Mian Nawaz Sharif had been asked to listen but not speak. The subsequent token apology did not lessen Pakistan's humiliation.
Pakistan must declare absolute neutrality in the Saudi-Iran conflict by immediately quitting the IMA. The recent attacks on key targets in Tehran — claimed by IS but which Iran's Revolutionary Guards blame on KSA — makes this ever more urgent. The recruitment of Pakistani mercenaries to fight wars for KSA must stop and Gen Raheel Sharif must be ordered home immediately. If he is keen about fighting terrorism, there's plenty for him to do here.
Source:
https://www.dawn.com/news/1338527/why-remain-a-petro-puppet
Comments
comments
Tags: Al-Qaeda, ISIS Daesh ISIL, qatar, Religious extremism & fundamentalism & radicalism, Russia, Saudi Arabia KSA, Sectarianism, Shia Genocide & Persecution, Sipah-e-Sahaba Pakistan (SSP) & Lashkar-e-Jhangvi (LeJ) & Ahle Sunnat Wal Jamaat (ASWJ), Syria & Syrian Civil War, Takfiri Deobandis & Wahhabi Salafis & Khawarij, Taliban & TTP, Terrorism, United States of America (USA)