London attack linked to hate preacher Anjem Choudary's extremist network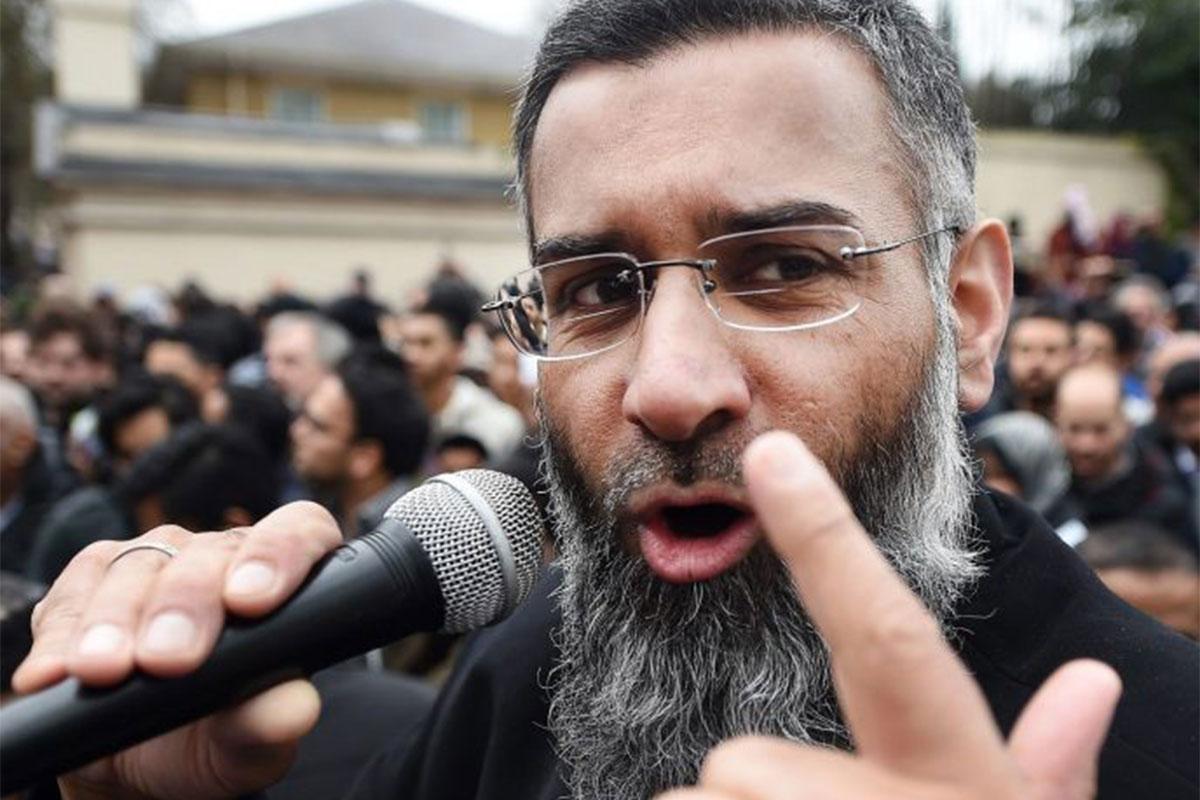 Very interesting things are coming in British Press after #LondonTerroristAttack on growing radicalization among British youth. British Press is publishing follow ups on daily basis and major focus of British Press is on banned group Al-Muhajiroun and its jailed leader Anjum Choudry.
Al-Muhajiroun is banned but its leaders and members are working under different cover names and they are busy in radicalizing young British Muslim Youth. They use Deobandi and Salafi Islamic centers, Mosques, Tableghee Centers and educational institutes, mostly funded by Saudi Arab and other Gulf states.
Anjum Choudry a Pakistani borne British citizen started his extremist religious career first from #SSP and then he moved to Briton and here he and other many activist of #SSP aka #ASWJ hosted Tariq Azam and other main leadership of #SSP.
Anjum Choudary then came close to Syrian Salafi Jihadi cleric Umar Al-Bakari and he is founding members of Al-Muhajiroun. We can now say that Al.Muhajiroun's modes operandi is same to #ASWJ. Anjum Choudry many years saved himself from prison while showing himself just a fiery radical orator and preacher.
Mr Deen a Sunni Muslim scholar in London tells us that the line between non-violent and violent extremism has been blurred. What we're seeing is the aftermath of two decades of grassroots movement of the Wahhabi Deobandi so called Islamist Ideology under the banner of Al-Muhajiroun.We're seeing reverberations of young Muslims being attracted to these calls to violence…often when followers are non-violent it is not because they don't believe in it, but as a form of strategy.Former leaders of Al-Muhajiroun do not carry out attacks themselves because it is "strategically important" to stay out of prison and continue propagating messages in support of violence.
(Same modes operandi is adopted by many leaders of #ASWJ #Jud and other Wahhabist Salafist Deobandi network in Pakistan who do not carry out terrorists attacks themselves but radicalized the people through their hate speech and lead them toward violent terrorist acts).
Mr.Deen added more that Choudary, a former solicitor, as "very au fait with the law" until he was finally jailed last year, while several close associates remain at large under bail conditions restricting their communications and social media use.Among them is Shamsuddin, who has been arrested numerous times on terror charges but has so far evaded jail.He succeeded Abu Rumaysah, real name Siddhartha Dhar, as the extremist group's leader after he skipped bail and took his family to join Isis in Syria in 2014.Rumaysah became prolific for taunting British authorities on social media and posting photos of his children with Isis flags and guns, and is believed to have appeared as the masked British militant in a 2016 execution video following the death of Jihadi John.Another key member of Choudary's network is Abu Haleema, a hate preacher who admitted communicating with a teenager who plotted to behead police on Anzac Day in Australia.
Fusilier Rigby's killer, Michael Adebolajo, joined protests alongside Choudary and other terrorists linked to al Al-Muhajiroun include 7/7 bomber Mohammad Sidique Khan, Mike's Place attacker Omar Khan Sharif, Kashmir suicide bomber Bilal Mohammed, Territorial Army petrol bomber Amer Mirza and the men behind plots to attack Royal Wootton Bassett and the London Stock Exchange.
Research by the Henry Jackson Society (HJS) think-tank found Choudary and his associates have "inspired more than 100 British jihadis", including a quarter of all Islamist terror offenders in the UK between 1998 and 2015.
Mohammed Shafiq, chief executive of anti-extremism group the Ramadhan Foundation said he had reported Choudary "many" times before he was imprisoned, as his followers staged provocative protests and spread extremist propaganda calling for an Islamic state governed by Sharia law.
"They're all the same clique," he added. "They were part of al- Muhajiroun and when that was banned they set up a lot of other groups under different names…glorifying terrorism."
He was critical of claims by Theresa May that there was "far too much tolerance of extremism" in the UK, adding: "British Muslims have been so intolerant of Choudary and his cronies, but police and intelligence agencies have done absolutely nothing.
( Here in Pakistan we can see that Hafiz Saeed of #Jud is house arrest but his comrades are freely roaming to propagate Jihadist ideology and collecting funds. Thy are setting up camps for fund raising in the month of Ramadan despite a ban on collection of funds in public places and this ban is fully implemented in case of MQM and Sufi Sunni organizations. All leadership of #ASWJ is free and some circles in mainstream media are busy in their image building and project of mainstreaming of banned outfits is being run by Government. Senator Saleh Shah from Fata South Waziristan had revealed in Senate that TTP so called pro pakistani factions, had opened their offices in Southern KPK and in FATA and Government was doing nothing. last week a letter from Deobandi clerics of Baluchistan was written in which a appeal for funds collection for Afghan Taliban.)
Note: This article is based upon stories appeared on official website of newspaper daily Independent.
http://www.independent.co.uk/…/london-attack-bridge-borough…
Comments
comments
Tags: Al-Qaeda, ISIS Daesh ISIL, Religious extremism & fundamentalism & radicalism, Russia, Saudi Arabia KSA, Sectarianism, Shia Genocide & Persecution, Sipah-e-Sahaba Pakistan (SSP) & Lashkar-e-Jhangvi (LeJ) & Ahle Sunnat Wal Jamaat (ASWJ), Syria & Syrian Civil War, Takfiri Deobandis & Wahhabi Salafis & Khawarij, Taliban & TTP, Terrorism, UK, United States of America (USA), Yemen