Media characterisations during the Sehwan terrorist attack may have been exaggerations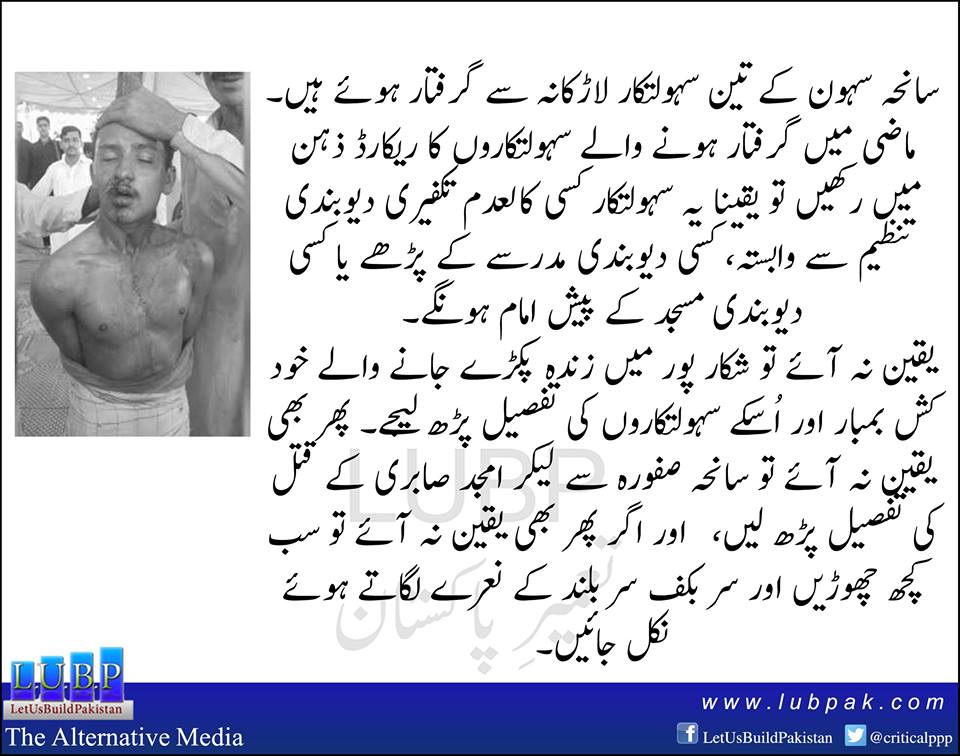 "Some (probably most) of the media characterisations during the Sehwan terrorist attack may have been exaggerations"
Immediately after the tragic attack on the Lal Shahbaaz Qalandar Mausoleum, those with the agenda to distort, deflect and obfuscate got into motion. Instead of holding to account the actual perpetrators, i.e., the Deobandi terrorist group Jamaat ul Ahrar/ASWJ, the spinmasters picked the easy target which is the PPP provincial government. Any mention of the brazen and boastful terrorist group, Jamaat ul Ahrar and their links with the Saudi-funded Deobandi madrassas was ignored and swiftly pushed into the background.
Pakistan's budding "Facebook Malcolm Xs", professional activists and Outrage specialists started blaming the lack of medical facilities available to the hundreds of wounded victims. For this they limited their blame to the easy target of the PPP provincial government while avoiding any mention of the Federal PML N government whose leaders and senior ministers like Chaudhary Nisar Ali Khan openly back the terrorists responsible for this and other mass atrocities in Pakistan, Afghanistan and India.
The PPP government no doubt deserved some of the blame for its capitulation to the Deobandi hate factories managed by parent organizations like the JUI. However, those selectively bashing the PPP (and at other times, the PTI) loose their wits and tongue when it comes to taking on the PML N government, establishment, judiciary and media whose combined role in promoting the Takfiri menace is far greater. Pakistan's (often times well-paid) outrage professionals are masters at deception and knowingly given in to ALPS (Acute Lack of Proportion Syndrome)
More often than not, these Facebook Malcolm X's and Outrage Professionals are proven to have lied. Not many people hold this herd to account but we must all do our part. This detailed report in DAWN (Reporter's Notebook: After the Blast", Maleeha Hamid Siddiqui, March 5, 2017) lays bare the lies that were peddled by professional activists like Jibran Nasir and then spread across social media.
Excerpts are provided below for those who want to gauge the perfidy of Pakistan's Fake Liberal Mafias. This report is recommended for those who want to go beyond the shallow, sectarian obfuscations of Pakistan's Sufyani liberals. The Sufyanis will never mention the central role of Imam Ali Ibne Abi Talib; as jealous and discomforted they are of the significance of Imam Ali and the Holy Prophet's family in spiritual Sufi traditions.
From their shamelessly selective outrages to events occuring in Pakistan to their pathetic pandering to the pro Al Qaeda narratives peddled by neoliberals on Yemen, Syria, Iraq and Libya, this is one lot that needs to be held to account for their serial dishonesty.
"Dr Moona Soomro shudders at the memory of February 16. "It was the day of judgement," she says. On duty that night, she thought a transformer had exploded. "A few minutes later ambulances started bringing in dead bodies, women with torn clothes and injured toddlers."
But television channels reported there were no ambulances and they had to be called for from other cities, I ask. "That is untrue. Our hospital's ambulances rushed at the site. Other private hospitals and NGOs also sent their ambulances. Doctors and paramedical personnel of entire Sehwan also came to help," she replies.
Looking forward to meet the injured victims of the blast, we are told they have been discharged. The ones with serious injuries have been shifted to hospitals in Nawabshah, Jamshoro and Karachi."
"To the relief of my friends, the shrine musicians have survived the attack. A group of men surround the tomb beating their chests, chanting in praise of Hazrat Ali and Lal Shahbaz Qalandar."
"Our first stopover is the Taluka hospital. The hospital was much maligned on television channels for its incapability to handle the blast victims and the absence of ambulances. The criticism was particularly harsh since Sehwan is the constituency of the current chief minister of Sindh. Entering the arched entrance of the renamed taluka hospital, Sayed Abdullah Shah Institute of Medical Science Sehwan (SAIMSS), I am surprised to see the large premises. I had imagined a small healthcare facility."
Comments
comments
Tags: Chaudhry Nisar Ali Khan, ISIS Daesh ISIL, Jamaat-ud-Dawa (JuD) and Lashkar-e-Taiba (LeT), Lal Masjid (Red Mosque), PMLN's support to ASWJ LeJ Taliban AlQaeda LeT, Riaz Malik Hajjaji, Saudi Arabia KSA, Sectarianism, Shia Genocide & Persecution, Sipah-e-Sahaba Pakistan (SSP) & Lashkar-e-Jhangvi (LeJ) & Ahle Sunnat Wal Jamaat (ASWJ), Takfiri Deobandis & Wahhabi Salafis & Khawarij