Pictures tell a story – by Muhammad Aamir Hussaini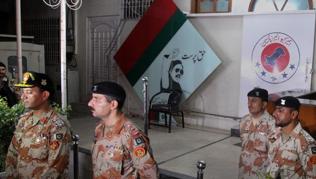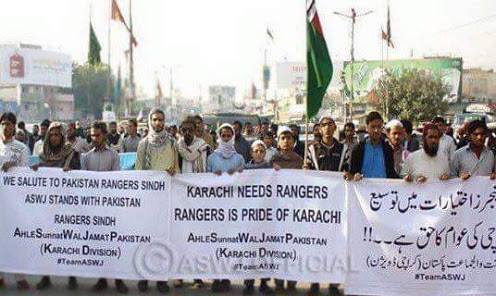 Three pictures above tell a story.
In first we can see rangers officials in head office of MQM which was sealed. Such scene we will never see in head office of declared banned organization #ASWJ aka banned #SSP. This rangers did not storm in offices of JI when its Amir gave statement against Pakistan Army or members of Al-Qaeda were arrested from houses of senior members of Jamat–i-Islami. Rangers raided on head office of Sunni Tehreek of Sunni Barelvi organization.
Farhatullah Baber's statement is on the record in which he had called Rangers as discredited organization after sending fake report of a dubious NGO about non-violation of human rights in Karachi during operation.
In second picture we can see banned organization ASWJ's rally in support of rangers in Karachi. Rangers always provided security to illegal rallies of this banned organization as FC provides security to Baluchistan chapter of this banned organization. Third image is of list of proscribed organizations submitted by federal Interior Ministry and NACTA to Supreme Court.
Where are our so called law abiding citizens who are shouting against Altaf Hussain, Harbiyar Marri , Karima Baloch, Brahamdagh bugti, Dr. Allah Nazar and against all those dissenting voices who show us those ugly scenes of Pakistan which are being created by state institutions.
One is my friends from moderate Sunni community reveals that Rangers in Sindh does not go after ASWJ or raid on head office of ASWJ because DG Rangers Bilal Akbar is former student of Deobandi religious seminary Jamia Ashrafia as he admitted himself during his speech in notorious Takfiri Fascist Deobandi seminary Jamia Banoria Karachi.
Why is commander of Pakistan Army in Karachi Naveed Mukhtar is silent on activities of a declared banned terrorist organization?
Comments
comments