British Pakistani woman murdered by her parents for converting to Shia Islam – by Aba Reja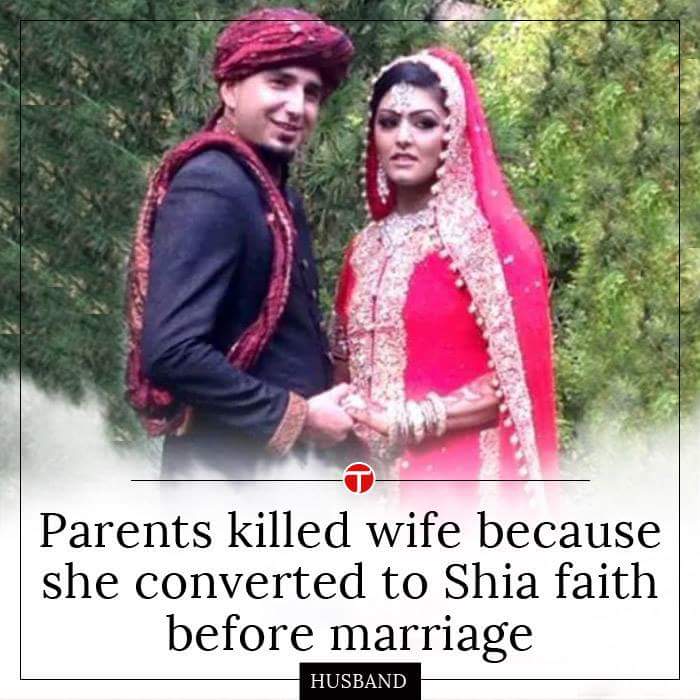 The wife of a Shia British Pakistani citizen has alleged that his wife, who recently 2 years ago converted to Shia Islam, was murdered for honour by her own family during a visit to her family village near Jhelum, Pakistan. At an emotional press conference, her widowed husband Mukhtar Kazam, presented a copy of the post-mortem report into his wife Samia Shahid's death — seen by AFP — which said the 28-year-old had marks on her neck, suggesting she had been strangled.
Speaking to the international media Mr Kazam sought to keep international attention on this apparent case of "honour" killing stating "I request the British and Pakistani governments to conduct a fair trial".
Suspicion that the victim's family is involved can be clearly deduced from a number of circumstantial and physical evidence.
The post-mortem report stated that she had a bruise on her neck which doctors say suggests she was strangled to death.The report found that "there is a horizontal mark on right hand side of the neck of reddish discolouration," according to The Telegraph. A long bruise around the neck a few millimetres in width can be seen in the photographs included in the report.
Shahid's father has denied the charges and said he did not want an investigation, claiming his daughter died of natural causes.
The husband is boldly making this claim while alleging that her parents were unhappy with his wife's divorce from her first cousin and her subsequent conversion followed by marriage to him.
The husband alleges that she was tricked into returning to Pakistan by her relatives in order to be killed as they falsely claimed that her father was physically unwell.
Per the FIR as reported by the media, the victim's family members buried her without knowledge of the husband.
The victim's family is per some media reports even denying that she was married to Mr Mukhtar Kazam calling it a sham marriage only done to obtain British citizenship.
Given the above revelations, it is highly unlikely that the husband would go to such extreme lengths just to raise awareness and draw attention of the international media if his arguments were malicious. The fact that this case involved a dual national is some reassurance as overall there is general confidence in the British criminal judicial system especially as it has in the past adeptly prosecuted cases involving dual nationals.
It is also highly suspicious why the victim's father per media reports denies any wrongdoing and alleges his daughter of good health suddenly died of natural causes at such a young age.
Meanwhile, Chaudhary Shakil, the former husband of the deceased and nominated suspect in the FIR, has got an interim bail from the Rawalpindi bench of the Lahore High Court till Aug 6.
Two other suspects in the case, Ms Shahid's father Chaudhary Shahid and cousin Mobin, joined the investigations on Wednesday and recorded their statements before senior police officials.
Bradford West MP Naz Shah has written to the prime minister of Pakistan, Nawaz Sharif, asking for Mrs Shahid's body to be exhumed. Ms Shah said she became involved in the case after she was contacted by a concerned constituent. She said on Tuesday: "I'm not going to rest until I'm satisfied I know the cause of her death."
In Pakistan the victims of "honour" killings are overwhelmingly women, with hundreds killed each year. They have long polarised Pakistan, with progressives calling for tough legislation against them and conservatives resisting. Only recently another case of honour killing of the popular icon Qandeel Baloch has shocked Pakistani society far and wide.
Although "honour" killings are often carried out due to ethnic, tribal, familial, and other reasons, in this case the sectarian dimension is quiet disturbing as Jhelum is an area of Pakistan with a long history of intolerance and widespread sectarian violence propagated against its Shia muslim community and the daughter is known to have converted to Shia Islam prior to marrying her husband.
http://tribune.com.pk/…/1…/police-hunt-killer-british-woman/
http://tribune.com.pk/…/british-woman-found-dead-pakistan-…/
http://tribune.com.pk/…/dig-punjab-investigate-british-wom…/
http://www.dawn.com/…/samias-neck-had-bruise-mark-says-auto…
http://www.iomtoday.co.im/…/murder-investigation-launched-i…
https://www.thenews.com.pk/…/137459-UK-MP-seeks-probe-into-…
Comments
comments