Bahrain strips Shiite cleric of citizenship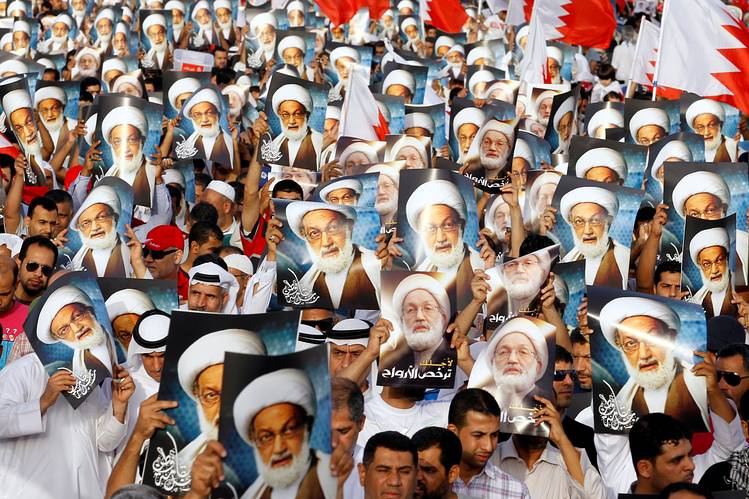 Bahrain stripped the citizenship of its top Shiite Muslim cleric Monday over allegations of inciting sectarianism, drawing rebukes from Shiite-majority Iran and the U.S.
Bahrain's Ministry of Interior said revoking Isa Qassim's citizenship aimed to confront extremism and clamp down on "those subordinate to external political and religious authorities," especially ones that divided society on sectarian lines.
The ministry's statement didn't specify to which external authorities Mr. Qassim was subordinate. It said he illegally collected funds and used his religious position to influence elections.
"Through his [preaching] and 'fatwas' he exploited the religious pulpit for political purposes to serve foreign interests," the ministry said, referring to Islamic religious rulings followers are called upon to obey. "He also encouraged sectarianism and violence."
It wasn't clear the revocation of Mr. Qassim's citizenship would force him to leave the country.
The Sunni Muslim monarchy that rules Bahrain, a small Persian Gulf island country, has been trying to crack down on the Shiite opposition since 2011. Shiites constitute the majority of the population, but have long been marginalized.
Bahrain has long used the revocation of citizenship as a tool to check dissent. The country stripped 208 people of their citizenship last year alone, according to a March report from Human Rights Watch, and subsequently deported a number of them.
The U.S. State Department expressed concern at Bahrain's decision to revoke Mr. Qassim's citizenship. Officials are concerned the move could fuel tensions between Saudi Arabia and Iran, which reached a low point earlier this year after Riyadh executed prominent Shiite cleric Nemer al-Nemer.
Bahrain is a key American ally in the Middle East and hosts the U.S. Navy's Fifth Fleet.
"We're certainly worried about any action in the region that potentially stokes sectarian tensions, obviously we certainly don't want to see that," State Department spokesman John Kirby said.
The move against Mr. Qassim is the latest escalation in the confrontation between Sunnis and Shiites in the Gulf.
Sunni-majority Saudi Arabia, which lies across a long causeway from Bahrain, has been a staunch supporter of its monarchy and sent troops to support it in 2011 when popular protests threatened its rule. Riyadh and its Sunni Gulf allies feared the upheaval could spread from Bahrain, challenging their regional dominance.
Iran, Saudi Arabia's chief regional rival, supports Mr. Qassim and Bahrain's Shiite opposition.
Iranian Qods Force commander Qasem Soleimani warned of the toppling of Bahrain's ruling Al-Khalifa family as a result of the citizenship revocation and other recent moves against Shiite political organizations, according to the semiofficial Fars News Agency.
Trespassing on Mr. Qassim's authority "is a red line whose crossing will set fire to Bahrain and the entire region and leave people with no other option but armed resistance," he was quoted as saying.
A Bahraini court last week ordered the country's main Shiite opposition group Al-Wefaq to stop all political activities, citing its alleged role in inciting sectarian violence.
Mr. Qassim is closely associated with Al-Wefaq, but holds no formal position in the group, which has been suspended before.
In January the State Department expressed strong concerns after Mr. Nemer's execution. Saudi Arabia cut its diplomatic ties with Iran after protesters in Tehran stormed the Saudi embassy and set it on fire. U.S. officials pursued high-level contacts with the Saudis and the Iranians to try and calm tensions.
The U.S., a Saudi ally, was among the six world powers that agreed to a landmark nuclear deal with Iran last summer.
Source:
http://www.wsj.com/articles/bahrain-strips-shiite-cleric-of-citizenship-1466443013
Comments
comments