Civil society takes to streets against terrorism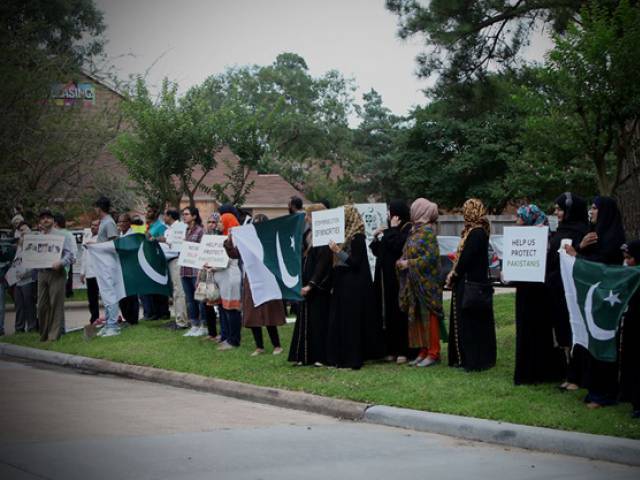 KARACHI: A peaceful protest under the banner of 'Global Campaign of Peace for Pakistan' was organised in Karachi, Lahore, Islamabad, and parts of United States and United Kingdom on Sunday evening.
Fifty citizens, including men, women and young people, participated in the protest in the port city organised by Patriotic Pakistanis at Do Talwar, Clifton. The protesters demanded justice for people who lost their lives in targeted attacks. Friends and admirers of slain activist Khurram Zaki also participated. People who support terrorism and are involved in sectarian killings, are given a free hand while activists such Khurram, Sabeen Mahmud and Perween Rahman are made to suffer, said a protester Muhammad Ali.
No doubt, the condition in terms of security has improved ever since the Karachi operation but the government has failed to stop the spread of banned organisations that support terrorism, remarked Ali.
On why such few people joined in the protest, Ali said that this a dilemma as people only choose to raise voice when they are suffering. We will have to come forward now and fight for our fights before it is too late, he added.
Another protester Abid Raza said, "I used to be part of the protests that were led by Khurram and now we are here to raise our voice for him." Let us not forget the services of the martyrs, who encouraged young people to fight for their rights, he added. Karamat Ali, executive-director of Pakistan Institute of Labour Education and Research, who was passing by also joined the protest. We have to reorganise our priorities once and for all, he said adding, even though the military is carrying out an operation but the activities of a few groups are ignored.
Source:
http://tribune.com.pk/story/1117586/civil-society-takes-streets-terrorism/
Comments
comments