A fantastic and incisive piece by comrade Umer Ali on the Mandi Bahauddin episode – Shaan Taseer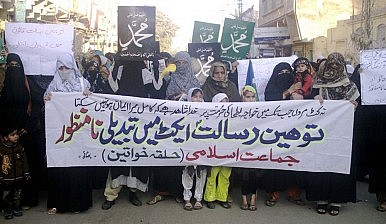 Most importantly, please note his finding of the role played by terrorist organisations like the JUD and ASWJ in such incidents. I concur fully with my comrades findings on the role of such organisations, as that is what the people on the ground have repeated told me. This is also what Shahbaz Bhatti Shaheed maintained about the Gojra Massacre, that ASWJ goons were behind everything.
These are the same people that took Khurram Zaki from us.
Know your killers. name them!
‪#‎NoToTakfir‬ ‪#‎NoToASWJ‬ ‪#‎NoToJUD‬ ‪#‎PakistanZindabad‬
Good article comrade. Keep the torch burning. We owe Jinnah to fulfill his promise,
Located some 200 kilometers northwest of Lahore, Mandi Bahauddin is one of 36 districts of Pakistan's Punjab province. A relatively backward area, it consists mostly of small towns and villages, which are densely populated.

Punjab is extraordinarily sensitive toward matters related to blasphemy, as most of Pakistan's blasphemy cases have been registered here. Chak 44, a small village of Mandi Bahauddin, has recently been buzzing with blasphemy chants and slogans as the local Christian population faces the heat.

Imran Masih, a sanitary worker at the government-owned Rural Health Center, was accused of blasphemy by some of his acquaintances.

According to many accounts, Imran attended the wedding of a friend's daughter, where he recorded a small video of the ceremony. At work, a friend asked to see the video. Imran handed his mobile to the friend and resumed his work at RHC. Imran came back to see his phone in the hands of local pharmacy owner named Bilal, who was showing a controversial speech by Pastor Samie Samson to other Muslim colleagues. Samson lives outside Pakistan and is highly critical of some of Islam's teachings.

Other reports suggest the video in question actually showed Islamic preacher Zakir Naik, and that Muslims were enraged due to the fact that a Choora (a derogatory term used for Christians) was watching the Islamic lecture without purifying himself.

Regardless of the video's content, as reported by locals, it led to exchange of harsh words and a small scuffle which others intervened to stop. Bilal, still enraged, traveled to another district to bring a fatwa (an Islamic decree) of blasphemy against Imran. Upon learning of this — and sensing his life is in grave danger — Imran fled the village. His whereabouts are still unknown.

A fatwa of blasphemy has disastrous results in the Islamic Republic of Pakistan. Former Punjab Governor Salmaan Taseer was murdered by his own guard after 500 clerics from all over the country declared him a blasphemer. A chipboard factory owned by an Ahmadi was torched last year over allegations of blasphemy. A Christian couple was burnt to death a couple of years ago after they were accused of committing blasphemy.

Such is the sensitivity of these cases that a mere allegation can put several lives in danger – exactly what happened in Imran's case. His family had to leave the village during the night to avoid harm.

There are around 300 Christians in Chak 44, spread among some 45 families. Most live as tenants for the local Muslim landlords, sowing and harvesting crops to make a living.

After the fatwa against Imran emerged, the news spread like wild fire in the villages nearby, as clerics, during their Friday sermons, incited violence against Imran and called for Christians to be shunned.

Shopkeepers stopped selling their products to Christians, resulting in severe food shortages.influential landlords refused to employ them. To make matters worse, a local businessman announced 1 million Pakistani rupees ($9,500) as a bounty for anyone who killed Imran.

A local police officer denied the whole incident had any link with blasphemy charges. However, he failed to offer an explanation of what led to the heightened tensions between the two communities.

"We were given three conditions. First, convert to Islam. Second, leave the village. Third, hand over Imran so that he can be killed," a local Christian resident told me, adding, "We fear for Imran's life because under such pressure, he might commit suicide."

Those accused of blasphemy in Pakistan have no way out. If you are caught by the mob, the ultimate result is death by lynching. If you hand yourself over to the authorities, you will be arrested, tried and might be sentenced to death anyway.

The enraged Muslim mob even wanted to burn the houses of Christians, until the district police officer of Mandi Bahauddin took notice of the incident. Visiting the village personally, he sat together with both parties and listened to their arguments. Terming the blasphemy allegations bogus, he asserted that the issue must be resolved peacefully. "You have been living here like brothers for years and I insist you go to back to living peacefully again," he said.

Both parties agreed to make a three-member committee to resolve the issue. Amir Yaqoob, a Christian resident from Chak 44, told me over the phone that the matter had been partially resolved. "We fear the backlash from the extremist groups like JuD [Jamaat-ud-Dawa] and sectarian ASWJ [Ahle Sunnat Wal Jamaat]," he added.

JuD, led by Hafiz Saeed, is very influential in rural Punjab; hundreds of youngsters from this region alone have volunteered to join its jihad against India. ASWJ, previously banned as Sipah-e-Sahaba, is a violent sectarian outfit dedicated to targeting the Shia minority in Pakistan. Both these organizations have representatives in every village at the local mosques.

"Since the incident has become known to all these outfits too, we fear that they may respond violently," Yaqoob asserted.

Pakistan's blasphemy laws evolved from Section 295 of Pakistan Penal Code, which was imported from the Indian Penal Code during the period of British rule over the subcontinent. The original Section 295 is secular in nature and prescribes punishment for insulting any religion. Section 295B, criminalizing the desecration of the Quran, was added during dictator Muhammad Zia-ul-Haq's notorious Islamization of the constitution. Section 295C was enacted in 1986, under which anyone insulting the Prophet of Islam, Allah, or the Quran would be sentenced to death.

These laws have come under scrutiny several times, but no one has ever dared to make amendments. The recent incident in Mandi Bahauddin is another proof of the sensitivity of the issue and the need to issue reforms.

Christian lives in Chak 44 are in danger, yet no mainstream media channel in Pakistan has covered the issue – out of fear.

Article Link:

http://thediplomat.com/2016/05/in-pakistan-blasphemy-accusation-endangers-christian-lives/
Comments
comments