PPP set up an alliance with Pakistan Rahe Haq Party, another face of banned organization SSP / ASWJ – Aamir Hussaini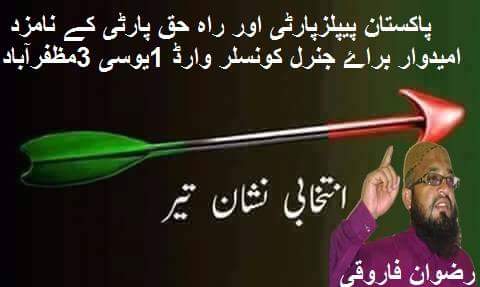 Who is Rizwan Farooqi? Is it Jiyala? Is it worker of PPP? Not but in fact member of ASWJ a banned in papers but fully functional on ground Deobandi Takfiri extremist organization and very close to Ourangzeb Farooqi head of ASWJ.
PPP set up an alliance in mostly UCs of District Malir Karachi with Pakistan Rahe Haq Party another face of banned organization SSP / ASWJ which is clearly destroying religious harmony among sects and its agenda to uproot all Shias? Sufi Sunnis and other non-Muslims from Pakistan and this Pakistani Shev Seena.
Zia Rahaman a Karachi based journalist has filed a news story about Rahe Haq Party as cover face of ASWJ in May 2015 and now in other papers including Express Tribune also we can seen on emergence of Rahe Haq Party as another face of ASWJ in Karachi and interior Sindh but still I saw just one or two non office holder Jiyalas like Malik Saleem condemnation of this act but there is completely silence on this issue in circles of Jiyalas on social media. Haider Javed Syed started to write about cooperation and friendship between some leaders of PPP and of ASWJ also.
I have written an exclusive e-mail to a member of CEC of PPP who was advisor of AZ and political trainer of Bilwal Bhutto Zardari about alleged links of some leaders of PPP Sindh with Khalid Somroo, Ourangzeb Faroqui and others and I showed my reservations. At that time that leader told me that She had raised this issue in meeting with AZ and in meeting of CEC in Dubai but after some week she revealed that Agha Siraj Durrani, Ajaz Jhakrani and Dr Qayoom Somroo are more powerful than her and she can not convince leadership to adopt brave stance against ASWJ and about Takfiri Fascism.
District Malir has become another Jhang and now this is powerful base ground for ASWJ in Karachi. Here PPP and ANP instead of combating sectarian discourse of politics of ASWJ choose way to make an alliance with this party.
Comments
comments