From the "Moderate Rebels" of the 1980s Afghan Jihadis to the "Moderate Rebels" of Al Qaeda in Syria – Riaz Malik Hajjaji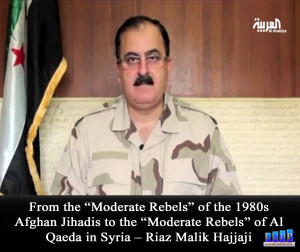 The leader of the Syrian brand of Al Qaeda "Moderate Rebels" , General Salim Edriss even endorses them as "the aspirations of the Syrian people". I think he too is weak with geography and probably meant Erdogan supporters. Isn't that General Salim Edriss Al Qaeda-walla posing with Senator McCain.
What a cute picture.
This video clip of British PM Margaret Thatcher with Pakistan's "secular" "Democratic" "Liberal" General Zia ul Haq is priceless.
Comments
comments