Who killed Murtaza Bhutto? – Khaled Ahmed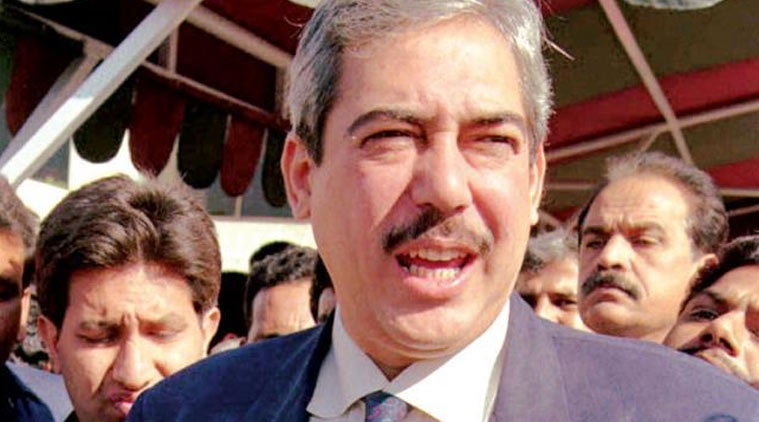 September 20 was the anniversary of the assassination of Mir Murtaza Bhutto, the elder son of Zulfikar Ali Bhutto. The former president of Pakistan and the Pakistan People's Party's "co-chairman", Asif Ali Zardari, currently located in the UAE, spoke on his brother-in-law's death and said: "Murtaza Bhutto had dedicated his life to struggle against dictatorship; he witnessed the cruelties meted out to his mother (late Begum Nusrat Bhutto) and sister Benazir Bhutto (before she was assassinated) and was mysteriously targeted in 1996 in Karachi. Later, the police officer tasked with the investigation of the murder was also mysteriously assassinated."
Hardly anyone missed the irony. Murtaza's widow and children have not ceased accusing Zardari — and an allegedly complicit Benazir — of killing him. Unsurprisingly, Ghinwa Bhutto, a Lebanese exile who met Murtaza in Damascus, issued her own, more detailed statement on the anniversary from the Bhutto home district of Larkana in Sindh, pointedly naming names and asking for an investigation into the unsolved killing: "We have not forgiven Murtaza Bhutto's assassins." As chairperson of the PPP (Shaheed Bhutto), she went into the details of police officers she thought had carried out the hit just outside Murtaza's house in Karachi: "Shoaib Suddle, Wajid Durrani, Shakaib Qureshi, Shahid Hayat and Raheel Tahir, who handled the Murtaza Bhutto murder case, should speak up now and tell the truth about who was behind the conspiracy."
Everyone in Pakistan understood she was pointing the finger at Zardari himself. She named the police officer who was killed later to silence him. She then delivered the punch-line: "Who had ordered General (retired) [Naseerullah] Babar to launch the mop-up operation [in Karachi], who killed Benazir Bhutto, and how much was paid to the parliamentarians to make Asif Ali Zardari president of Pakistan?"
Ghinwa met a divorced Murtaza in Damascus when he was on the run from General Zia-ul-Haq. His first wife was an Afghan, the mother of his daughter Fatima, whom he had in tow at their first meeting. Fatima Bhutto was a gifted child, traumatised by the unfolding Bhutto tragedy: Grandfather Bhutto hanged; uncle Shahnawaz, Murtaza's younger brother, "mysteriously" killed in France; father Murtaza shot multiple times; and aunt Benazir "mysteriously" assassinated in Liaquat Bagh in Rawalpindi, where Pakistan's first PM, Liaquat Ali Khan, too had been assassinated in 1951. Murtaza seemed to ape Che Guevara, organising a terrorist outfit, al-Zulfiqar, which became a reason PM Benazir Bhutto didn't want him to return from exile.
Daughter Fatima narrates her trials and tribulations as a child of the Bhutto clan in her book Songs of Blood and Sword (2010). Returning from exile despite Benazir's advice to stay away, Murtaza settled his family in his Clifton Road house in Karachi, together with his mother Nusrat Bhutto, whose dementia added to her dilemma of standing in the crossfire between her offspring. Murtaza was soon in jail, thanks to PM Benazir Bhutto, after he flexed his muscles at the local bureaucracy. Benazir rang Fatima, inviting her to accompany her to South Africa to meet the latter's favourite leader, Nelson Mandela. But she had to refuse on account of what the family was going through: "I am not going with you while you are imprisoning my father."
According to Fatima, Murtaza would call Zardari "chor" and his sister's government "Ali Baba aur chalees chor", which caught on in Pakistan among people who were sick of Zardari cutting into all projects in the private sector for his "10 per cent". When Murtaza would go on about Zardari's misdeeds, his mother Nusrat would try to stop him: "Stop, please! They are tyrants, they'll hurt you," writes Fatima. Was Nusrat on Murtaza's side? Fatima says she was the mother and tried her best to be neutral between Benazir and Murtaza. But she didn't like Zardari. She tried to ignore the ambition of her daughter, nurtured by her father to be his successor, against the legacy that strictly belonged to the son in the oriental mind. Nusrat pretended to run the party as the top leader after Bhutto's hanging; then things changed. As soon as Murtaza came back, Benazir ousted her mother from her honorary post. "She was terrified that her mother might try to overturn her decisions and welcome Mir into the party fold," a party loyalist noted.
It was September 19, 1996, when they came for him. "Many of Karachi's most notorious police officers… were present at the scene that night. [Former inspector general] Shoaib Suddle, was there as was Zeeshan Kazmi, a notorious torturer within the Clean-Up team, Wajid Durrani, who led the shooting at Al-Murtaza on 5 January, was stationed by the roundabout and his position would become significant as the night progressed. Rai Tahir, Shahid Hayat, Shakaib Qureshi, Masood Sharif — then head of the Federal Intelligence Bureau that reported directly to the Prime Minister's office — were all said by witnesses to have been on the cordoned-off road that night."
She concludes: "My father had been shot several times. His face had been hit, his beautiful smiling face… The last shot. Papa's autopsy showed; was fired into his jaw at point-blank range; it was fired, forensics confirmed, by a gunman standing over him as he lay down in the police car."
Source:
Comments
comments