Why General Raheel Sharif should stay on as COAS: Five Major Reasons by Dr. Talib Rizvi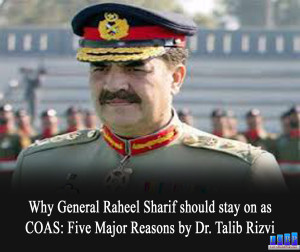 Editor's note: We welcome this guest post by Dr. Talib Rizvi. While one can certainly laud the current COAS General Raheel Sharif for his clear discourse against terrorism and his expanding operations against the Taliban, one must also highlight the shortcomings of Zarb-e-Azab. It is often felt that in Karachi, the Ranger's operation against MQM seems one-sided given that a similar operation has not been carried out against the extremist and violence inciting ASWJ-LeJ lead by the likes of Aurangzeb Farooqi and Ahmed Ludhyanvi.
Similarly, those radical clerics like Lal Masjid's Abdul Aziz is still free to incite violence, hatred and provide excuses for the horrific massacre of school children in Peshawar on December 16, 2014. Sunni (Barelvi), Sufis and Shias are still being targeted by Takfiri Deobandi groups like the Taliban and its urban affiliates like ASWJ-LeJ – especially in Karachi, Peshawar and D I Khan. We will provide our qualified support to all those who take a stand against extremism and Takfiri-inspired violence. 
Leadership: COAS is a leadership position not a position just to be filled. A leader has a vision  and it is difficult to create a leader. Pakistan is in imminent danger despite all the recent efforts that the Pak Army has made.
Previous COAS had surrendered to these Takfiris groups during the previous parliament sessions and such implicit surrenders were also acknowledged by Major General Athar – the former ISPR,  in an interview with the  BBC.  The former COAS General Ashfaq Pervaiz Kiyani had not taken any concrete action against this growing cancer in society even though the previous parliament had authorised him to start operations in North Waziristan.
The government had been infiltrated with Takfiri sympathisers and undue Saudi influence in Pakistan. I do not doubt Pak Army leadership but a new COAS would not be able to counter this task and establish plans and policies  due to various political pressures.
"Why fix it if aren't broke."  For the sake of much needed continuity, the present COAS should stay.
Security: Pakistan has not been secured as yet from the cancer of Takfiri idealogy. Unfortunately the PML N Government has no agenda either is because some of them are the victim while some are   part of the problem. Security can only be achieved when the PML N government offers full support to the  present COAS agenda.  This will not be possible with a new COAS due to uncertainty that usually accompanies such transitions.
Justice: The civilian judicial system has failed due to terrorist threats and their action. (see case of Honorable Judge Baqar).  On the other hand, we have seen how the current Judiciary of Pakistan since the "restoration" of Iftikhar Chaudhary has released hundreds of dangerous terrorists who, even as they boast their crimes, are released on the flimsy pretext of "lack of evidence"
This Government is Barring COAS to implement Article 245 approved by parliament therefore impeding justice. Also, the PML N government is (mis)using the Judiciary and some selective activists to thwart the current COAS for properly punishing Taliban affiliated terrorists.
Why is Article 245  in effect only in Islamabad only?
http://www.awaztoday.tv/News-Talk-Shows/96441/Faisal-Raza-Abidi-in-10PM-With-Nadia-Mirza-16th-September-2015.aspx.
Corruption: Pakistan's Democracy is an elected government of (corrupt) people, by (corrupt) people and for the (corrupt) people. The present COAS has taken the stand to fight this corruption. Unfortunately, supreme court coining new terms to protect corrupt elected who fail to perform their contractual duties. I appreciate and admire COAS thinking that if any money from corruption is involved in promoting terrorism, such matters should have tried in the Anti-Terrorists court.
Pakistan China economic corridor is the idea promoted more by the COAS, while major political parties did little to bring this idea to fruition. Security of life and property is the most basic condition to induce foreign investment without which Pakistan can never progress. What did the PML N do for more than a year while the Taliban kept getting stronger and attacking every part of Pakistan.
General Raheel Sharif strictly follows  rules.  Indeed he changed the top brass on September 22, 2015 without delay. The fear I have that he would not make an exception for himself.
I would suggest to parliament that the way they stood together not to involve in Yemen case. Please ask Raheel Sharif to stay for one more term. It is good for us all.
Pakistan Zindabad
Comments
comments