Allama Tahir Johnnie Walker Ashrafi; this Ashrafi is not worth a penny – by Dr. Muzaffar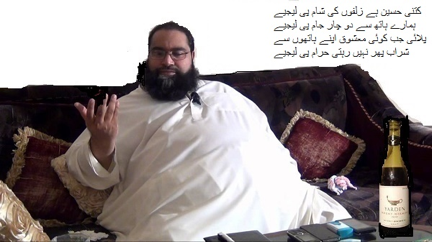 A former member of Jamiat Ulema-e Islam of Sami ul-Haq (JUI-S), Ashrafi has since 2008 led the Pakistani Ulama Council (PUC), the creation of which dates back to the 1980s.
Ashrafi is known in Pakistan for being supportive of the Afghan Taliban and Al-Qaeda. In 2007, he bestowed the religious title of Saifullah or Sword of Allah on Osama bin Laden.
According to a Friday times report, Ashrafi remained "the information secretary of the defunct Sipah-e Sahaba Pakistan and had been close to Malik Ishaq.
However, when it comes to militancy and violence in Pakistan, he is seen as an advocate of moderation and tolerance, in a country where the clergy is deeply divided along sectarian and political lines. Inside the PUC, which is mainly made up of Deobandis, he also represents Shia and Barelvi ulama's interests. This seems to be a break with his past. According to a Friday Times' report, Ashrafi remained "the information secretary of the defunct Sipah-e Sahaba Pakistan and been close to Malik Ishaq, the founder of the defunct Lashkar-e-Jhangvi".(1) In recent years, however, he appeared frequently on TV channels, especially the state TV, to speak against sectarian attacks and violence in Pakistan.One must not ignore the fact that while Malik Ishaq has been eliminated, his real sponsor and enabler Tahir Ashrafi, the notorious Deobandi hate cleric is still allowed to freely spew venom against Sunni Barelvis, Sufis, Shias, Ahmadis and other communities. Tahir Ashrafi played a key role in the release of Malik Ishaq, only a few years ago, and also incited ASWJ-LeJ terrorists to violence against Pakistan's federal minister Shahbaz Bhatti who was slain a few months after Ashrafi's hateful speech:
https://www.afghanistan-analysts.org/afghanistans-vain-attempts-at-wooing-pakistani-islamists-for-peace/
Tahir Ashrafi criticised the sit-in congregation for offering Eid ul adha prayers behind a disabled man (tahir ul qadri). Imran Khan and several PTI leaders, were not in accordance with Islamic injunctions.
He was found spreading misleading rumours on Eid moon sighting issue and maligning Mufti Muneeb ur Rehman. His opposition to Mumtaz Qadri (Taseer's murderer) and Molvi Khalid Jadoon (of Rimsha's Masih case) was also motivated by the fact that both Qadri and Jadoon were sunni brailveis.
Pakistani pilgrims wishing to perform Hajj this year will have to declare whether they are shia on their Hajj application forms if they have any hopes of making the sacred pilgrimage.
Allama Johnnie Walker Ashrafi said that he supports the Saudi move, adding that every country has the right to set new terms and condition to secure better security. This alcoholic Mullah didn't stop here. He did not want peace in Afghanistan and Pakistan. According to afghan news agency, Munafiq Ashrafi from his five-star Serena hotel room in Islamabad, told AAN;
'I think when infidels attack your country, why you don't call it Dar al-harb… At this stage, as Americans are there [in Afghanistan], it is Dar al-harb… America came to Afghanistan and toppled an Islamic government. So, those fighting the Americans are freedom fighters and are doing jihad. This is not only my word. There is a consensus among all the ulama of Muslim countries on this.
In another interview with Tolonews, Johnnie Walker Ashrafi said; ' Palestine is occupied by Israel, Kashmir by India, and Afghanistan by the US, So if the muslims don't have the atomic bomb, they should sacrifice their lives for the God. We are asking the Americans to leave the region in order for the region to become peaceful.
He with his counterpart Qiamuddin Kashad, worked for 16 hours to declare suicide bombings as antithetical to the rules of war in islam but in the end he issued a fatwa in march 2013 by saying that suicide attacks were lawful in Afghanistan, but not in Pakistan. Officials in Kabul termed his words as ridiculous and treacherous, and the press and social went further to label him a Kafir and his rhetoric as "Satanic".
His new project is to threaten LUBP. Ashrafi accuses LUBP of spreading hatred and deepening fissures in society after the LUBP started publishing the truth against these mullahs. LUBP and its supporter which are now in millions all over the world are just exposing these cheater kind of clerics, their views on sunni brailveis, shias, ahmedi as well as their support for LeJ. Why LUBP is getting so much popularity despite negative propaganda? The simple answer is that;
WHEN WORDS COME FROM THE HEART OF ANYONE, THEY FIND A PLACE IN THE HEART OF ANOTHER. (AMEER AL MOMINEEN; ALI BIN ABI TALIB A.S)
Allama Tahir Johnnie Walker Ashrafi has always been a controversial character. Once he was caught drunk and exposed by the media, the other time he was beaten by a man. According to Waqt news, agencies also made a mobile footage or video of Ashrafi in a drunk state, vomiting and his clothes were covered in a vomit. Ashrafi be careful, this video can come out.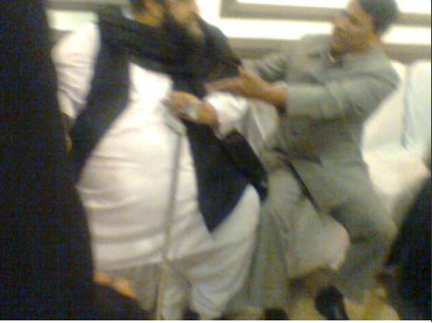 Currently the Ashrafi (elitist) brand liberals are using two tactics: (1) generate sympathies for Malik Ishaq and other ASWJ terrorists by baselessly and dishonestly describing his death as extra-judicial murder; (2) take credit away from General Raheel Sharif and Pakistan army by praising either PMLN or Punjab police for something that couldn't have been possible without the support and approval of Pakistan's security establishment. Of course, the Ashrafi-Iftikhar Chaudhry-Kayani-Sethi-Beena lobby is upset with General Raheel Sharif because under his command, Pakistan army and other security agencies are eliminating at least some of the dangerous Takfiri assets cultivated by the likes of Generals Zia, Hameed Gul and Kayani.
Comments
comments