Country's biggest child abuse scandal jolts Punjab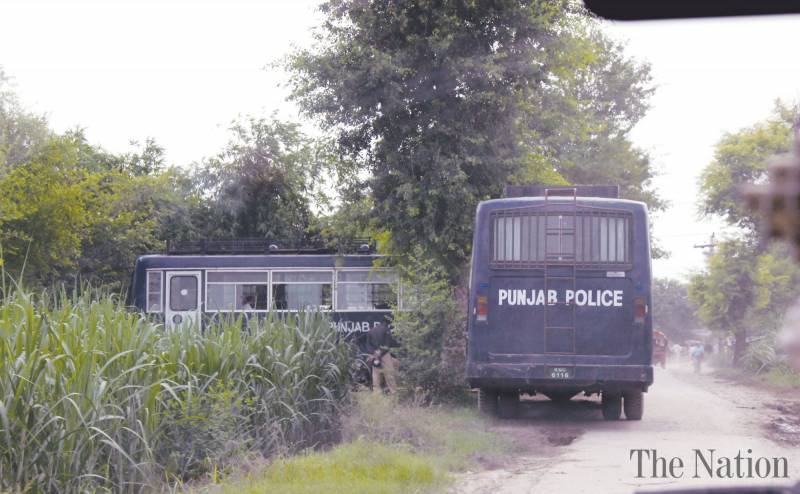 GANDA SINGH WALA – Punjab's leading child protection official has called for a federal inquiry into 'the largest-ever child abuse scandal in Pakistan's history' after the discovery of 400 videos recording more than 280 children being forced to have sex.  Most of the victims were under 14 but include a six year old boy who was forced to perform a homosexual act and a 10 year old schoolgirl who was filmed being molested by a 14 year old boy.
Videos of these assaults were filmed and thousands of copies are believed to have been sold for Rs50 each in Hussain Khanwala village in Kasur district. One of the victims said he was injected in the spine with a drug before he was assaulted.
The scale of the scandal emerged earlier this week after the victims' parents clashed police during a protest against their failure to prosecute the men who orchestrated the scandal. Two dozen people were injured when police used force to disperse more than 4,000 protesters on the Dipalpur Road near Dolaywala village in Kasur district on Tuesday who were calling for justice for the victims.
They have claimed that local police have tried to cover up the scandal and that the perpetrators have used their influence to avoid being charged.
Saba Sadiq, head of Punjab's Child Protection Bureau, described the case as "the largest-ever child abuse scandal in Pakistan's history" and said a provincial inquiry announced by the chief minister "would be taken up at federal level to safeguard the children rights in future."
The number of victims in this child abuse ring is almost three times higher than in the case of Javed Iqbal in the late 1990s when around 100 children were sexually abused and murdered in Lahore. Saba Sadiq said the provincial government would change the law to ensure "vigorous punishment for such criminals."
So far only six alleged abusers have been arrested, five of whom have been remanded in custody but according to parents of the victims the abuse was orchestrated by a gang of up to 25 young men and teenagers led by two men in their 40s.
The gang arranged the abuse, perpetrated it in many cases, and then used the videotapes of the assaults to blackmail the children and their families to hand over millions of rupees. Many of the children stole gold ornaments from their parents to pay off their abusers to keep their ordeal secret.
The abuse began in 2006 and continued until one year ago, police said. They have seized more than 400 videos depicting the assaults, and many of the parents have identified their children as victims in the films. Some of the clips showed that some of the victims were abused for more than an hour.
Video's screen grab showing one of the rooms
In one clip five to six young men are seen molesting a seven-year-old boy. The 'producers' recorded the videos at different locations – in the open fields, washrooms, bedrooms, and at deserted houses.
"We have arrested six persons after registering six separate cases against them on the complaints of the victims. Five of the accused are on physical remand while the sixth has obtained pre-arrest bail," District Police Officer Rai Babar Saeed told The Nation.
Video screen grab: Crickets chirping in a field, voices asking, 'Will you do this again?'
He said the police seized the videos for evidences. "I don't know why they made videos and what was their agenda? Police are investigating," he added.
Police sources said the main suspect had been released after a Rs5 million bribe was paid on his behalf and victims families said they had been subjected to pressure by a local political figure to withdraw the allegations.
One mother aged 35, said she had to sell her gold ornaments to pay Rs 600,000 to the blackmailers for the videos of her 14 year old son being abused to be erased. "They made the video of my son in 2011. We have been paying money to the blackmailers for the last four years. I have seen the videos. It was disgusting and shameful," she said with tears rolling down her cheeks. "We are seriously thinking to set our houses on fire and leave the locality."
A 10-year-old said he was taken to a haveli by the gang at gunpoint. "After being brutally tortured, I was administered "spinal injection" and I was dozing when five to six men molested me one by one," he said.
The police have arrested a 13-year-old boy for having sex with another child. His mother said her son is innocent because he committed the crime under duress. "They (producers of the clips) not only molested the children themselves but they also asked the victims to rape each other on camera," she told The Nation.
"Everyone in this village is a victim. Our children both boys and girls are raped and blackmailed," said another victim's mother.
Another boy said he was molested by the same gang in 2006. "I was just nine years old when I was abducted and taken to a deserted house. I was brutally tortured when I offered resistance. Then they administered a spinal injection. I was raped multiple times by several men at gunpoint. I decided not to tell anybody.
Six months later, the accused showed me the video clips when I refused to perform sexual acts on camera again. It was horrible," he said. The family of a ten year old girl forced to perform a sex act in her school uniform said they had paid a million rupees to their blackmailers but they had not erased the video.
Another villager said the gang had sold videos of the children to gay porn sites operating from the UK, USA, and Europe. One victim said he once heard one of the gang leaders talking on Skype to a customer abroad. "Once I saw, Shirazi was talking to someone on Skype. He was talking about the videos of children and money in return. They were collecting a huge amount in dollars from the dealers abroad," he said.
One villager who led the campaign to expose the scandal told The Nation he had been warned he would be killed if he did not withdraw his claims. On Thursday night, he was picked up by police when he was returning home from Lahore. The police used his mobile phone and contacts to force the activists to cancel a protest demonstration scheduled for Friday.
Our reporter Ashraf Javed gives details of his exclusive front page story in The Nation today. http://t.co/8zXtT7ZNgI pic.twitter.com/qRJsRCCnVK

— Rameeza Majid Nizami (@RameezaNizami) August 8, 2015
This is called Pakistan's "biggest child sex abuse scandal". We clearly have some soul-searching to do as a nation. http://t.co/O61ACwthu7 — Bina Shah (@BinaShah) August 8, 2015
PML N MPA abets abuse of children from his constituency. Protects the main suspects. #KasurAbuse

— Team UD (@teamUDPTI) August 8, 2015
So while @CMShehbaz is busy in metro train his MPA is involved in biggest child abuse scandal — OXI (@Windman) August 8, 2015
This scandal should inspire as much anger and outrage as did APS Peshawar attack. It as 150 children then, and 300 children now #ChildAbuse

— Haleema Khan (@haleemak_) August 8, 2015
The abuse in Kasur started in 2006. What an systemic failure – people in politics, bureaucracy and police kept changing, but no-one acted. — FlyingNazgul (@FlyingNazgul) August 8, 2015
Seventh year of rule in Punjab and nine years of blackmailing to the victims of child molestation. #BadlaHaiPunjab?

— Tabinda_Samar (@Tabinda_Samar) August 8, 2015
No, please. No public hangings. Public branding with iron, followed by skinning them alive? Yep, sounds better. — Anthony Permal (@anthonypermal) August 8, 2015
Let's vow to speak against the country's biggest #ChildAbuse scandal in #Kasur on this 14th August to show our concern for the country.

— Kamil Khan Marwat (@KKhanMarwat) August 8, 2015
Tell Pakistanis about child abuse in their society and most of them will either say "Aisi baatein nahin kartay" or "Yeh kya cheez hai?" — omar r quraishi (@omar_quraishi) August 8, 2015
Please join #CivilSociety in their protest against the #ChildAbuse scandal out side CM House, Lahore, Tomorrow 6pm. pic.twitter.com/mBpea3S23b

— Khurram Zaki (@intaffairs) August 8, 2015
If rapists like Qasim Farooq were punished&executed,wont be seeing this day.#ChildAbuse #TrialRapistsInMilitaryCourts pic.twitter.com/4NuFGvtZkn

— Khurram Zaki (@intaffairs) August 8, 2015
Execute all those involved in the #ChildAbuse scandal, without mercy, with their patrons and accomplices. @CMShehbaz pic.twitter.com/0544cO1C5r

— Khurram Zaki (@intaffairs) August 8, 2015
Source:
http://nation.com.pk/E-Paper/Lahore/2015-08-08/page-1/detail-3
Comments
comments