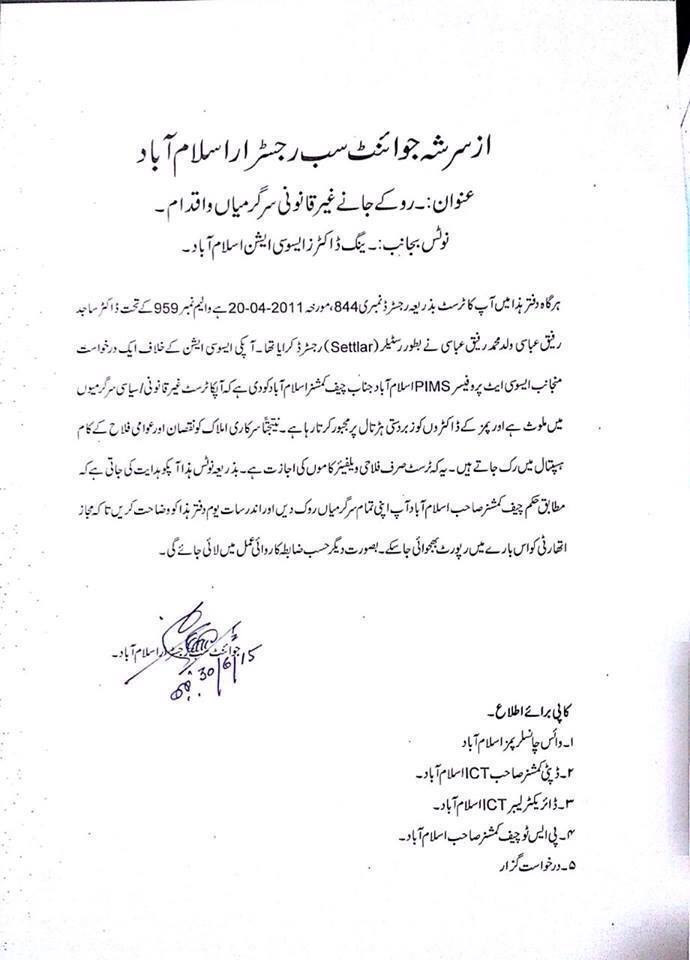 Islamabad: The Chief Commissioner of Islamabad, in exercise of his magisterial powers, has ordered the suspension of all activities of the Young Doctors Association (YDA), Islamabad,
and has warned the association of legal action in
case its trustees' failure to submit a report on YDA's activities, supported by
documentary evidence, within the next seven days, it is learnt.
Acting on the Chief Commissioner's order, the joint registrar Tuesday suspended all activities of YDA Islamabad. The action came a day in advance of the oath-taking ceremony of the new
Young Doctors Association cabinet.
The measure is reported to have been taken on a complaint filed by Dr. Rana Imran Sikandar, associate professor at the department of anesthesia at PIMS. Dr. Imran maintained that being a trust NGO, YDA Islamabad can only take part in welfare activities, and not in any political activity as stated in the Trust Act 1952 and its own constitution. He also pointed out
that the recent Young Doctors Association elections were also a violation of the Trust Act.
Acting on the complaint, the Chief Commissioner ordered an inquiry into the activities of Young Doctors Association Islamabad and asked its trustees to submit a report of its activities within seven days. Failure to do so may result in legal action against the association.
Source:
http://www.thenews.com.pk/Todays-News-6-326592-YDA-Islamabad-stands-suspended