ISIS-inspired Deobandi terrorists, not the army, murdered Sabeen Mahmud – by Ali Abbas Taj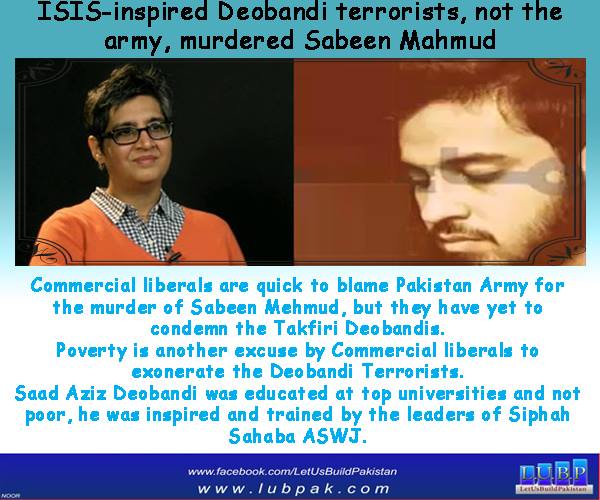 Literally minutes after Sabeen Mahmud's tragic and brutal murder, her death was being blamed on the army. It did not matter that Sabeen's murder fit the pattern of similar attacks against other educationists, activists and intellectuals – perpetrated by ISIS-affiliated banned Deobandi terrorist group ASWJ-LeJ and its many avatars.
For the likes of Tarek Fatah and the fake liberal mafia in Pakistan, Sabeen's callous and brutal murder served to further their opportunist  and selective campaign for the Baloch – a cause that is rapidly descending into senseless violence against settlers in Balochistan as well as increasingly being co-opted by ASWJ-LeJ.
In the new drawing room that is represented by Facebook, Pakistan's "liberatti" were all reading from the same page: The Army murdered Sabeen Mahmud because her Second Floor Cafe had just hosted a small gathering of Baloch nationalists.  It did not matter that the army issue a strong condemnation of this horrific murder. New budding "selfie activists like Ale Natiq were also repeating the same theory.
Sabeen's murder was simply being used to settle scores and drive an agenda. Misdirecting the blame for Sabeen's murder to the army also served the typical liberal obfuscation of deflecting blame away from Deobandi terrorist groups who were in the middle of yet another pattern of targeting educationists and activists.
As the dominant part of the country's ruling establishment, the army is to be blamed for many of the ills facing this country. However, that does not mean that others who promote Deobandi terrorism must be absolved either.  Campaigning for the Baloch cause by misusing Sabeen's murder by Deobandi fanatics allied with ISIS is doing a disservice to both the cause and the memory of Sabeen's varied activism.
In fact, misusing the Baloch cause has become a common tactic by newfound "liberals" Hamid Mir. Like others, Hamid Mir is simply misappropriating the Baloch cause to draw a disgusting false parallel between action against the Baloch and action against Deobandi terrorist groups like the Taliban.  In a famous clip with Shehzad Roy, Hamid Mir exposes himself when he openly rebukes the Pakistan army for not stopping US navy seals who took out Osama Bin Laden.  For pro-Taliban "liberals" and "anti establishment" "journalists" like Hamid Mir, support for the Taliban is comparable to supporting the Baloch cause.
Similarly people like Tarek Fatah have no problems when Baloch mercenaries, backed by the Saudis and the Pakistan army are brutally crushing a pro-democracy movement in Bahrain.  These are the characters who were leading the chorus at the time of Sabeen's murder.
Now it has been proven that Saad Aziz Deobandi is not a "patsy" as he was made out to be. He is the case of the well educated Deobandi fanatic who started his terrorism by translating the hate speeches of Deobandi terrorist leader, Haq Nawaz Jhangvi. He staked out Sabeen's cafe on more than one occasion. Polygraph tests have confirmed their role in this murder and other massacres.
And these are the Takfiri Deobandi terrorists that Pakistan's Fake Liberal Mafia wants to protect by insisting – inspite of more evidence to the contrary – that they are just "patsies".
Responding to a question regarding Sabeen Mahmud's case, Khattab said Saad Aziz is the main accused in the murder of Sabeen Mahmud. He added that before killing her, the accused attended two seminars organised by the social activist at her social forum.

A picture of Saad Aziz attending one of the seminars at The Second Floor was also shared with the media.

"Saad Aziz had planned to kill Sabeen Mahmud as he did not approve of her views regarding Lal Masjid's cleric Abdul Aziz, Valentine's Day and burqa (veil)," explained the CTD official. Source: DAWN
https://www.facebook.com/LetUsBuildPakistan/videos/vb.265291019560/10153427046234561/
"Hamid Mir misappropriates Baloch cause to support Osama Bin Laden"."In a famous clip with Shehzad Roy, Hamid Mir exposes himself when he openly rebukes the Pakistan army for not stopping US navy seals who took out Osama Bin Laden (Refer to 6:48 mark) For pro-Taliban "liberals" and "anti establishment" "journalists" like Hamid Mir, support for the Taliban is comparable to supporting the Baloch cause"
Posted by Let Us Build Pakistan on Saturday, July 4, 2015
Comments
comments