Evidence of threats and harassment: Ale Natiq and Ali Arqam of Beena-Ashrafi lobby seek ASWJ's help to eliminate Shia and Sunni Sufi bloggers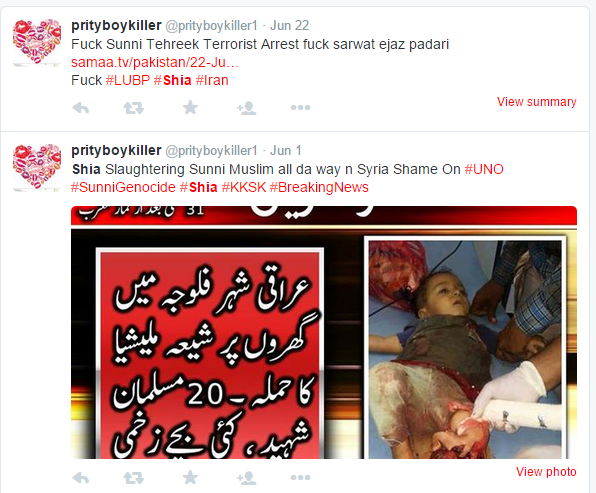 It is now evident that the Ashrafi-brand liberals (also known as commercial or fake liberals) are using their wannabe frontmen to seek Takfiri Deobandi militants' help in tracing and eliminating independent Shia and Sunni Sufi bloggers and their vulnerable relatives. 

In particualr, Ale Natiq and Ali Arqam's friends are openly seeking help from ASWJ's accounts against Shias whom they continue to apostasize. Ale Natiq is known to operate the Bhensaa and Halal_Tweet social media accounts whereas Ali Arqam operates Allama Ayaz Nizami and the Jurat-e-Tehqiq.
This is the way the Beena Sarwar – Tahir Ashrafi lobby operates. The pawns do the dirty work, the middle level managers retweet them and the Beena-Ashrafi mafia continues to obfuscate the core issues facing Pakistan.
The commercial liberal – Takfiri Deobandi alliance will never tolerate an alternate voice to their obfuscations, deflections and misrepresentations of core issues. In particular they want LUBP and other independent bloggers to stop exposing the common Deobandi identity of the ASWJ-TTP-LeJ-JeM-Ahrar terrorists who are massacring Sunni Sufis, Shias, Christians and other communities. They also want to continue to use false Sunni-Shia and Saudi-Iran binaries to peddle their global pro-ISIS propaganda to enable the Takfiri Deobandi dominance in Pakistan. They also want to have the luxury of continuing to abuse the revered personalities of the genocide facing communities in the name of free speech and do not allow their victims to protest peacefully.
Witness their depravity in spreading pathetic forgeries that have already been exposed in Ale Natiq and Ali Arqam using their Deobandi comrades to implicate LUBP in a forged blasphmey and takfir campaign

This is how the pawns of Beena-Sethi-Ashrafi lobby twitter accounts spread  pathetic forgeries.  This is how this lobby threatens, blackmails and abuses those who present an alternate point of view. Clearly, they want Shia and Sunni Sufi activists and their relatives to be killed by ASWJ terrorists led by Tahir Ashrafi and Malik Ishaq, who have previously killed Shahbaz Bhatti and hundreds of Christians, Sunni Sufis and Shias.
Will Ale Natiq, Ali Arqam and Rubab Mehdi condemn this? Or like before, they will retweet it…
Ale Natiq parroting the same allegations from his real and Halal Tweets accouts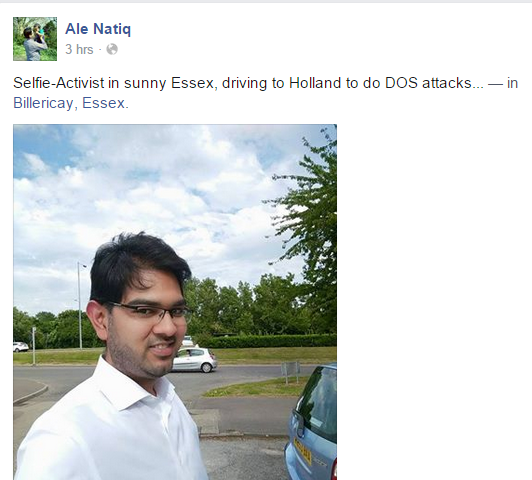 Bhensa (which claims to be a liberal and atheist page) now openly collaborating with notorious pro-Taliban Deobandi hate cleric against a liberal Pakistani blog. This alliance is now fully exposed.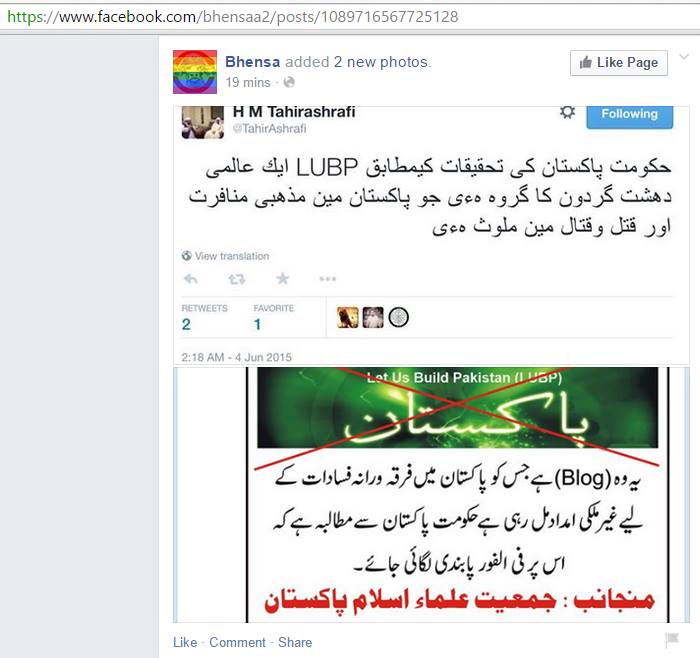 Ale Natiq aka Halal Tweets now using his atheist friends in NSF (Salman Haider, Amir Kaleem, DSF's Rehan Mazhar) and Ayaz Nizami lobby, and Takfiri Deobandi friends in ASWJ and Ashrafi lobby to incite violence against Khurram Zaki.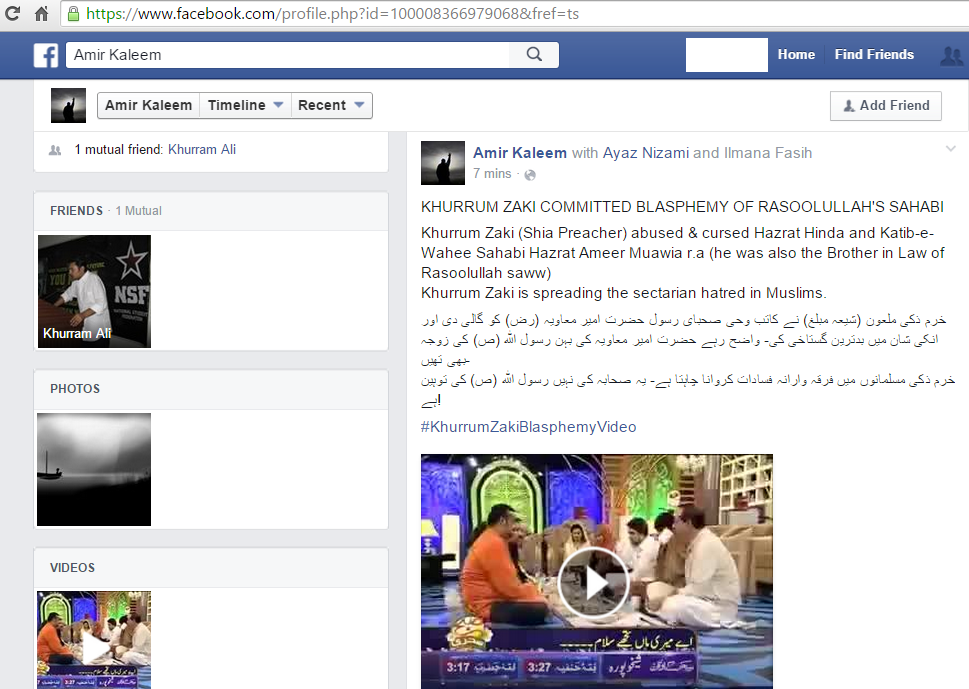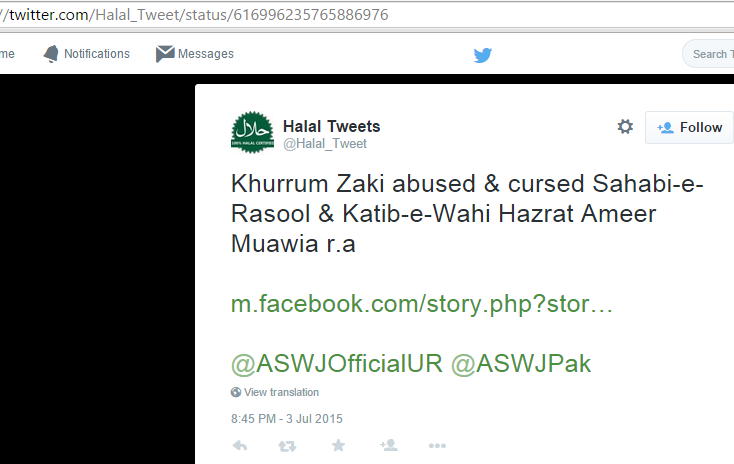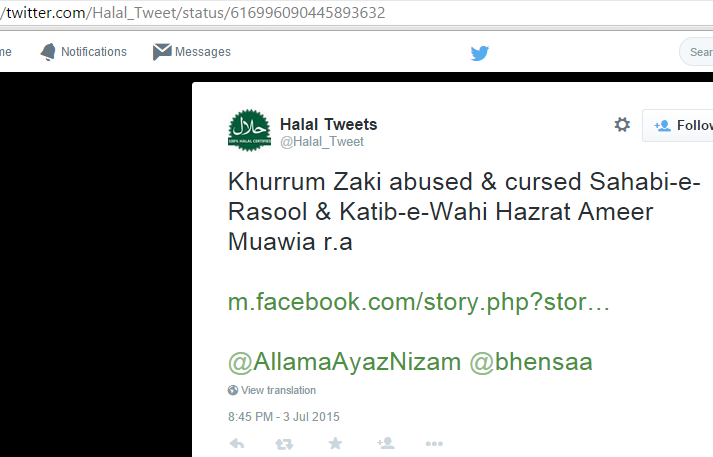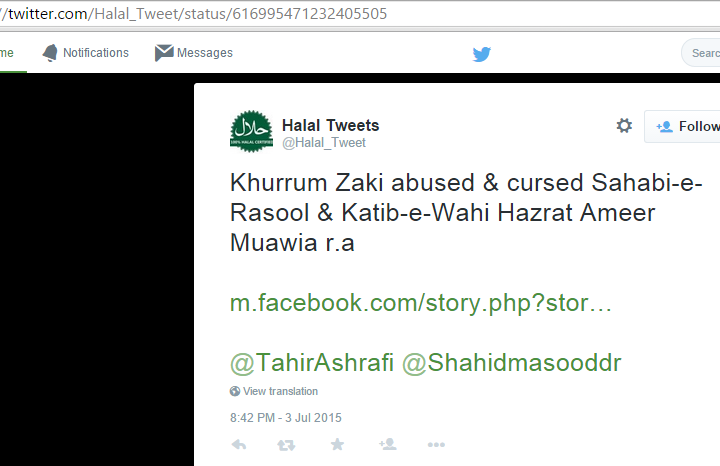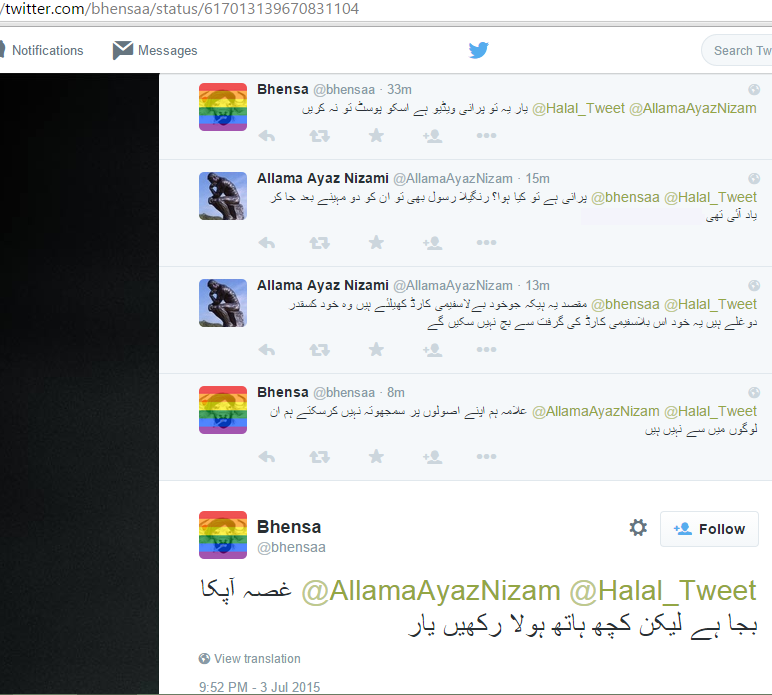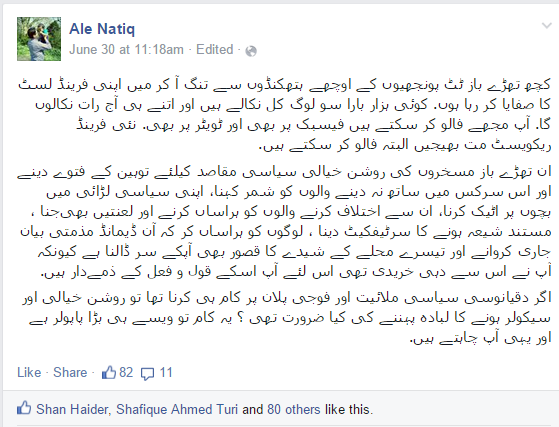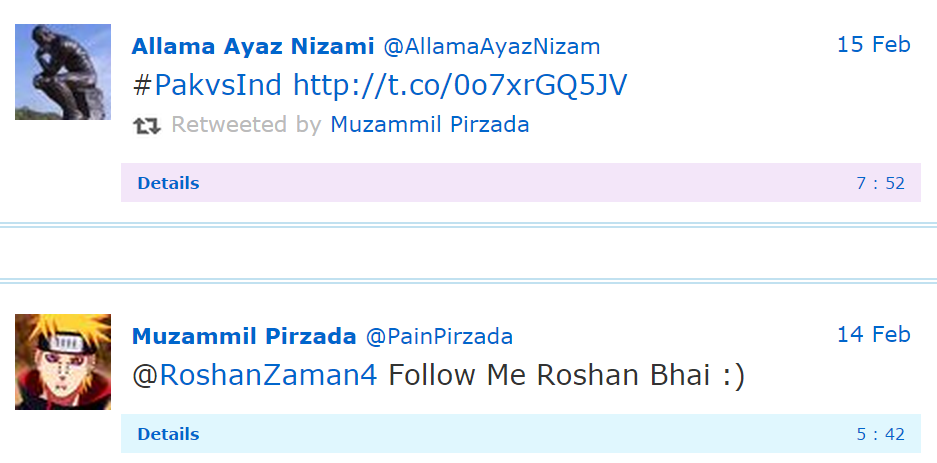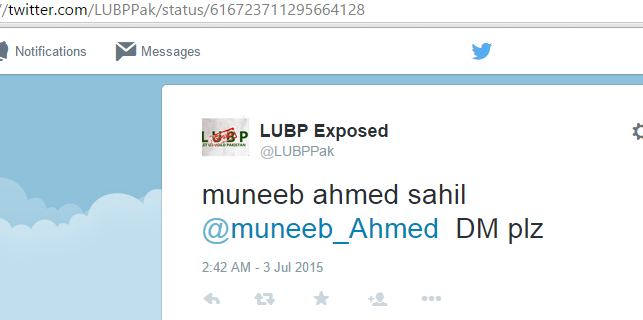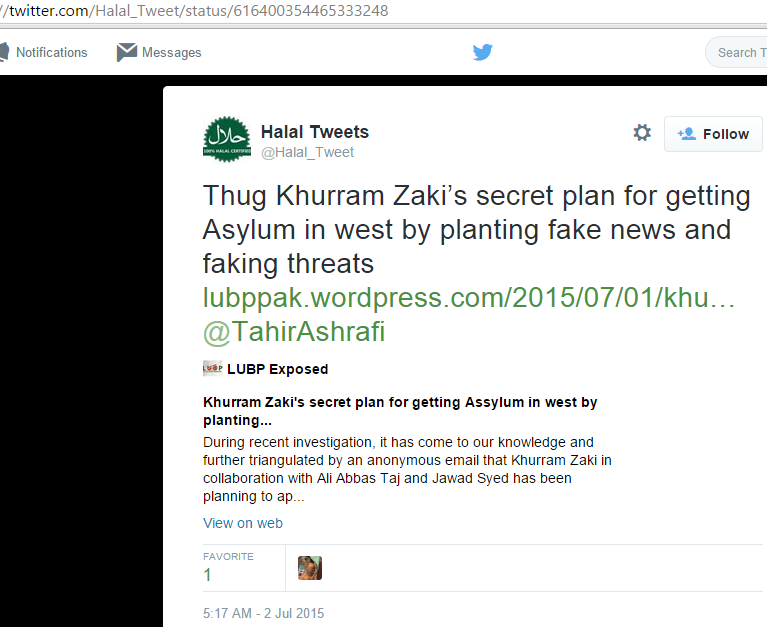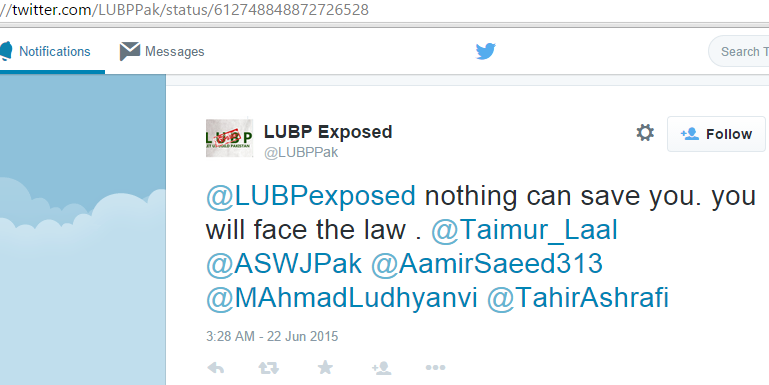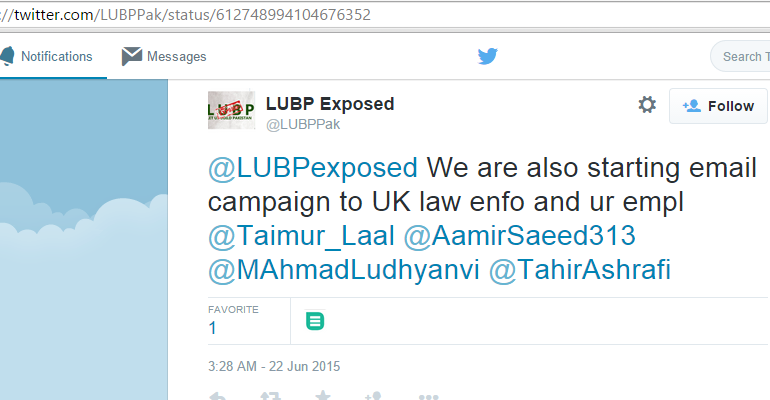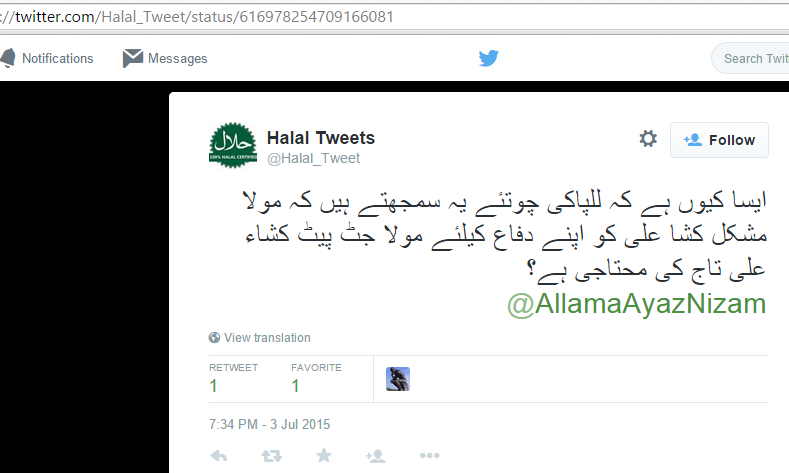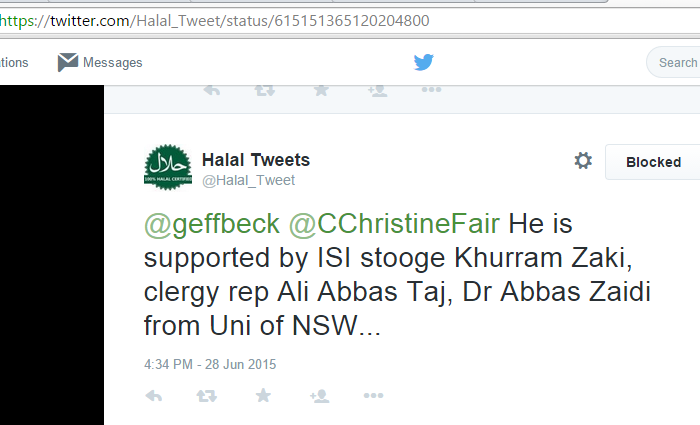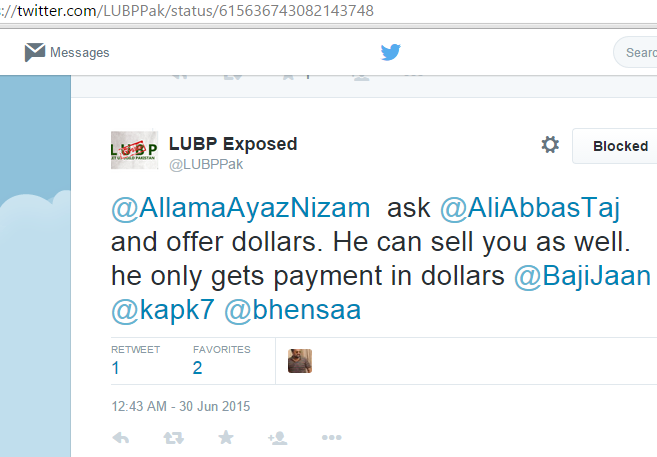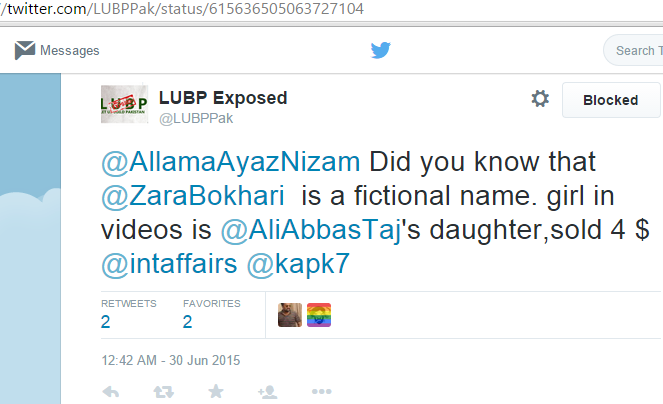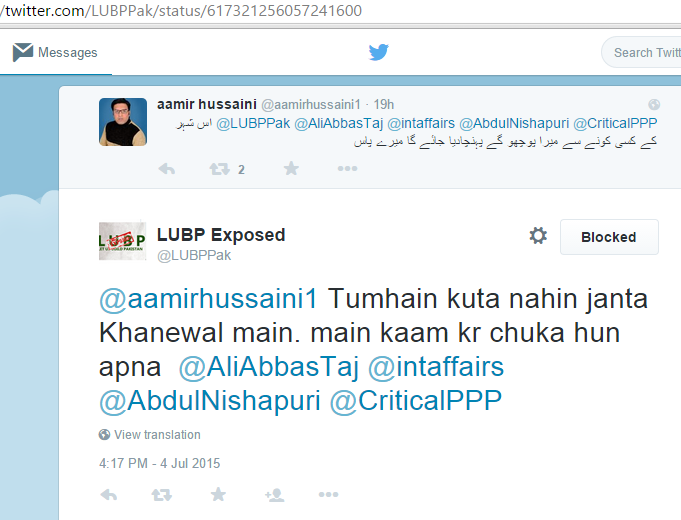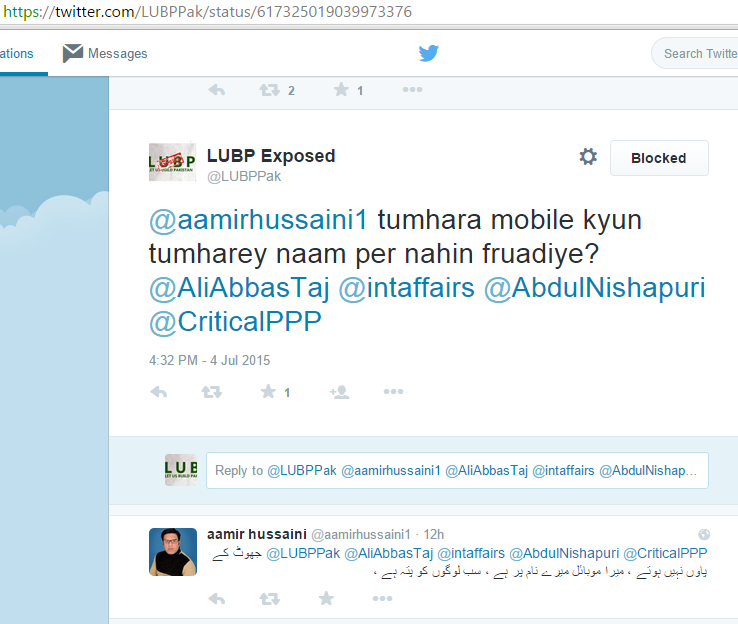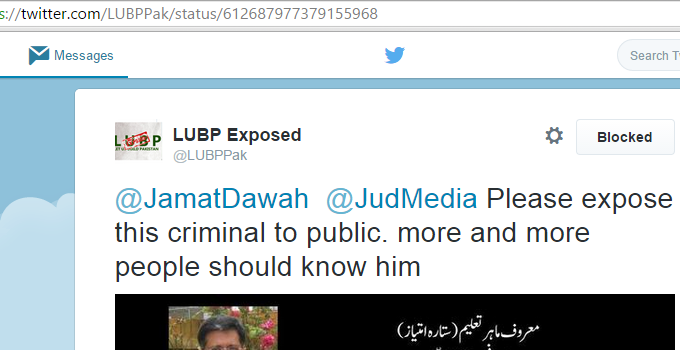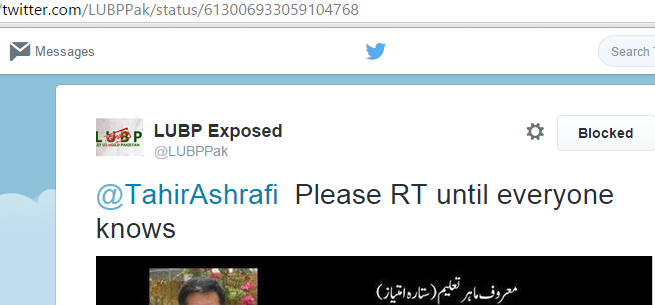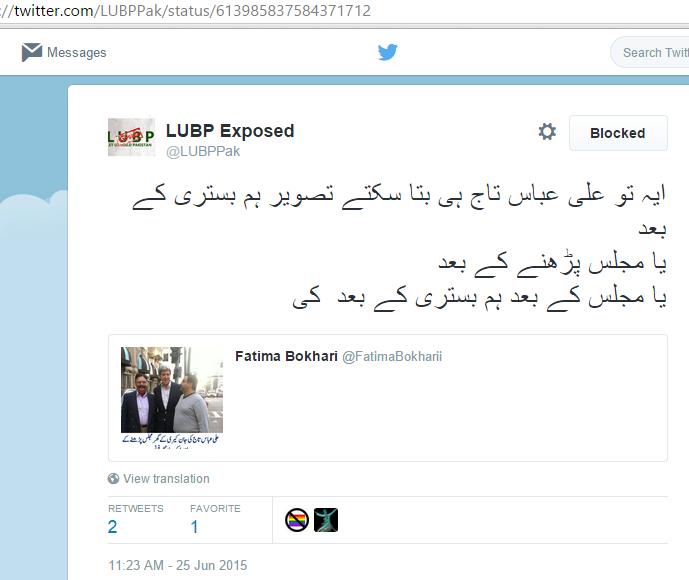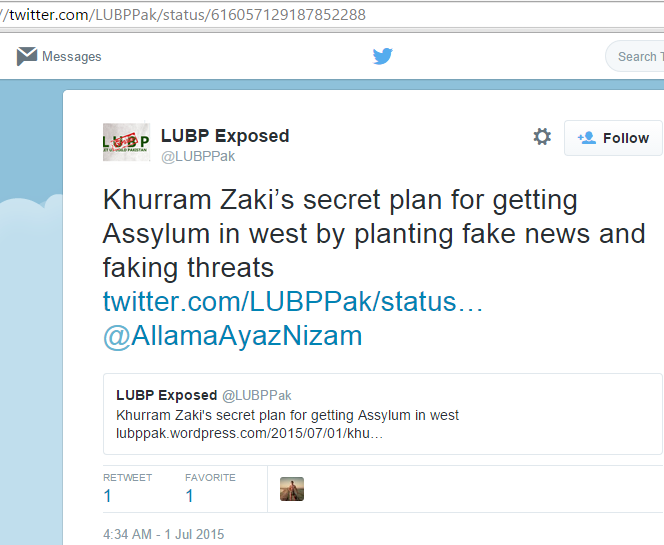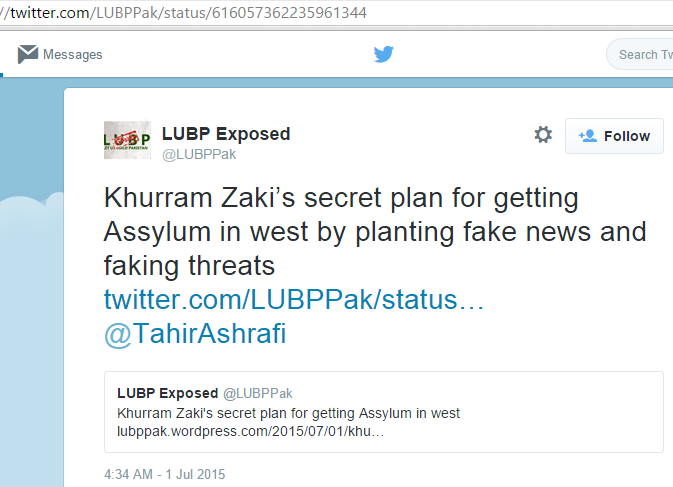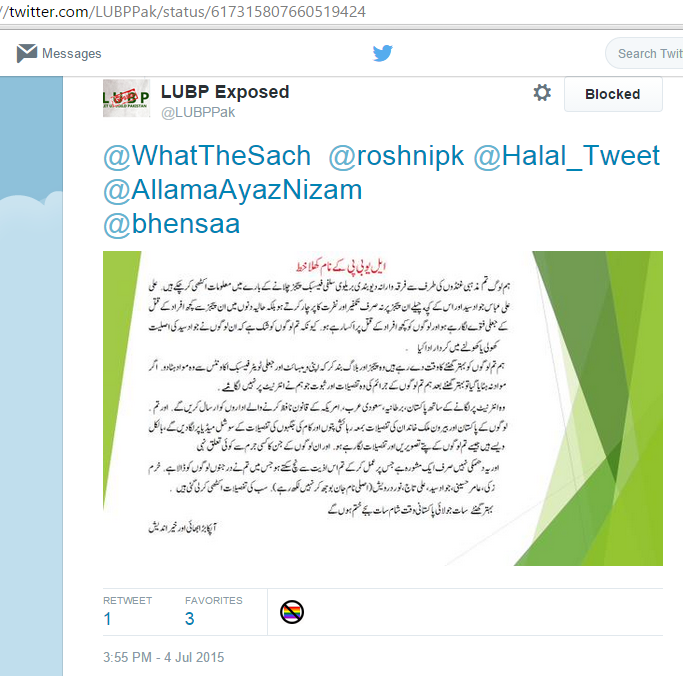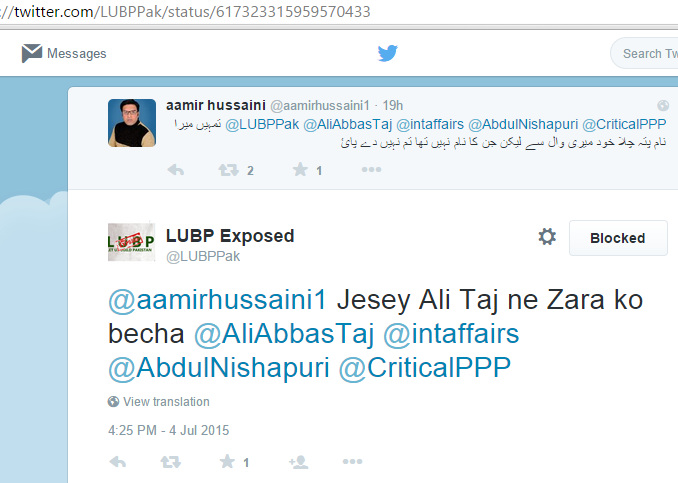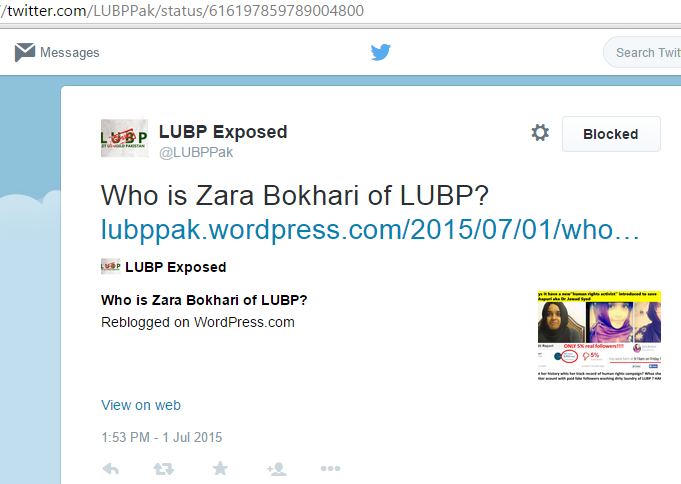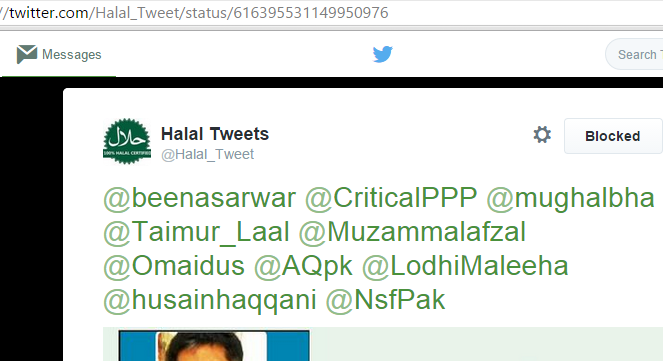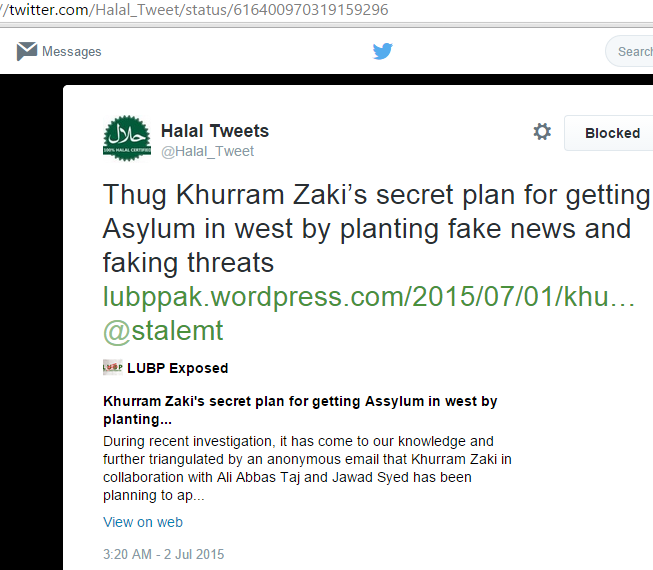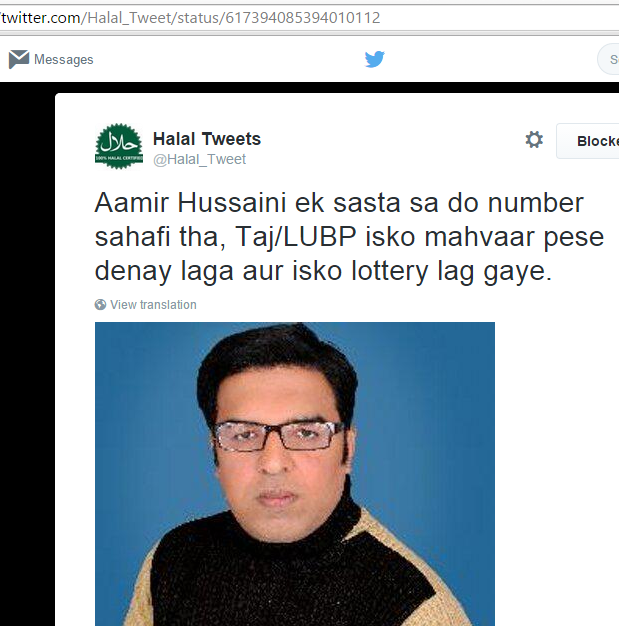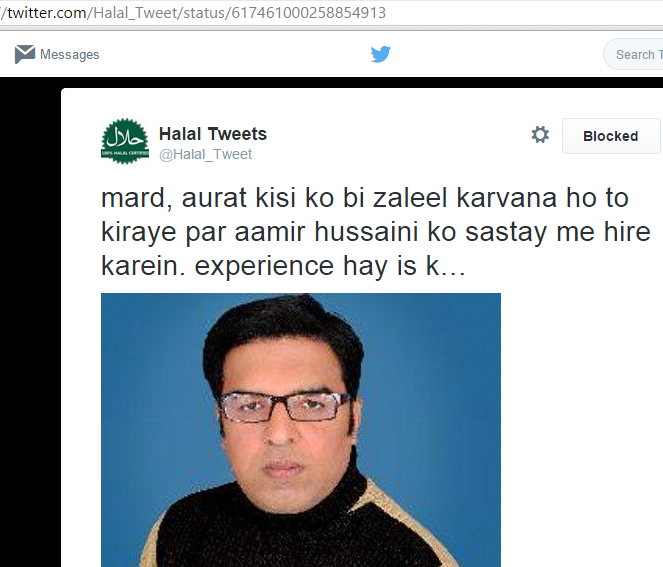 From ASWJ to Tarek Fatah and from Ayaz Nizami to Rubab Mehdi Rizvi, LUBPPak (LUBP Exposed) has quite diverse followers, all of them enemies of LUBP. We must be doing something right!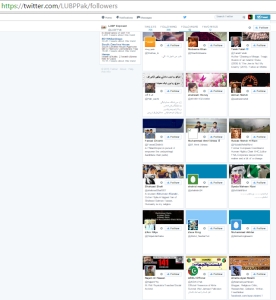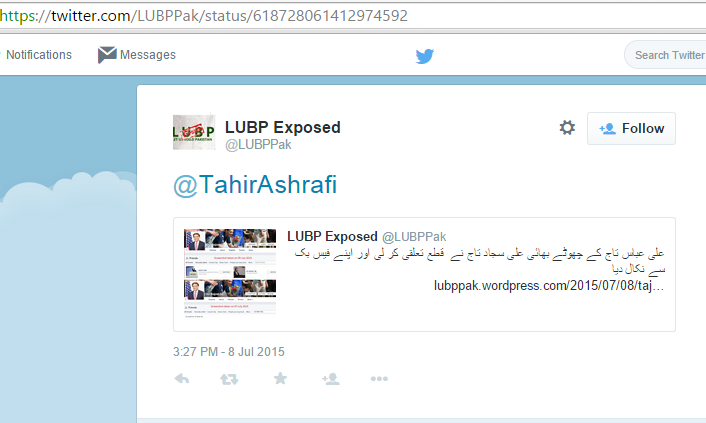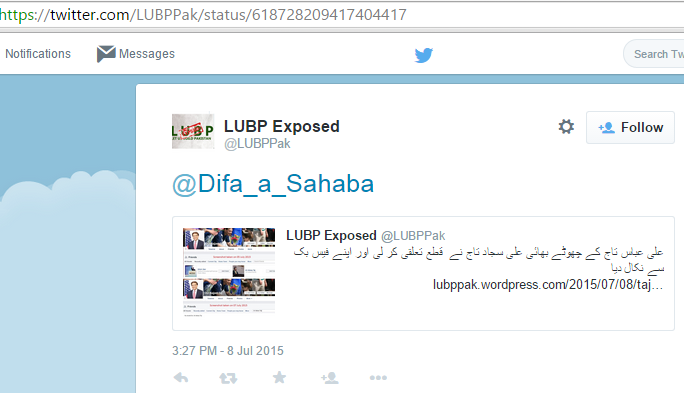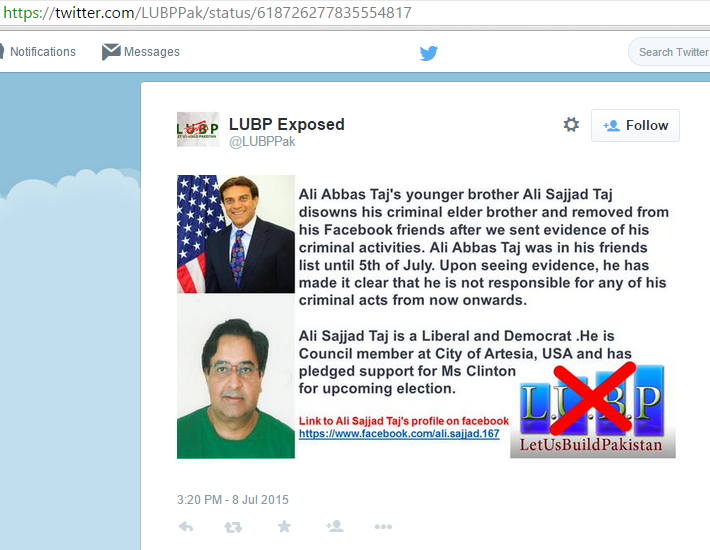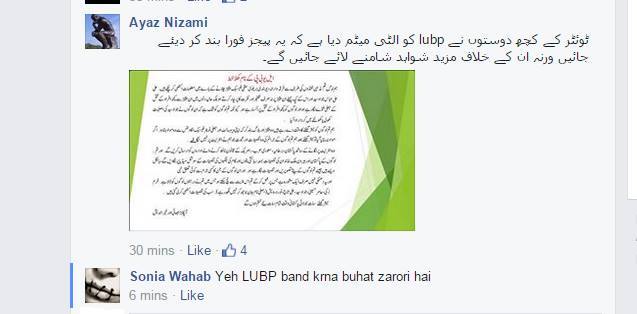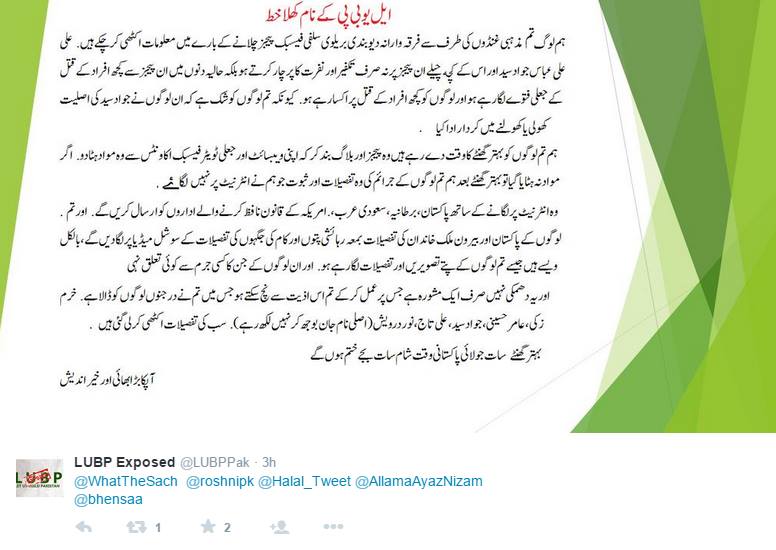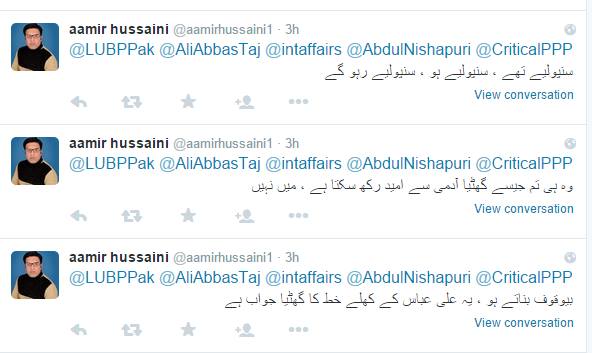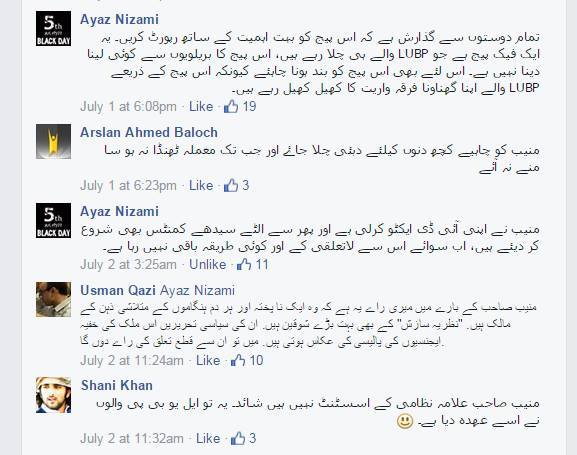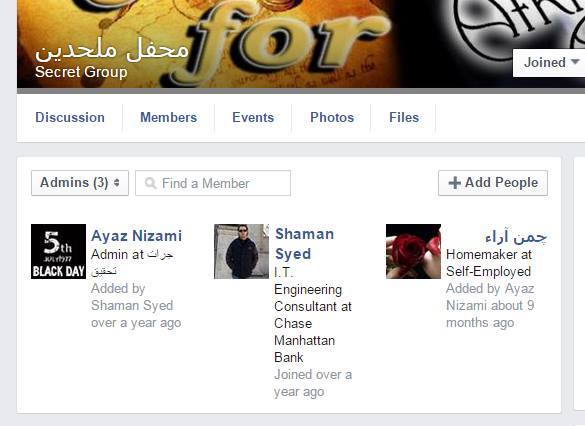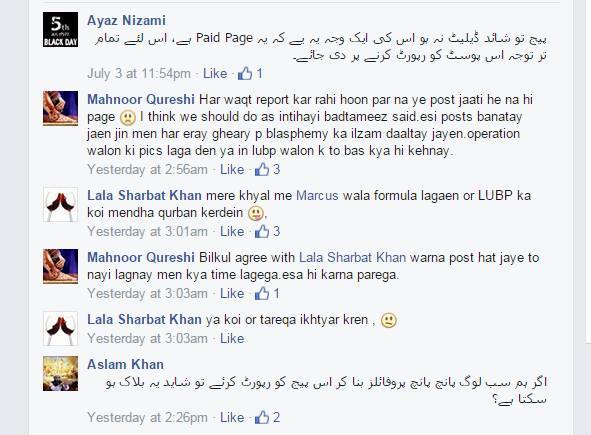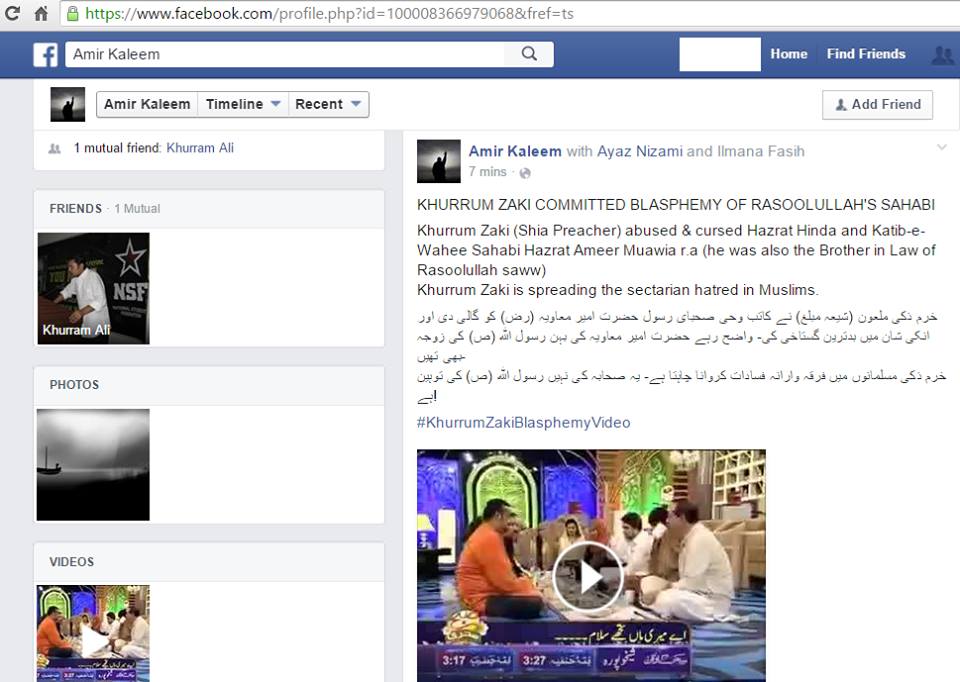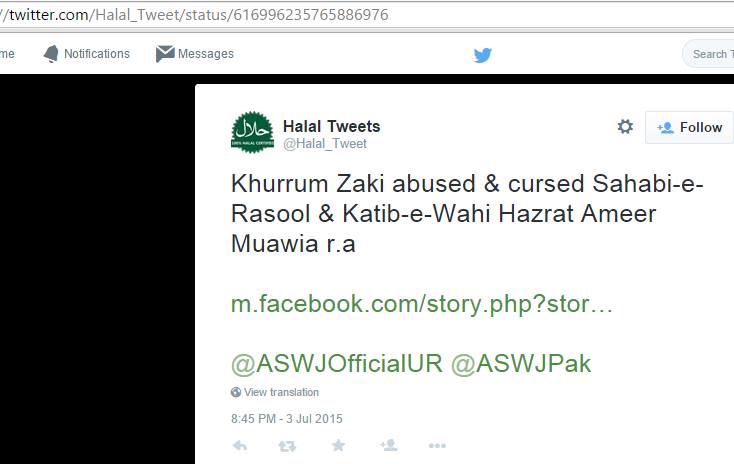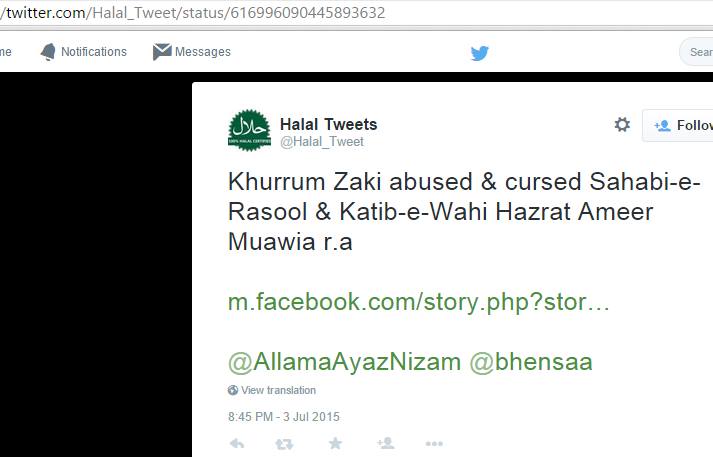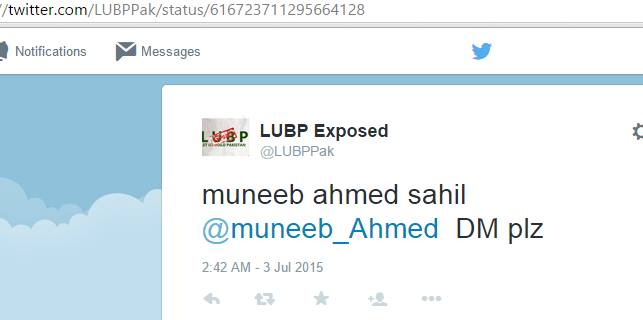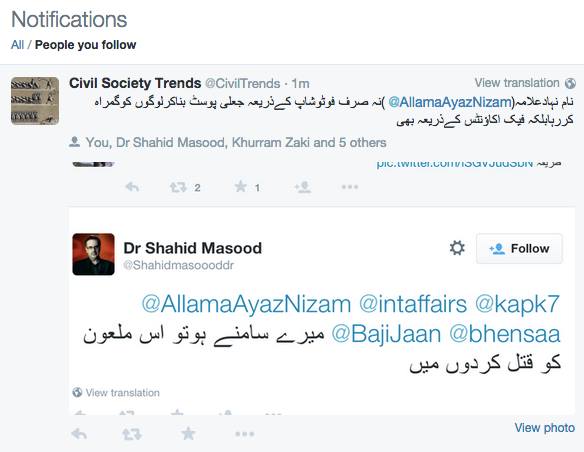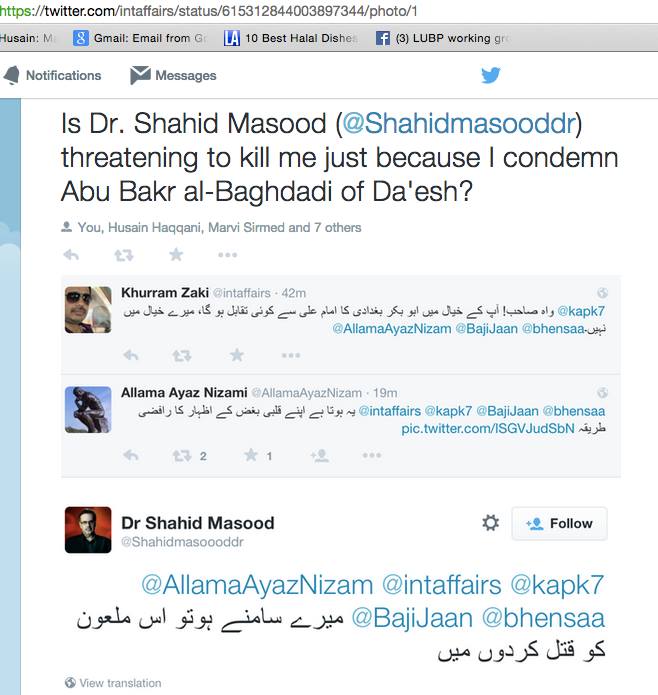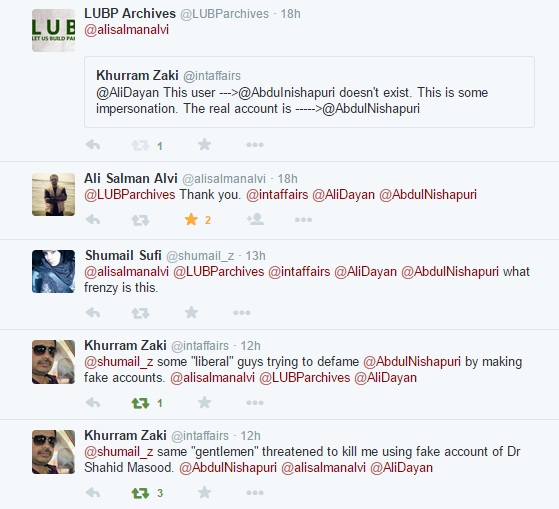 Comments
comments