If LUBP were morons, why was Ale Natiq part of LUBP for two years?

On his facebook page, Ali Mashhadi aka Ale Natiq has, conistent with the traditions set by Beena Sarwar and Ilmana Fasih Deobandi, abused Shia and Sunni Sufi activists of LUBP, describing them as 'morons of the worst degree'.
As Editor-in-Chief of LUBP, I must remind Mr Mashhadi that he used to be a part of the LUBP for at least two yeras as a member of our editorial team. That's before he saw light, not unlike his companion Ali Arqam aka Anwar Durrani, the snitch of Beeena Sarwar lobby. This topic has been dealt with by Pejamistri in a separate post.
Two years is a long time to be with morons.
Why was he demanding 1000 dollars a month from me to make slides for LUBP ?
When I could not afford to do it and Noor Darwesh volunteered to make slides and posters and did a better job than Roshni does, Us ki dukaan band ho gaye. We got a lot more traction as evidenced by likes and activity on our page.
Is liyee yeh nayee DUKAN kholi hai.
ALE Xpressed tried various ways to raise money, hitting me up was one of them. He has put out credit card donation boxes on his site etc as contacted some other potential donors.
Sadly the only success he seems to have had is at the doors of Yazid e Waqt or the Fake Liberal Mafia, the promoters of Tahir Ashrafi and other hate clerics.
I used to ask Ale Natiq why do you suck up to Beena Sarwar and Najam Sethi and company so much. His answer, someone has to be the bridge.
I still say the Ale Natiq is my brother, there is nothing personal. He should come clean and publicly own the influences and financial pressures, the decline in popularity of Roshni etc that has lead him to seek the all powerful shoulders of the commercial liberal mafia.
To some extent we should all share in this wayward direction of Ale, he made donation boxes and kept asking for money and we could not do enough. We are sorry Ale but getting it from the Tahir Ashrafi – Beena Sarwar lobby is not the answer!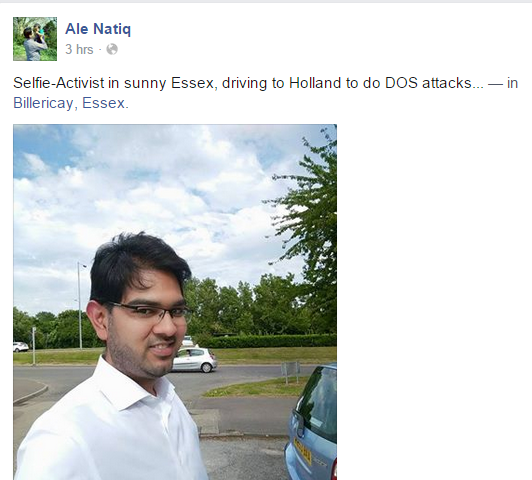 Comments
comments