The Balochs and Shias of Pakistan: Can we draw a comparison? – by Abdul Nishapuri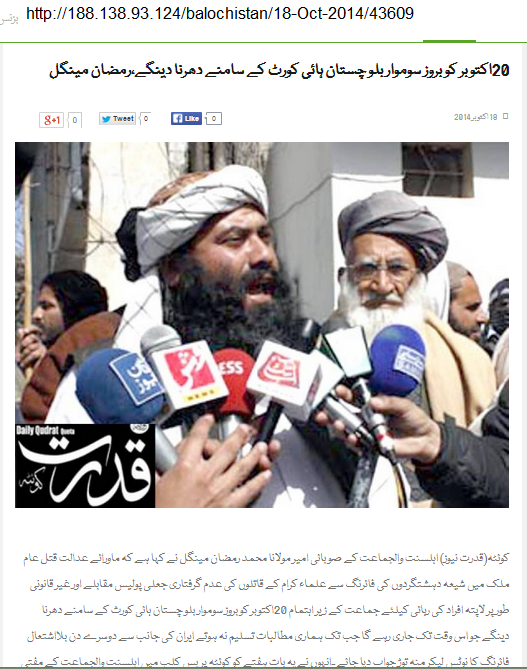 At times, rights activists in Pakistan and abroad try to belittle or obfuscate Shia genocide in Pakistan in a long laundry list of atrocities facing other communities including the Balochs. Some of them actually try to compare the Shia genocide with the Baloch "genocide".
Can we draw a comparison betweeen the Balochs and the Shia Muslims of Pakistan?
In all fairness, although our sympathies are with the innocent Balochs, it is not possible to compare their situation with the plight of Shias.
Some notable differences:
– 23,500 Shias have been target killed by mostly Deobandi Pashtuns, Balochs and Punjabis. In contrast, less than 1,000, at most 2,000 Balochs, have been killed by various groups including the State. Shias have been butchered in hundreds in one go, through massacres of bus passengers, huge bomb attacks on markets and residential areas etc. However, no such targetted violence is evident against Balochs. In fact, most of the Baloch activists on social media are known for celebrating the attacks on Saraiki, Punjabi, Sindhi and Pashtun settlers and other civilians and are also known for making exaggerated and unsubstantiated claims of State's atrocities against the Balochs.
– Whereas Baloch militants have killed hundreds of innocent Saraiki, Baloch, Hazara, Pashtun, Punjabi civilians and settlers, no such indiscriminate violnece has been shown by Shias against Sunnis or Deobandis.
– There is in fact plenty of evidence of Baloch militants' functional cooperation with Deobandi militants (eg ASWJ, Jundallah, Jasish al-Adl etc) in target killing Shia Muslims including Hazara Shias and other Shias across Balochistan, particularly in Quetta and Mastung.
Yes, we must raise voice for all oppressed and suffering communities. However, the genocide of 23,500 Shias and 45,000 Sunni Sufis at the hands of Deobandi terrorists should not be lost or diluted in a long laundry list of human rights. Of coruse when we pay tribute to the 1,000 to 2,000 Balochs killed by various groups inclduing the State, we should also pay tribute to hundreds of settlers and workers killed by Baloch militants.
Comments from facebook:
Salman Haider:
If baloch killing is negligible for being few in numbers settlers killing should even not be mentioned wink emoticon and yes there are fregmanted evidences of baloch cooperation with religious extremists there is a history of army deobandi nexus. Baloch nationalist movement has turned parochial over time but still it is not comparable with brutal state and it's proxies.
Unlike · Reply · 1 · Yesterday at 6:09am
Lubp Archives:
1. No atrocities should be neglected including those against Baloch nationalists and Punjabi, Saraiki etc settlers. However, no comparison with Shia genocide and Sunni Sufi genocide in terms of intensity and numbers across the country. Balochs are not being killed due to their ethnicity or faith but due to their armed struggle. This doesn't apply to Shias or Sunni Sufis.
2. There is plenty of data on settlers killings by Baloch militants: https://lubpak.com/archives/tag/punjabi-other-settlers
3. Plenty of evidence of Baloch militants cooperation with Deobandi terrorists: https://lubpak.com/archives/tag/takfiri-deobandis-of-balochistan
Like · Reply · Remove Preview · 1 · Yesterday at 6:29am
Salman Haider:
Baloch are not being killed for their ethnicity is as stupid a remark as shias are not being killed for their faith. No one is neglecting any atrocities was just extending your logic that Shia killings are more important for they are more in number than Balochs. Whenever a settler is killed state shares the responsibility for it has the obligation to safeguard the one killed. So settlers kay qatal main bhi LEAs ko bari up zimma nahin kaha ja sakta .State apparatus aka army balochon ko qatal karnay aur settlers ki hifazat na karnay dono kay zimadar hn.
Like · Reply · Yesterday at 6:37am
Lubp Archives:
So you want us to believe that Shafiq Mengal, Ramzan Mengal, Sarfraz Bugti and others are killing BLA and other militnats due to their Baloch ethnicity? And that different Baloch factions are attacking each other due to Baloch ethnicity? Or would you simply blame Punjabis and ISI and wash hands off?
Like · Reply · 1 · Yesterday at 6:40am
Salman Haider:
smile emoticon if a couple of Balochs influentials are with so called government it is not against balochs. Bugti was governor when in 70 operation was held in Balochistan and he was the one on who's death this wave of militant resistance started.
Like · Reply · Yesterday at 6:49am
Lubp Archives:
Bugti's murder was a State crime and Musharraf should be tried and punished for that. Just as the attacks on non-combatants are a crime and the Baloch militants should be tried and punished. I don't see so much of mazloomiat in their struggle now. They have lost their case politically, militarily and also ethically.
Like · Reply · Yesterday at 6:55am · Edited
Salman Haider:
In the very beginning I said baloch nationalism is getting parochial. But I don't agree theirs is a lost case secondly they are fighters and I admire them for that they are fighting for more than half a century now and that too against a ruthless brutal army and unsympathetic fellowmen.
Like · Reply · Yesterday at 6:58am
Lubp Archives:
"They are fighters and have been fighting for more than half a century"…. etc etc. The same halla-shairi has caused a lot of damage to Pashtuns. Let's focus on their well-being and welfare instead of fighting traditions.
Like · Reply · Yesterday at 7:10am
Salman Haider:
Balochs have never been part of state apparatus as Pashtoon and the halashairi to pashtoons was not a comment of appreciation by an individual. And I m no British Empire smile emoticon
Like · Reply · 23 hrs
Syed Riaz Al-Malik Hajjaji:
You shameless Qadiani-Mushrik-Rafidi Lubp Archives You no understand that Sufyani liberals are not being paid to highlight #ShiaGenocide which we all know is just a trumped up conspiracy. Ofcourse, at same time, it is ok to bash Hamza Abbasi but leave Sharmeen Obaid Chinoy alone for both are saying the same thing. Actually SOC is worse than HAA but you get my drift. Also, Baloch cause is more cool, grand children of Baloch nationalist leaders hold 5 star conferences in Switzerland and other nice cafes and universities. But Shia genocide wallas are smelly ppl protesting in juloos and sitting on grounds and saying non-secular things like "Labaik Ya Hussain" instead of chanting secular slogans like "Kafir Kafir S— Kafir"
Unlike · Reply · 2 · 19 hrs
Lubp Archives:
LOL Syed Riaz Al-Malik Hajjaji, You are too harsh on Liberalianvis – a term coined by محض آس اور قیاس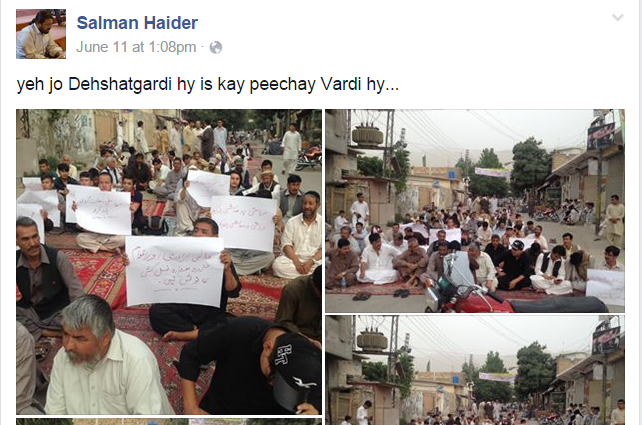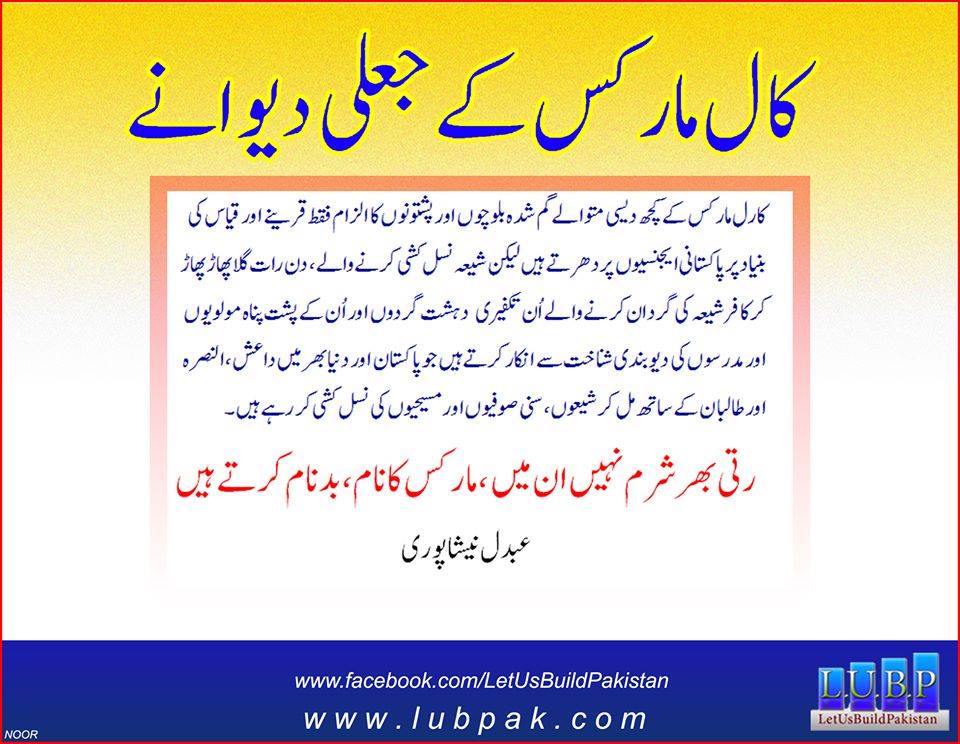 Comments
comments