Ismaili Shia massacre in Karachi: Banned Deobandi terror outfit ASWJ, backed by JUI-F, threatens Rangers and Police to stop action against the terrorists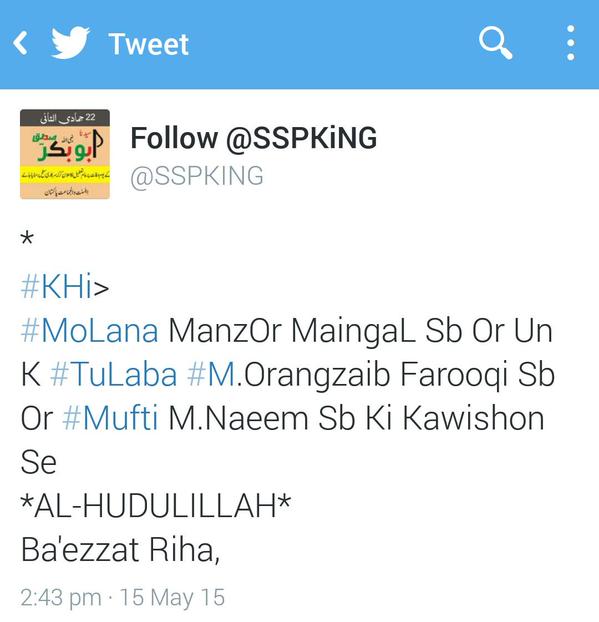 Karachi: The country's banned Deobandi terrorist outfit Sipah-e-Sahaba (ASWJ aka LeJ, led by Aurangzeb Farooqi and Ahhmad Ludhyavni) and its backer JUI-F (of Maulana Fazlur Rehman) are up in arms over the arrest of hate clerics and terrorists in the aftermat of the Ismaili Shia massacre at Safoora Chowk, Karachi.
It may be recalled that Deobandi hate cleric Maulana Dr Manzoor Ahmed Mengal, along with several Deobandi militants of his seminary, was arrested in the wee hours of Thursday.
Mengal, a Shaikhul Hadith popular among ASWJ, LeJ and other Deobandi circles on account of his hateful speeches and fatwas against Sunni Sufis, Barelvis and Shias including Ismailis, was picked up by law enforcers from his Deobandi seminary, Jamia Siddiqua, located in the Gulshan-e-Maymar area.
Sources said that Mengal and dozens of his students were arrested in connection with Wednesday's harrowing attack on Ismaili Shias in the Safoora Goth area.
Though he has not been an office-bearer of the Jamiat-e-Ulema Islam-Fazl (JUI-F) or the Ahle Sunnat Wal Jamaat (ASWJ), Mengal, who used to teach at the Jamia Farooqia in Shah Faisal before establishing his own seminary, has been a regular participant at the parties' gatherings.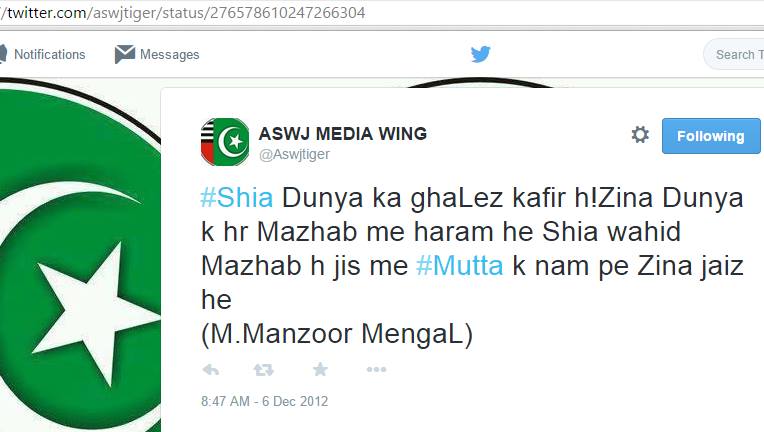 Another religious figure arrested by LEAs was Salahuddin Palari, a local leader of the ASWJ, who was picked up from Super Highway, while raids were also conducted at the houses of slain ASWJ leaders, Dr Fayyaz and Arif, as per a press statement released by the party.
Threats of sit-ins
Condemning the arrests, Qari Muhammad Osman, provincial deputy head of the JUI-F, threatened to block off all entry and exit points of the city by organising sit-ins if Mengal and his students were not released immediately.
"The Safoora Goth carnage is a condemnable act of terrorism," Osman said, "But we will not allow law enforcers to raid religious seminaries on this pretext."
Osman claimed that over a 100 students were arrested along with Mengal.
He added that a strategy for possible nationwide demonstrations was likely to be announced after a meeting of the Wafaq-ul-Madaris Al-Arabiya, a key federation of Deobandi madrassas, which was held in Multan on Thursday.
ASWJ Central President Maulana Aurangzeb Farooqi also condemned the arrest of Mengal and Palari and said that some biased officers were using the Safoora Goth incident to harass peace-loving religious scholars and students.
The Safoora Chowk massacre's mastermind Deobandi ASWJ hate cleric Manzoor Mengal's violence inciting speech against Shia Muslims.
Comments
comments