Islamabad's International Islamic University promoting extremist Deobandi and Salafi doctrines, says intelligence agency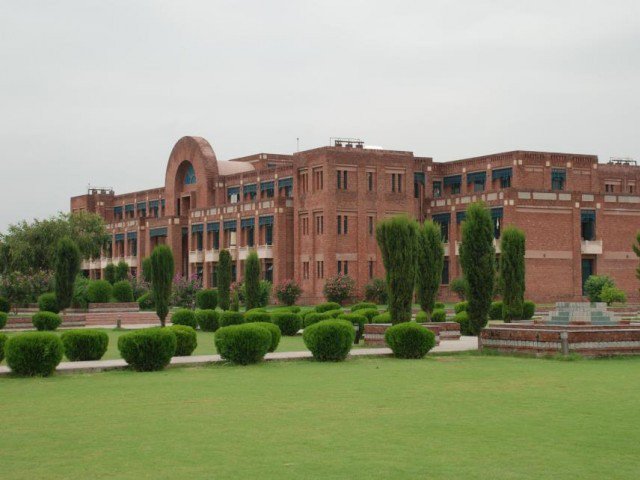 An intelligence agency has stated that the International Islamic University Islamabad (IIUI) "intentionally promotes sectarian doctrine at its campus" and suggested that the management shun these activities and create a conducive environment for learning.
An official letter sent by the agency, and available with The Express Tribune, titled 'Undesirable activities in IIUI' stated that the varsity was formed with a motive to serve the needs of the entire Muslim World, "however the appointment of ill-reputed and allegedly corrupt people in the faculty and administration, ostensibly with ulterior motives,  have set the rot in motion."
It further adds that political and sectarian considerations have relegated merit and this has led to a constant decline in academic life at the university. "In specific, it has been reported that the administration and faculty of IIUI is intentionally promoting Salafi, Takfiri and lkhwani doctrines, whereas Pakistan is fighting the demon of terrorism, incubated and abetted by the same doctrines," the letter reads.
IIUI was established in the 1980s by Gen (retd) Ziaul Haq and its prime objective was initially to teach Sharia, but later, natural, social sciences and business administration subjects were also launched. At present, the varsity has a strength of over 20,000 students. The varsity also receives funding and other support from Saudi Arabia, including its 'old' campus around Faisal Mosque.
Saudi influence has always been a controversial issue at the university. The current president of the varsity, Ahmed Yousif Ahmed Al Draiweesh, is a Saudi national and has several translators who help carry out his duties as he only speaks Arabic.
Recently, a spat over an old mosque at the varsity landed the management in court when it tried to shut down the years' old mosque which was frequented by followers of the Barelvi school of thought.
In 2011, IIUI rector Dr Fateh Mohammad Malik was sent on ex-Pakistan leave after Saudi diplomats reportedly complained to then-president Asif Ali Zardari when Malik invited the Iranian envoy to the university to attend and speak at a cultural exhibition.
In the letter, a few suggestions have also been made "to make the university a true seat of Islamic and contemporary knowledge for the entire Muslim world."
The president and rector [of the university] should be renowned scholars, with administrative capability and academic excellence, while curriculum must be free of sectarianism, takfiriat (calling others infidels) and parochialism, the letter suggested.  It adds that Islamic curriculum should be scrutinised by an assemblage of scholars from all schools of thought.
"Vested interests intervention must be ceased giving way to merit and authenticity in appointing the president, rector and other individuals on administrative and educational posts," the letter reads.
The letter also suggests that "sectarian outfits like Al-Huda, Tableeghi Jamaat and Jihadis etc must not be allowed to impose their agenda."
Similarly, it directs that foreign hegemony in the faculty and curriculum must end and students should have a congenial and stress-free environment to learn and contribute and must not be subjected to undue harassment.
HEC Chairperson Dr Mukhtar Ahmad confirmed receiving the letter as well but refused to comment further. "Yes we get such letters and consultations with the varsity are under way which cannot be shared," he added.
When contacted for comments, the IIUI spokesperson said he had not received any such letter.
Source:
http://tribune.com.pk/story/885224/questionable-activities-iiui-promoting-extremist-doctrines-says-intelligence-agency/
Comments
comments