Media Discourse on Deobandi Terrorism – May 01 to May 15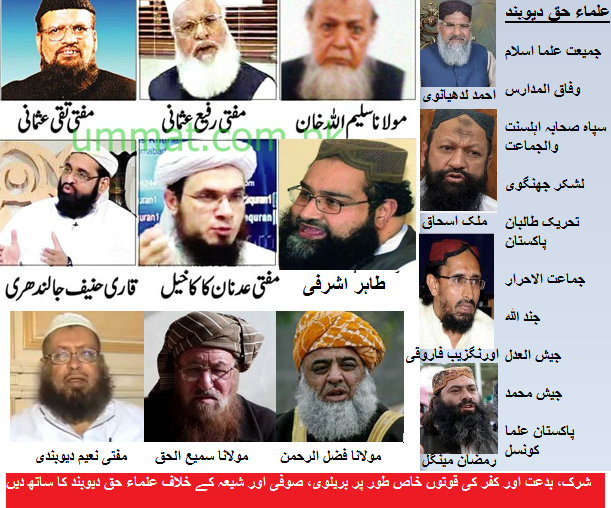 Fears Grow in Central Asia of an ISIS-Taliban Alliance in Afghanistan
8 May 2015
Fears continue to grow throughout Central Asia of an alliance between the Taliban and Islamic State (IS or ISIS or ISIL or Daesh) in Afghanistan, as I described early last month. An alliance between the two militant groups faces many obstacles. Although both groups are simply thugs, the doctrines they claim to follow are significantly different, with ISIS following a strict form of Salafi-Takfiri Islam from Saudi Arabia, while the Afghan Taliban are mostly followers of Deobandi Islam based in South Asia. Furthermore, they have different geopolitical objectives, with ISIS claiming to lead a worldwide caliphate, and the Taliban's interested focused on the Afghanistan-Pakistan region.
Source:
http://www.breitbart.com/national-security/2015/05/08/world-view-fears-grow-in-central-asia-of-an-isis-taliban-alliance-in-afghanistan/
Islamic State and Jihadi Realignments in Khorasan
Hekmatullah Azamy and James Weir
The Diplomat
May 08, 2015
Significant ideological differences between the two groups exist. The Afghan Taliban are mostly followers of Deobandi Islam based in South Asia, while IS follows a strict form of Salafi-Takfiri Islam which finds its home in Saudi Arabia. The leaders of each movement, both Mullah Muhammad Omar Mujahid and Abu Bakr al-Baghdadi, claim ultimate spiritual authority within Islam. However, the younger al-Baghdadi expects Mullah Omar's submission and Taliban absorption into IS. Taliban's goals are mostly confined to Afghanistan, while IS pursues a caliphate across the Muslim world.
Source:
http://thediplomat.com/2015/05/islamic-state-and-jihadi-realignments-in-khorasan/
Religious Leaders In Protest Against Pervaiz Rasheed
The News Tribe
May 10, 2015
ISLAMABAD – Religious groups belonging to the Deobandi school of thought on Saturday protested against Information Minister Pervaiz Rasheed's remarks about seminaries.

Addressing a national conference organized by the Pakistan Academy of Letters in Karachi on May 3, the minister had described the seminaries as 'centers of ignorance and illiteracy.'
Wafaq-ul-Madaris Al Arabia, the board representing the seminaries belonging to the Deobandi school of thought, on Saturday held a protest outside the National Press Club here.
My protest, my place, or perhaps the press club
The News
Anti-Ismaili attack spotlights Pakistan's intensifying sectarian violence
13.05.2015
Over the past several years, conflicts between the Islamic Republic's Sunni Deobandi and Shiite Muslim groups have increased in brutality, frequency and mortality. Shiites make up around 20 percent of the country's predominantly Muslim population.
Experts say the latest round of sectarian violence in the country is merely a continuation of the targeting of Shiite Muslims by various militant groups such as Lashkar-e-Jhangvi and the Tehreek-e Taliban Pakistan, who are mainly from the Wahhabi sub-sect known as the Deobandis.
"It's therefore important that we identify this as not a Sunni-Shiite conflict, but a conflict between Sunni Deobandi and Shiite Muslims – with Shiite civilians bearing the brunt of the violence," said Arif Rafiq, Pakistan expert and president of Vizier Consulting, which provides strategic guidance on Middle East and South Asian political and security issues.
They call on provincial and local officials to enforce existing laws that empower them to curb hate speech and incitement, and limit the movement of individuals on terrorist watch lists. The political leadership at the federal and provincial levels also has to bring radical Sunni Deobandi and Shiite leaders together, getting them to agree to a code of conduct, said analyst Rafiq.
Source:
http://www.dw.de/anti-ismaili-attack-spotlights-pakistans-intensifying-sectarian-violence/a-18448126
Citizen's Revolt in Afghanistan
May 13, 2015
Extreme fundamentalist mullahs have threatened the moderate Sufi inclinations of Afghans for a century. In 1929, King Amanullah banned ultraconservative clerics of the Indian Deobandi school from the country, denouncing them as "bad and evil persons" who spread foreign propaganda. But the modernizing king, an early proponent of women's rights, was forced to abdicate and the ultraconservative mullahs came back. (Currently, the Taliban's leader, Mullah Omar, though not fully qualified as a mullah, is Afghanistan's most famous Deobandi.)
Source:
http://original.antiwar.com/engelhardt/2015/05/12/citizens-revolt-in-afghanistan/
Wajib-ul-qatl
The Nation
Comments
comments