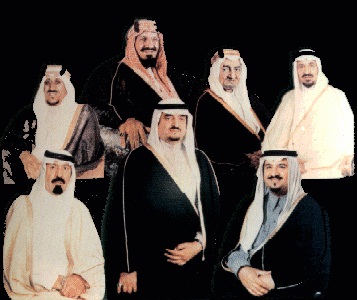 اپریل 29 ، 2015ء شام چار بجے سعودی عرب کے فرمانروا سلمان بن عبدالعزیز نے کئی شاہی فرمان جاری کئے اور ان فرمانات میں سب سے اہم فرمان سعودی ولی عہد مقرن بن عبدالعزیز اور چالیس سال سے وزیر خارجہ چلے آرہے سعود الفیصل کی برطرفی اور ان کی جگہ اپنے بھتیجے محمد بن نائف کی بطور ولی عہد تقرری اور واشنگٹن میں سعودی سفیر عادل الجبیر کی بطور وزیر خارجہ تقرری تھی ، انھوں نے سعودی عرب کے روز مرہ کے امور چلانے کے لئے بنائی گئی 40 کونسلوں کو بھی ختم کردیا اور ان کی جگہ صرف دو کونسلیں بنائیں ، وزیر ایجوکیشن جو کہ ایک خاتون تھی ان کو بھی برطرف کردیا گیا جبکہ دیگر اور انتظامی امور میں بڑے پیمانے پر تبدیلیاں کی گئیں
سلمان بن عبدالعزیز کی جانب سے ان تبدیلیوں کے کیے جانے سے بھی پہلے جب انھوں نے اپنے بیٹے محمد سلام بن سلمان کو وزیر دفاع بنایا تھا تو تب بھی کافی بحث شروع ہوئی تھی اور شاہ عبداللہ کی بیماری کے دنوں میں ہی آل سعود کے مستقبل میں اتحاد بارے طہ مگوئیاں شروع ہوگئی تھیں ، سعودی عرب اور آل سعود کے مستقبل کے بارے میں ایک مرتبہ پھر بڑے زور شور سے بحث شروع ہوچکی ہے
واشنگٹن پوسٹ ، فارن پالیسی ، نیویارک ٹائمز سمیت کئی ایک مغربی میڈیا ھاوسز اس معاملے پر زور وشور سے بحث میں مصروف ہیں ، بی بی سی ارو ڈاٹ یوکے ڈاٹ کو نے اپنی ویب سائٹ پر اس حوالے دو ایک ماہرین کی بات چیت پوسٹ کی ہے جبکہ عرب میڈیا میں جو گروپس آل سعود کے اثر سے باہر ہیں اور جن پر خلیج تعاون کونسل میں شامل ملکوں کا اثر نہیں ہے وہاں بھی آل سعود کے مستقبل پر کافی بحث و مباحثہ شروع ہوچکا ہے ، الاخبار نے ابراہیم الامین کا مضمون " السعودیہ ….. حکم الصبیہ " کے عنوان سے شایع کیا ہے
واشنگٹن پوسٹ نے پروفیسر ڈینیل ڈبلیو ڈریزنر کا مضمون
Is the House of Saud teetering on the edge of collapse
کے عنوان سے لکھا ہے ، اس مضمون میں ڈینیل نے بہت تفصیل سے پہلے تو اس بات کا جائزہ لیا ہے کہ ایرانی پاسداران انقلاب کے سربراہ میجر جنرل محمد علی جعفری نے یہ جو دعوی کیا کہ ریاض کے گرنے کا وقت قریب آگیا ہے ، کیا وہ محض ایرانی پروپیگنڈے کا حصہ ہے ؟ کیا یہ بات صرف ایرانی کیمپ سے کہی جارہی ہے ؟
ڈینیل نے لکھا ہے کہ یہ بات صرف ایرانی میجر جنرل محمد علی جعفری ہی نہیں کہہ رہا بلکہ ایران میں امریکی سفیر کا کہنا بھی یہی ہے کہ ایرانی اس سے پہلے بھی آل سعود کے بارے میں ایسی باتیں کہا کرتے تھے لیکن اب ان کے ہاں یہ بات جتنے زور دیکر کہی جارہی ہے پہلے اس طرح سے نہیں کی
ڈینیل کے مطابق اگر فارن افیئرز امریکی جریدے کے ندیم طاکب ، گریگوری ٹرویٹن کو پڑھیں تو سعودی عرب میں انقلاب اب آیا کہ تب جیسی صورت حال دکھائی دیتی ہے اور وہ اس کی وجہ تیل کی آمدنی پر انحصار کرنے والی معشیت ، مرتکز مطلق العنانیت اور سیاسی تحریکوں کو زبردست جبر سے دبانا وغیرہ قرار دیتے ہیں ، علاقائی امور کا ماہر جان کول بھی کچھ ایسا ہی لکھتا ہے اور کہتا ہے کہ سعودی عرب میں مطلق العنان بادشاہت کو شدید خطرات لاحق ہیں ، ڈینیل کے خیال میں اس طرح کے تجزئیے کئی سال پہلے فوکویاما کے مڈل ایسٹ کی حکومتوں اورچینی حکومت کے درمیان ایک موازنے کے دوران کئے گئے تجزیہ سے ملتے ہیں جس میں فوکویاما نے کہا تھا کہ چین میں جو تحکمانہ حکومت ہے وہ مڈل ایسٹ کی حکومتوں سے کوالٹی میں کئی گنا زیادہ اعلی سطح کی ہے اور اس کے بقول مڈل ایسٹ کی مطلق العنان حکومتوں کا گرنا نوشتہ دیوار بن چکا ہے
If you read Nassim Taleb and Gregory Treverton in Foreign Affairs, Saudi Arabia seems like the poster boy for imminent revolution: single-crop economy, centralized authoritarian regime and a suppression of political volatility. Regional expert Juan Cole also wrote in January that the challenges to Saudi absolutism are severe. Both of these arguments are of a piece with Francis Fukuyama's assertion from a few years ago that "authoritarianism in China is of a far higher quality than in the Middle East," which implies that any remaining Arab authoritarians are doomed.
اس سے آگے ڈینیل ان حالات کا بیان کرتا ہے جس سے یہ دعوی درست نظر آتا ہے ، وہ سعودی عرب کے ایرانی فوبیا ، شیعہ کریسنٹ کا زکر کرتا ہے اور مڈل ایسٹ و ایران کے حوالے سے امریکی پالیسی میں تبدیلی کا زکر بھی کرتا ہے اور سعودی عرب میں انتقال اقتدار اور عراق، شام ، لبنان اور یمن میں سعودی عرب کی مشکلات کا بھی زکر کرتا ہے
There's an appealing logic to these claims. It's not like the Middle East is a beacon of stability at the moment. The House of Saud is dealing with rising Iranian influence in the Shia Crescent, wars in Syria and Yemen, simmering discontent in Bahrain, and the prospect that its principal global ally is about to cut a deal with its enduring rival in the region. Oil prices are higher than they were a few months ago but still a good deal lower than the previous few years. Oh, and lest we forget, the Saudis just had to deal with a leadership transition.
ڈینیل کہتا ہے کہ یہ تمام وجوھات ایسی ہیں جن کی بنا پر آل سعود کے دوبارہ سے غلبے کے حوالے سے یہ مایوسی ٹھیک لگتی ہے ، یہاں پر وہ ایک اور پہلو کی جانب بھی اشارہ کرتا ہے اور وہ پہلو ہے سعودی نئے فرمانروا سلمان بن عبدالعزیز کی تعیناتی کا ان کے پیش رووں سے مختلف انداز میں ہونا ، سلمان بن عبدالعزیز کی بادشاہت کے منصب پر تعیناتی نے نہ صرف نئے بادشاہ کی تقرری کے ابہام کس ختم کیا بلکہ اس نے ان کے بعد کون بادشاہ ہوگا اس کو بھی حل کردیا ایک سعودی نے مزاحا کہا کہ بادشاہ نے اپنا ننانوے فیصدی کام ایک دن ہی میں ہی کرلیا
Rarely has one of Saudi Arabia's ageing rulers moved so nimbly. No sooner had King Salman taken the crown on January 23rd after the death of his half-brother, Abdullah, than he immediately settled one of the most pressing questions of his rule: who would be the next king and, crucially, who would be the king after that. "The king did 90% of his job in just one day!" jokes one Saudi…
بعض تجزیہ نگار آل سعود کو ابھرتی ہوئی ایک پروفیشنل کمپنی بورڈ سے تشبیہ دیتے ہیں ، 2006ء میں سابق سعودی شاہ عبداللہ نے آل سعود کی تمام شاخوں کی نمائیندگی رکھنے والی 35 رکنی وفادار کونسل تشکیل کی اور اس کا مقصد انتقال اقتدار کو پرامن اور ہموار طریقے سے ممکن بنانا تھا اور یہاں پتے کی بات یہ ہے کہ اسی کونسل نے ووٹ دیکر شہزادہ محمد بن نائف کی بطور ولی عہد تقرری کی منظور دے ڈالی اور اگر ایسا ہی ہوا ہے تو کم از کم یہ آل سعودکے اندر بہت کم نظر آنے والی جمہوریت کا مظاہرہ تھا اور جو لوگ اس سے پہلے عہدوں سے فارغ ہوئے جیسے پرنس متب بن عبداللہ سابق شاہ عبداللہ کے بیٹے اور سربراہ نیشنل گارڈ ہیں تسلیم کرتے نظر آتے ہیں کہ زاتی عزائم سے کہیں زیادہ اہم آل سعود کی اجتماعی بقا ہے
ڈینیل کا کہنا ہے کہ آل سعود کا خیال تھا کہ تیل کی قیمتوں کے گرنے سے تہران کو ریاض سے کہیں زیادہ خطرہ ہے اور اس کے تہران کی معشیت کی تباہی یقینی ہے اور اس لئے آل سعود نے تیل کی گرتی قیمتوں کو مستحکم کرنے میں کوئی کردار ادا کرنے سے انکار کیا
مڈل ایسٹ میں عدم استحکام پہلے سے موجود تھا اور سعودی عرب سمیت دیگر عرب مطلق العنان حخومتوں کو ایران کے خطے میں بڑھتے اثر رسوخ اور امریکہ کی جانب سے خطے میں زمینی فوجی دستے اتارنے سے گریز نے خلیج تعاون کونسل کے ممالک اور اس سے باہر مصر وغیرہ کو ایک اتحاد بنانے پر مجبور کردیا اور اس کا مقصد طاقت کے توازن کو اپنے حق میں کرنا ہے
Ray Takeyh
کے مطابق امریکی چوکیدار کی غیرموجودگی کی وجہ سے سنی ( وھابی اور ان کے ایجنٹوں کی ) عرب حکومتیں مڈل ایسٹ میں ایک نئی سرد جنگ شروع کرنے کے لئے اکٹھی ہوگئی ہیں اور سعودی عرب اس اتحاد کا مرکز ثقل ہے جس کی دولت مصر کو رام کررہی ہے کہ وہ ایران کے بڑھتے اثر کو روکنے میں اس کی مدد کرے ، مصر نے یمن پر سعودی عرب کی جارحیت میں مدد فراہم کی لیکن ابھی یہ دیکھنا ہے یہ وھابی ریاستیں کس قدر فوجی طاقت اپنے اثر کو واپس لانے کے لئے جمع کرپاتی ہیں  واشنگٹن پوسٹ کی ایک رپورٹ جو
Liz Sly
نے لکھی کے مطابق عرب ملکوں کے درمیان اس اتحاد اور قربت کے اثرات شام میں وھابی گروپوں کے درمیان اور وھابی سلفی باغیوں اور نام نہاد ماڈریٹ باغیوں کے درمیان خلیج کو پاٹنے میں مددگار ثابت ہوئے ہیں ، اس رپورٹ کے مطابق سعودی عرب ، قطر اور ترکی کے درمیان یمن کے حوالے سے بڑھنے والی قربت کا نتیجہ ان ملکوں کے حمائت یافتہ شام میں وھابی تکفیری باغی گروپوں کے درمیان اشتراک کی صورت میں نکلا ہے اور شاہ سلمان بن عبدالعزیز نے اس حوالے سے قطر و ترکی سے اپنے اختلافات کو کم کرنے اور شام میں اپنے حامیوں کو ایک اتحاد میں پرونے کی طرف بھی قدم بڑھایا ہے اور اس کا نتیجہ ان باغی گروپوں کے اتحاد کی شکل میں نکلا ہےجسے لشکر نصرت کہا جارہا ہے ، جس میں ایک طرف تو القائدہ سے منسلک اور سعودی عرب کی حمائت یافتہ جبھہ النصرہ شامل ہے تو دوسری طرف ترکی و قطر کی حمائت یافتہ اسلامک بریگیڈ ہے اور کئی ایک چھوٹے بڑے سلفی تکفیری گروپ شامل ہیں اور سب سے دلچسپ بات یہ ہے کہ اس میں خود نام نہاد مادریٹ باغی گروپ بھی شامل ہیں
ڈینیل کی نظر میں واشنگٹن پوسٹ کی اس رپورٹ کے مطابق تو آل سعود کے زوال کی خبر قدرے مبالغہ لگتی ہے ریاض تو خود مڈل ایسٹ میں اس وقت نظر آنے والے عدم استحکام کے سرچشموں کو پیدا کرنے کا سرگرم رکن ہے جن کی وجہ سے اس کے گرنے کی پیشن گوئی کی جارہی ہے
مرا خیال یہ ہے کہ یہ ٹھیک ہے اس وقت مڈل ایسٹ میں فرقہ واریت ، خون ریزی ، عدم استحکام ، جنگوں ، ھلاکت خیزیوں میں سعودی عرب کا اپنا بڑا ھاتھ ہے لیکن یہ درست نہیں ہے کہ ہم یہ کہیں کہ چونکہ یہ ساری خرابی سعودی عرب کی اپنی پیدا کردہ ہے تو اس لئے اس کے اقتدار اور طاقت کو کوئی خطرہ نہیں ہے غلط ہے بلکہ صحیح بات تو یہ ہے کہ آل سعود مڈل ایسٹ میں جو کھیل کھیل رہے تھے اس کے نتائج ان کی منشاء کے مطابق نہیں نکلے اور یہ منشاء کے غیر مطابق نتائج ہیں جس نے ال سعود کے وجود کو خطرے میں ڈالا ہوا ہے
ڈینئل نے اپنے مضمون کا اختتام اس جملے پر کیا ہے کہ
سعودی مطلق العنان بادشاہت مستقبل میں امریکہ کے لئے سود مند ہے ؟ یہ ایک ایسا پیچیدہ اور گہرا سوال ہے جو آنے والی کسی پوسٹ کے لئے بہتر ہے
امریکی جریدے فارن پالیسی میں ایک مضمون شایع ہوا
Meet the New House of Saud
یہ الزبیتھ ڈکنسن نے لکھا ہے اور اس مضمون سے ہمیں یہ پتہ چلتا ہے کہ سلمان بن عبدالعزیز بہت کنزرویٹو ہے اور وہ وھابیت پر سابق شاہ سے زیادہ یقین رکھتا ہے اور اسے سعودی عرب کی وھابی ملائیت پر مشتمل اسٹبلشمنٹ کی مکمل حمائت حاصل ہے جبکہ اس مضمون میں یہ بھی بتایا گیا ہے کہ شاہ عبداللہ کے برعکس شاہ سلیمان کی سعودی ریڈیکل وھابی نوجوانوں میں تیزی سے مقبول ہورہے ہیں
اب اگر ہم ڈینیل کے مضمون اور الزبیتھ کے مضمون کو ملاکر پڑھیں تو ہمارے سامنے یہ بات آتی ہے کہ سعودی عرب کے نئے بادشاہ نے ایک تو سعودی عرب کی وھابی ملا اسٹبلشمنت سے اپنے تعلقات کو بہتر بنایا ہے بلکہ اس نے مڈل ایسٹ اور اس سے باہر جنوبی ایشیا میں بھی وھابی نام نہاد جہادی جو کہ اصل مین تکفیری دہشت گردوں کے ٹولے ہیں کے ساتھ بھی اپنے تعلقات کی اوور ھالنگ کی ہے اور ترکی و قطر سے ملکر ان نام نہاد جہادیوں کو بطور پراکسی کے لئے اپنے مفادات کو نئے جوش کے ساتھ استعمال کرنے کا فیصلہ کیا ہے
پاکستان میں سعودی حکام ، امام کعبہ کی یاترائیں اور اس دوران ان کا دیوبندی اور سلفی لوگوں سے پے در پے ملاقاتیں بھی اسی جانب اشارہ کرتی ہیں
اس ساری پیش رفت کا ایک اور مطلب بھی ہے اور وہ یہ ہے کہ مڈل ایسٹ ، جنوبی ایشیا ، مشرق بعید میں آنے والے دنوں میں صوفی سنی ، شیعہ ، کرسچن ، یزیدی ، دیروزی سمیت وہ سب کمیونٹیز مزید تکفیری فسطائی قوتوں کا نشانہ بنیں گی جو ان کی یک نوعی ، تنوع مخالف آئیڈیالوجی سے اتفاق نہیں کرتیں اور سلمان بن عبدالعزیز ، محمد بن سلمان و محمد بن نائف اور عادل جبیر کی چوکور کے پراکسی کون سے چہرے پاکستان میں ہوں گے مرا خیال ہے مجھے بتانے کی ضرورت نہیں ہے
آخری جملہ معترضہ یہ ہے کہ کچھ نوجوان ناقد ایسے ہیں جو اپنے کسی مسلکی تعصب کی بنا پر بغیر تحقیق کے میدان میں کود پڑنے کے شائق ہوا کرتے ہیں ، اس لئے انہوں نے کل بھکر سیشن عدالت کے کوٹلہ جام میں شیعہ آبادی پر سپاہ صحابہ کے لوگوں کے بلوے کیس کا فیصلہ پر مرے تنقیدی نوٹ کا برا منایا اور ان کو لگا کہ دیوبندی تکفیری خوارج جیسے سپاہ صحابہ ہے اور جملہ دہشت گرد تنظیمیں جو ہیں ان کی دیوبندی و تکفیری شناخت بتانا فرقہ واریت ہے اور پھر یہ بھی کہا گیا کہ آخر مجھے زیادہ تر واقعات کے پیچھے دیوبندی ہی نظر آتے ہیں ، ان کو پہلے تو یہ تصیح کرنی چاہئیے میں نے ہمیشہ لفظ تکفیری دیوبندی لکھکر عام دیوبندی سے دہشت گرد تکفیری دیوبندی کو الگ کیا ہے اور باقی بات یہ ہے کہ جب 99 فیصدی دہش گردی کی وارداتوں کا کھرا دیوبندی تکفیریوں تک پہنچتا ہے ، اب میں ان کی اس شناخت کو کیسے چھپا سکتا ہوں