Civil society activist Sabeen Mahmud's cowardly murder in Karachi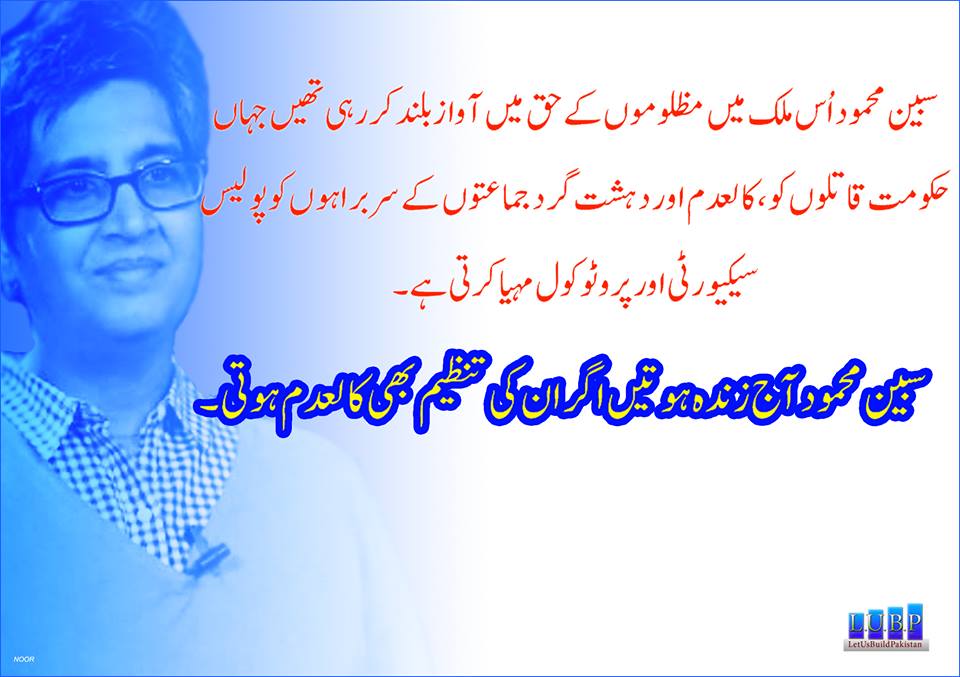 Prominent civil society activist, Sabeen Mahmud was murdered on the streets of Karachi. This was on the same day when banned Salafi and Deobandi terrorist groups JuD and ASWJ-LeJ took out pro-Saudi rallies in Karachi. The cowardly targeting of innocent civilians, including women and children, is a hallmark of these banned organisations. Progressive writer Mohsin Naqvi was killed in Lahore, Raza Rumi was attacked and now Sabeen has been assassianted. Rashid Rehman, who was the lawyer of blasphemy accused Junaid Hafeez, was killed in Multan for advocating blasphemy. In all previous attacks, banned Deobandi terror outfitss LeJ, ASWJ and TTP were found to be involved.
Sabeen Mahmud was the director of T2F (The Second Floor) – a cafe which hosts lectures, discussion, musical and art shows- therefore making her an unfortunate target of all the rogue elements in the establishment as well as their terrorist creations and foot soldiers like ASWJ. According to Asif Farrukhi, Sabeen had been receiving death threats for the past few years, especially from religious extremists and had also received a bullet attached to a letter. (Dawn)
While there has been an outpouring of  condemnations, including statements by the Sindh governments and allied parties,  questions remain unanswered.  Such as why were terrorist organisations with a record of boasting mass violence allowed to take out pro Saudi rallies all over the country, including Karachi where Sabeen was murdered on the very same day.  These rallies serve to embolden and mobilize takfiri terrorists such as those participating in the joint JuD, Deobandi Wafaq ul Madaris, Jamia Binoria and ASWJ-LeJ rallies in support of Saudi attack on Yemen.  It must be recalled that ASWJ-LeJ has targeted other activists as well.
"In the past two years, this group has confessed to as many as 16 target killings in Lahore on religious grounds, while six targets survived. Those killed include Dr Shabihul Hassan Hashmi on May 19, 2012 in cantonment; Syed Abbas Shah on May 21, 2012 in Hanif Park; Shakir A li Rizvi advocate on October 19 2012 near Lahore High Court; Syed Waqar Haider, a private bank manager on February 11, 2013 near Garden Town; Dr Syed Ali Haider and his son Murtaza Ali Haider on February 18, 2013 in Gulberg; Dr Muhammad Azeem Jafar on July 11, 2013 in Misri Shah; Mubasher Hussain Naqvi on August 27, 2013 near Railway Station; Arshad Ali Shah advocate on August 28, 2013 in Misri Shah; Ghulam Raza Jafry on October 22, 2013 in Mughalpura; Allama Nasir Abbas on December 15 near Garden Town; and Syed Ali Hussain Qizilbash on January 15, 2014 in Gulberg. The group also killed Khurram Raza Qadri of Pakistan Sunni Tehreek for being vocal against Taliban on May 3, 2013 in Tibbi city and attacked columnist and anchorperson Raza Rumi on his hard criticism of religious outfits." http://tns.thenews.com.pk/gang-arrested-lahore-sectarian-killing/#.VTrfqVblfwI
Will the Sindh government, and the federal government of the Saudi backed PM Nawaz Sharif answer this question.
"T2F had on Friday organised a talk on Balochistan: 'Unsilencing Balochistan Take 2: In Conversation with Mama Qadeer, Farzana Baloch & Mir Mohammad Ali Talpur.' Sabeen had left T2F after attending the session, when she was targeted.T2F, described as a community space for open dialogue, was Sabeen's brainchild. In an interview with Aurora, she referred to it as "an inclusive space where different kinds of people can be comfortable." Source
The Sindh Chief minister's statement in condemnation of this murder is not good enough.  This matter needs to be tackled at the highest level.  Prime Minister Nawaz Sharif must summon the agencies and hold all rogue elements of the establishment, who could have possibly carried out this cowardly murder, to account.  Between his so-called "anti establishment" credentials, his subservience to Saudi dictation and his soft corner for the ISIS-affiliated groups (ASWJ-LeJ), it remains to be seen whether the government can take serious action against the perpetrators of this horrible murder.
In Balochistan, ISIS-affiliated terror groups like ASWJ-LeJ have been used to target Shia Hazaras and Baloch nationalists.  They have also infiltrated the BLA and other Baloch groups (https://lubpak.com/archives/tag/takfiri-deobandis-of-balochistan) as was witnessed when Balochistan ASWJ-LeJ chief Ramzan Mengal led the funeral prayers of senior Baloch nationalist leader Nawab Khair Bakhsh Marri.
In conflict-ridden regions in the northwest and Balochistan province, the Taliban, Lashkar-e-Jhangvi and ethnic Baloch armed groups openly threaten reporters with death and attack them in retaliation for seeking to highlight their abuses or not promoting their ideology. Journalists in Pakistan's heartland of the Punjab have also faced threats from the Taliban and Lashkar-e-Jhangvi-linked groups." http://www.thenewstribe.com/2014/04/30/pakistani-journalists-under-threat-from-agencies-political-parties-amnesty/
Hollow statements by the government about meaningless inquiries are simply not sufficient. If this murder has been carried by rogue sections of the establishment via its usual ASWJ proxies, then such groups and their handlers must be held to account by Prime Minister Nawaz Sharif.
Comments
comments