A response to Najam Sethi's TFT editorial, "Terrorism of all hue" – by Laleen Ahmad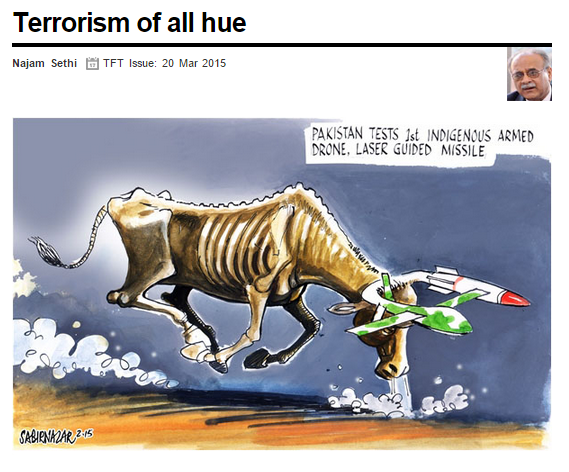 We at LUBP have never shied away from praising or criticising people based on our secular-humanist philosophy of live and let live. In our criticism or praise, we have never made any distinction between people based on race, religion, sect, or ethnicity. In the past we have criticised Najam Sethi for his blatant and unrepentant support of Takfiri Deobandis who have killed thousands of Pakistani Shias, Sufi Sunnis, Christians, Hindus, and Baluch nationalists. In return, Najam Sethi has tried to paint us unpatriotic.
We now take this opportunity to appreciate Najam Sethi for naming the Taliban/ Lashkar-e-Jhangvi as Pakistan's arch terrorists. In his latest editorial of The Friday Times (20 March 2015), he has written,
"The suicide attack on two Christian churches in Youhanabad, a working class suburb of Lahore last week in which fifteen people lost their lives is part of an orchestrated campaign of attacks on sects and minorities like the Shias, Hindus, Christians, Hazaras, Ahmedis, etc, by "Islamists" with avowedly sectarian agendas. . . . These attacks have been carried out by various "Islamist" groups of the Taliban or the Lashkar-e-Jhangvi."
After identifying the Taliban/ Lashkar-e-Jhangvi as killers of innocent Pakistanis, Sethi criticises the ruling elites of Pakistan for their complicity in the whole affair,
"The remarkable thing is the ruling classes and state institutions of Pakistan have turned a blind eye to such acts and remain completely unsympathetic to the plight of the victim communities. It is rare for the state and government to crack down on such Islamists or to successfully capture and prosecute the perpetrators of these heinous crimes against humanity, almost as if there is an unspoken conspiracy between the organs of the state like the police, bureaucracy, judiciary and civil society to "cleanse" the Islamist state of such deviants."

(Read the entire editorial here: http://www.thefridaytimes.com/tft/terrorism-of-all-hue/ )
These are commendable comments. However, there are a few points in Sethi's editorial that, sadly, do no justice to the thousands of Pakistanis killed by the terrorists. For instance,
The word "Deobandi" does not appear even once in Sethi's editorial. Who are the Taliban, Lashkar-e-Jhangvi, Sipah-e-Sahaba (ASWJ), other aliases? They are all Deobandis. By not naming the sectarian identity of the terrorists, Sethi's editorial seems to be hiding their identity.
No mention is made of Saudi Arabia, the mother of Islamofascist Salafi and Deobandi terrorists all over the world. If a source of a problem is not identified, there is little hope the problems will ever be solved.
Surprisingly, Sethi calls the Shias a minority. According to the Pakistan constitution, minority means non-Muslim. The Deobandi leaders have been calling the Shias a minority. By calling the Shias a minority, Sethi has, probably inadvertently, lent his support to the Deobandi claim that the Shias are a non-Muslim minority.
Sethi has made no mention of thousands of Sunni Sufis and Barelvis target killed by Deobandi Taliban, LeJ-ASWJ and affiliated terrorists in the last few decades. It is a fact that Sunni Barelvis and Sufis constitute the majority of Sunni Muslims in Pakistan whereas Deobandis, despite their higher numbers of madrassas and powerful lobby, are a numerical minority.
We hope that Najam Sethi will consider the above points and in the interest of Pakistan and his own profession, he will soon identify the Deobandis as the killers of Pakistani civilians, name Saudi Arabia for its support of international terrorism, and stop calling the Shias a minority. We also hope that in addition to LeJ, he will also clearly mention the ASWJ (Sipah-e-Sahaba) which is a public face and enabler of not only the LeJ and TTP but is also an affiliate of ISIS in Pakistan.
Comments
comments