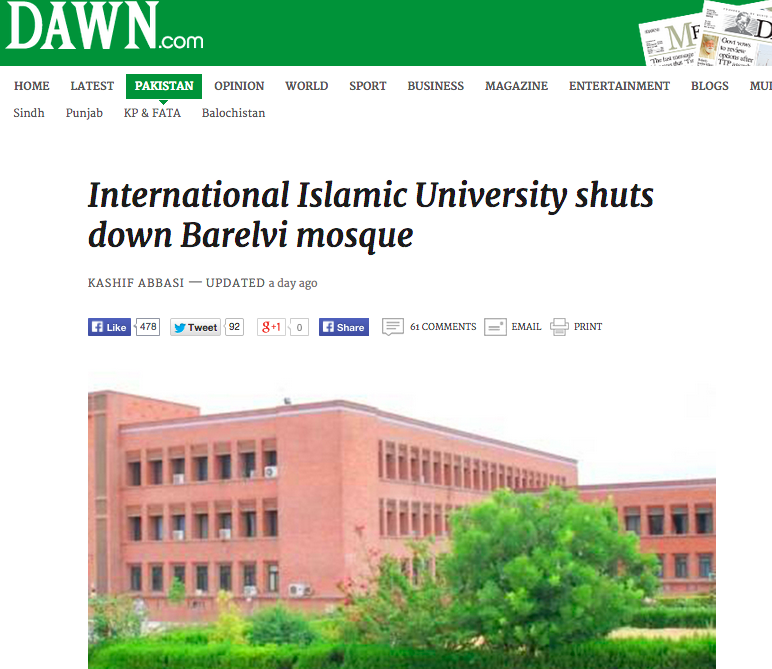 ISLAMABAD: On Friday, students at the International Islamic University (IIUI) Islamabad offered prayers outside the locked doors of a mosque, recently shut down by the university administration.
The administration recently closed down the decades old mosque aligned with the Barelvi school of thought. They claimed the decision had been made because of security concerns.
Students praying outside the closed mosque expressed resentment against the university's decision.
At the university's main mosque, where a large number of students offer Friday prayers, the sermon is only delivered in Arabic.
For the last seven years, students who associate themselves with the Barelvi school and others who wish to listen to the Friday sermon in Urdu, had been offering Friday prayers at another mosque located near the university entrance.
The mosque had originally been built by locals of the area, several decades ago.
In 2000, local people moved from the area after receiving compensation for their land from the Capital Development Authority (CDA) and the mosque was abandoned.
Students associated with the Barelvi school renovated this mosque in 2008 and began offering prayers here.
The IIUI Security Team recently shut down the mosque, citing security as the reason. However, the students took the matter to court. According to them, the court set March 24 as the date for the next hearing and allowed them to pray at the mosque, meanwhile. For several weeks, the students have been praying outside the locked doors of the mosque.
"Our mosque is safer than the main mosque but has been shut in the name of security," said a student member of Anjuman Tuleba Islam (ATI), the student wing of the Barelvi school.
He said that under the law, the university cannot stop students from praying at the mosque. Another student said the mosque was opened in 2008 and the university administration had no objection to it.
"We even requested the president to release funds for the renovation of the mosque but this was rejected. However, the university had no problem with us renovating the mosque," he said.
A spokesperson for IIUI, Haran Khattak, said the university treated all students equally irrespective of whether they associate with Salafi, Barelvi or any other school of thought.
"The mosque was shut down because of security concerns emerging after the Peshawar school attack. The varsity mosque is open for all students," he said.
Published in Dawn March 22nd , 2015
http://www.dawn.com/news/1171160/international-islamic-university-shuts-down-barelvi-mosque