Raza Rabbani as new Chairman Senate: Congrats to PPP Nawaz Sharif Group – by Ali Taj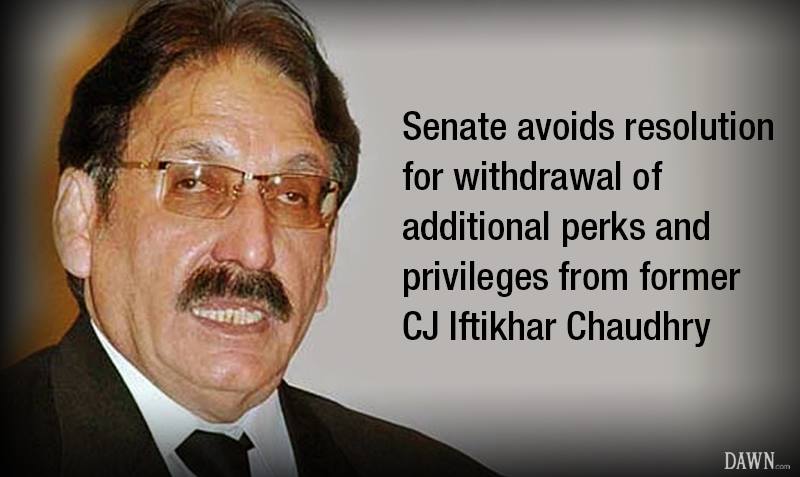 After PML N agreed to appoint another PPP opportunist, Raza Rabbani, as the new Senate chairman, it was also agreed to squash any accountability measures against the continuing corrupt of former CJP, Rana Iftikhar Chaudhary.
PPP (Nawaz Sharif group) has agreed to continue being PML N B-Team and the Senate dominated by PML N and PPP has agreed to let PCO Chaudhary off the hook. This is the same PCO Chaudhary who bashed PPP into abject submission will continue to enjoy illegal perks years after his 2nd retirement.
Raza Rabbani, like Aitzaz Ahsan is a career opportunist who likes to use the PPP platform for burnishing his own credentials. He never lets any opportunity go to remind a bored public that he drafted the 18th Amendment which in reality was mostly the vision of the late PPP chief, Benazir Bhutto. Back then, the PPP was still PPP unlike today, where under the stewardship of Asif Ali Zardari, Aitzaz Ahsan, Sherry Rehman, Raza Rabbani, Manzoor Wattoo and Rehman Malik, it is better known as PPP (Nawaz Sharif Group)
Raza Rabbani is the same PPP opportunist whose undignified sobbing at the establishment of military courts stands in stark contrast to his complete and utter apathy to the routine massacres of Sunnis, Shias and Christians by ISIS-affiliated Deobandi groups like ASWJ-LeJ, Taliban, Jundullah. These groups are after all in a political affiliation with PML N which has just awarded Raza Rabbani with another opportunity to squat in the Senate.
This is the same Raza Rabbani who along with Aitzaz Ahsan ALLEGEDLY engineered the ouster of outspoken Anti-Taliban PPP senator Faisal Raza Abidi from the Pakistan Senate. While Faisal Raza Abidi made a number of memorable anti-Taliban speeches from the floor of the Senate, Raza Rabbani far from supporting his then fellow Senator sat in stony silence. Both Raza Rabbani and Aitzaz lawyers, part of the (corrupt) lawyer's mafia, deeply resented former Senator Faisal Raza Abidi's fearless exposure of the disgusting corruption and nepotism of PCO Chaudhary.
After all, Raza Rabbani along with Sherry Rahman, is the same favourite of Pakistan's "liberals" who opposed the drone strikes that took out mass murdering bigots like Baitullah and Hakeemullah Meshud. Raza Rabbani, Sherry Rehman and Asma Jehangir are the types of "liberals" who remain absent when PML N allies like ASWJ are massacring Sunnis and Shias at mosques and Sufi shrines but jump up and down in protest when the ISIS affiliated terrorists are finally taken to task.
This is another day of shame for a party that used to be known as PPP. Today, they sacrificed yet another principle for a few scraps from the gluttonous PML N. The beneficiary of scrapping the anti-corruption drive involving the illegal perks being enjoyed by PCO Chaudhary is none other than Raza Rabbani and his boss Zardari
Comments
comments