Congrats to Bilawal, Sharmila and Zardari: PPP govt in Sindh registers case against Jibran Nasir, Khurram Zaki and other members of civil society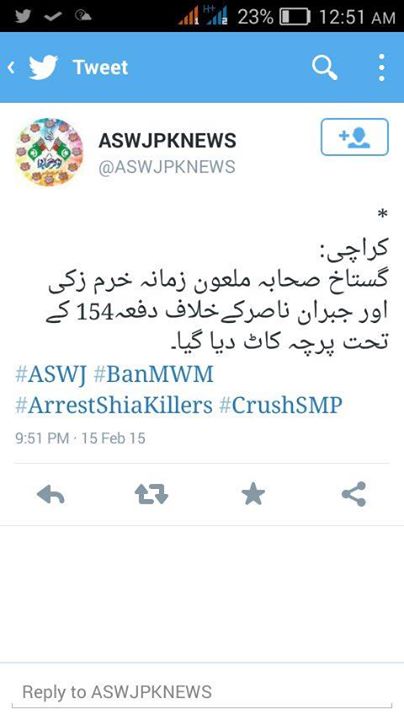 Another Shameful act of Karachi Police , case regisrered against Khurram Zaki and Jibran Nasir under PPC 154 on application of Head of deobandi terrorist organization ASWJ .
Before two days Molvi Ourang Zaib Farouqi gave a application to Karachi Police in which he nominated Jibran Nasir and Khurram Zaki as master mind and main culpirt of attack on his convoy in which his two gaurd slightly injured but he saved .
Karachi Police implicated Khurram Zaki and Jibran Nasir without any proof and evidences about their involvment in that supposed attack .Karachi Police was well aware that ASWJ is running a hate campaign against these both guys because both were very active in protests and deminstrations against hate mongering and anti Shia -Sufi Sunni activities and wall chalking despite a ban was imposed by Government on this organization and included its name in list of banned organizations of National Counter Terrorism Authority ( NACTA) . Civil Society led by Jibran Nasir has started against this clear violation of state laws and ban by ASWJ last three weeks in Karachi and demanding to take strict action against ASWJ .
Advisor of Sindh CM Sharmila Faruqui had made committment to take action against ASWJ , arrest Ourang Zaib Farouqi , wash hatemongering wall chalking and implement fully ban on this organization but still Sindh government did not fullfill its promises except to withdraw police security for Ourangzaib Farouqi.
In Karachi activists from different walks of life are going to support arrest Ourang Zaib Farouqi and implementation of ban on ASWJ fully campaign .
I got information that Women Foundation , Secular Pakistan , Peoples Communist Party , National Students Federation Sindh also are supporting to Jibran Nasir . Anees Haroon , Justice (r) Rashid A Rizvi , Karamat Ali of PILer , workers of Democratic student organization Karachi and other trad uninionists , teachers , doctors are also met Jibran Nasir and assured him to support his campaign against Shia killings , persecution of religious minority and takfiri fascists including ASWJ .
On Social media and through press releases banned organization ASWJ is propagating false and provoking things and calling Khurram Zaki and Jibran Nasir blasphemers , and disgracers of Sahabah radiullah anahum .
I fear that due to such provoking and instigating religious based hate propaganda someone from deobandi radical young person can kill Khurram Zaki and Jibran Nasir . Both,s lives are in great danger .
Civil Society , Progressive political left groups particularlly from Karachi now should come forward and show their solidarity with both persons and Support their campaign .
This is test for Civil Society .
This is test also for Sufi Sunnis and their organizations . Sunni and Shia clerics should also condemn takfiri and anti Shia -Sunni campaign of ASWJ and present clear demand for fully implementation of ban on ASWJ which is cover name of banned Spiah Sahabah .Karachi Civil Society , left circles and moderate Sunnis including Ahlehadees and Deobandis should not surrender in front of takfiri fascism and ASWJ and jointly demonstrate solidarity for Jibran and others who are target of takfiri fanatics and organizations like ASWJ.
There should be organise protests all over Pakistan while demanding fully implementation of ban on ASWJ and arrest of Ourangzaib Faruqi like protest against Molvi Abdulaziz of Red Mosque and there Should be uploaded video messages demanding arrest of Ourang Zaib and implementation of ban on ASWJ on facebook , twitter and other social networking websites.
Remember that we could not aware public in time in case of Salman Taseer and now there is serious threat for Khurram Zaki and Jibran Nasir from takfiri circles and we should not waste time .
I ask Human rights organizations like Human Rights Watch , Human Rights Commission for Pakistan , Ammensity International , Human rights commision of EU Union , Human rights cell of State Department of U.S.A to take notice of those provoking and sectarian propaganda made by ASWJ against Khurram Zaki , Jibran Nasir and serious life threats to these both persons.
Comments
comments