Jibran Nasir and Khurram Zaki's arrest: PPP Sindh govt reveals its colours – Express Tribune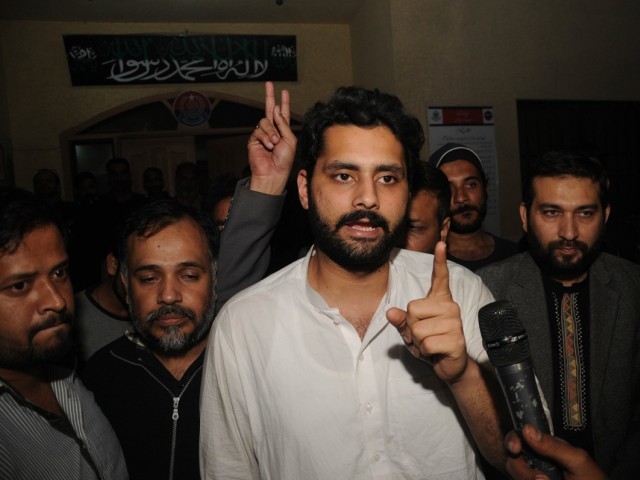 The brief detention of the civil society activist Jibran Nasir and 22 of his compatriots is illustrative and instructive. The detentions illustrate just where the forces of law and order stand, as well as the provincial and federal governments, and it is most definitely not on the side of members of civil society. Mr Nasir was leading a protest against the government's failure to act against the Ahl-e-Sunnat Wal Jamaat (ASWJ), which is a banned sectarian organisation. The rally led by Mr Nasir was a few hundred strong at most, whereas that organised and led by the ASWJ numbered in the many thousands. At the ASWJ rally, it is reported that threats were issued to members of civil society, as well as the Sindh government for terming the ASWJ a banned organisation. No threats were reported as emanating from the rally led by Mr Nasir other than his promise to continue his protest, as is his right. An ASWJ spokesman later denied that any threat were made.
One has to take with a very large pinch of salt the statement by Special Assistant to the Chief Minister on Culture Sharmila Farooqi that the provincial government would take "stern action" against banned organisations, including the ASWJ. The culture minister is all talk and little action. The term equally applies to the federal government and the much-trumpeted National Action Plan (NAP), which has evolved into a look-busy-do-nothing exercise populated by a proliferation of committees. As Mr Nasir commented after his release, allowing the ASWJ or any other banned organisation to openly carry out political activities is a violation of the law. It is, and unless and until the governments, both federal and provincial, decide to grow a spine and don the trousers that go with the job of responsible governance, they can expect little but derision and contempt. The attack on the Army Public School on December 16, 2014 was supposed to be a watershed moment, and the detention of Mr Nasir and others tells us just how wrong that perception is.
Source:
http://tribune.com.pk/story/834104/colours-revealed/
Comments
comments