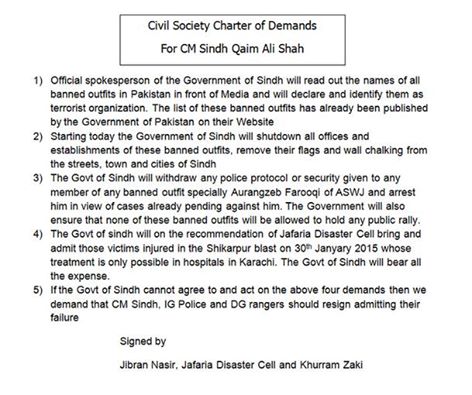 No, no. CM Sindh Qaim Ali Shah – whose district Khairpur is adjoining Shikarpur where 200 Shias were killed and maimed last week #ShiaGenocide – should not face any consequences!
Because as per the logic of Pakistan's Ahle Liberal Wal Jamaat, consequences are only for those who are in the cross hairs of Deobandi terror groups like ASWJ-LeJ/Taliban/Jundullah/Ahrar #DeobandiTerrorism
Like CM Punjab the Faiz reciting "anti-establishment" Shahbaz Sharif, CM Sindh, Qaim Ali Shah should be immune from the consequences of his government's role in facilitating ASWJ-LeJ and providing police security details to its leader, Aurangzeb Farooqi. Just like CM Punjab Shahbaz Sharif is being allowed to get away scot free for his complicity in the Model Town Massacre of Sunni Barelvis.
In the Ashari universe of Pakistan's Sufyani Liberals, all the privileged folks should be allowed to get away with murder! Because facing consequences for their acts of mass murder and genocide is "Revenge"
I request that this Charter of Demands should be Replaced with Hajjaji's Charter of Compromise.
1. Humans killed by terrorism – very sad
2. CM must notice this after he, Khurshid Shah, Wassan, Amin Faheem and Kaira have their photo op with Ludhianvi.
3. Shias must curb themselves. Now, if only 70 Shias are killed in one instance, 30 more must die otherwise Civil Society lights will not call this a genocide. Neither will ASWJ which had nothing to do with this because they were wearing Jundullah Niqabs.
4. Jeeay Bhutto. Jeeay Muhajir. Jeeay NGO. Jeeay Riyal. Jeeay Dollar.
5. Aaj bhi NGO motta hai, kal bhi NGO mota thaa.
6. All references to "Deobandi" must be removed. Jundullah are from outer space.
Note: Shias will not be allowed to take ownership of the protests about their own genocide because this will make them look very "sectarian". Better to brush them aside. If they get too uppity, use progressive cleric Tahir Ashrafi to threaten and harass them.