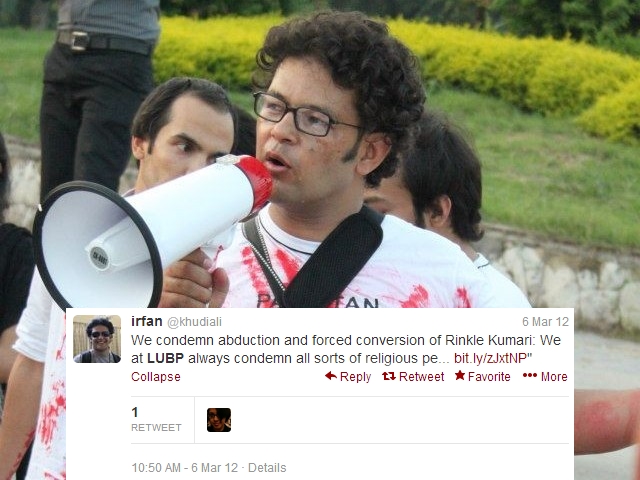 10th January is the death anniversary of Pakistan's leading human rights activist, Shia blogger, LUBP team member and fallen hero, Irfan Ali known as Khudi Ali.
Irfan was a regular contributor and supporter of LUBP, at times using a pen name, due to security issues facing Shia and Sunni Sufi bloggers in Pakistan at the hands of Deobandi takfiri terrorists. He was one of the most vocal voices against Deobandi takfiri khawarij of TTP-ASWJ-LeJ and their fake liberal comrades who continue to obfuscate Shia genocide and Sunni Sufi genocide at the hands of Deobandi terrorists. In this respect, he was one of the pioneers of the LUBP's discourse on human rights.
Throughout his life, Khudi Ali worked tirelessly to highlight the genocide of Shia and Sunni Sufi Muslims along with Ahamdis, Hindus, Christians and other persecuted groups at the hands of Deobandi takfiri terrorists of the Sipah-e-Sahaba (ASWJ) and Taliban (TTP). He was in particualr dismayed by those fake liberals who obfuscate the takfiri Deobandi identity of ASWJ-TTP terrorists and the Shia and Sunni Sufi identity of their victims.
10 January 2013 was one of the deadliest days in the history of Balochistan as more than 100 Shia Muslims including Hazara Shias and non-Hazara Shias were killed by Deobandi ASWJ terrorists in three blasts in Quetta. Among those killed by the second blast was Irfan Ali, 33, who was helping the injured. Just before his death, Mr. Ali noted on his @khudiali Twitter feed that he had narrowly escaped the first blast. Then he posted another message, registering his dismay that the group behind the attack had also succeeded in driving some Shia Hazara families out of their homes. The families who moved out, he wrote in his final words on Twitter, had "finally succumbed to the genocidal pressure" from the Taliban and ASWJ aka Lashkar-e-Jhangvi. It was, he noted, a "sad day for diversity in Baluchistan," the northwestern province that has Quetta as its capital.
On his death anniversary, we promise Khudi Ali's noble soul, that we will continue to follow his mission of raising voice for the genocide facing Shia, Sunni Sufis and other persecuted communities of Pakistan and will also continue to expose they tyranny of Deobandi takfiri terrorists and their elitist, fake liberal comrades.