Daish, ever closer – Kamran Shafi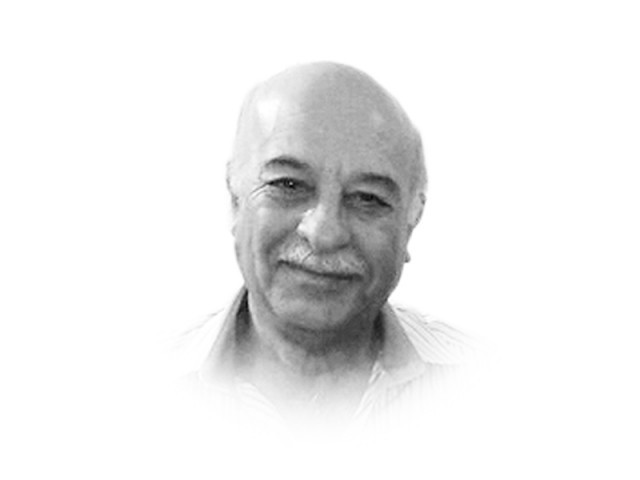 On October 16, 2014, I wrote on these pages under the title: "They come at you in convoys…" an account of what the police chief of Kirkuk, General Sarhad Qadir, had to say about ISIS/ISIL/IS which was attacking Kirkuk then: "So there! The chickens of the imposed Middle East conflict: Iraq; Syria, et al, coming home to roost. In their eagerness to topple the Alawite regime in Syria, Arab countries and Turkey and the Western allies turned a blind eye to terrorists crossing their borders into Syria for years now. Indeed, there were reports that TTP terrorists from Pakistan were also making their way to Syria. Little wonder, then, that the TTP has accepted Abubakr al Baghdadi as 'Amir-ul-Momineen'!"
I went on, "but let us come closer to home and consider just when our own TTP will morph into the 'IS in the subcontinent' (ISIS), just as al Qaeda has already announced an 'al Qaeda in the subcontinent' (AQIS)? Are we prepared for that eventuality, eh Gentlemen? For, after all, the 'goodies' are all here, in the Land of the Pure."
We began to get reports very soon thereafter of Daish wall-chalkings from virtually across the country, from places as diverse as Karachi, Sindh; Daska, Sialkot district, Punjab; and D I Khan, Khyber-Pakhtunkhwa (K-P). Whilst the various governments pooh-poohed the reports as rubbish, we learnt on December 16, '14 that 13 people were arrested at Main Market, Gulberg, Lahore, with "prohibited" literature and pamphlets under suspicion of writing slogans in favour of Daish.
They were said to be members of the Hizb-ut-Tahrir (HuT) which has wanted the Islamic Caliphate for years now, vowing to fly the Caliphate's flag atop Buckingham Palace for starters! As a reminder, the HuT was founded in Palestine in 1953, but was most visible in the UK in the early '90s under the leadership of Omar Bakri Mohammad who moved on to al-Muhajiroun, a sister organisation, which he founded with the help of Anjem Choudary.
So then, a few days ago word came from my village of Wah, Tehsil Taxila, Rawalpindi District, that Daish 'wall-chalking', well actually 'wall/gate painting' had appeared there. "Daish Is Coming" is the slogan. More detailed than just writing the name 'Daish', you will agree.
What makes this most critical is that Wah Village is situated bang smack in the middle of an area of great security relevance: To its east, at two kilometres lie the Pakistan Ordnance Factories (POFs), the site of a deadly suicide attack in August 2008 that killed over 75 people and horrifically injured more than 110 others. Note please, that the Tehreek-e-Taliban Pakistan (TTP) proudly accepted responsibility for this attack.
To its west at 20 kilometres, in Kamra, is the Pakistan Aeronautical Complex and the PAF base Minhas, which too was audaciously attacked by terrorists in August 2012, in which attack it was officially said that one aircraft had been destroyed and several people were killed. Unofficial accounts told of a higher number of aircraft destroyed and badly damaged. This attack was also claimed by the TTP.
This is not all: to Wah's north, 15 kilometres away is the Air Weapons Complex, a development and manufacturing facility for airborne weapons systems which, thankfully, has thus far been spared an attack.
However, we must immediately recall that at least six 'commanders' of the TTP, including its then spokesman Shahidullah Shahid, have pledged allegiance to the 'Caliph of Islam' Abu Bakar Al-Baghdadi Al Qureshi Al-Hussaini also head of ISIS/ISIL/IS/Daish, call them what you will. The 'commanders' are Fateh Gul, Khyber Agency; Mufti Hassan, Peshawar; Daulat Khan, Kurram Agency; and Saeed Khan, Orakzai Agency.
I might also point out that whilst there are reports that the murderer Maulvi Fazlullah and the terrorist mastermind Al-Zawahiri are "uncomfortable" with this show of loyalty to the Daish, and that, therefore, Shahidullah has been removed from the post of spokesman for the TTP, it has always been my belief that terrorists of this ilk are one and the same. They are 'joined at the hip' as I have always said. These little 'disagreements' are merely feints and stratagems to keep their victims destabilised and unsure.
So, is it not time to take the Daish threat seriously, particularly now that it is getting ever closer to important national institutions and establishments? Whilst I can already anticipate unbelieving and scornful sounds emanating from the Powers, I can only refer to an article I wrote in Dawn, published on April 14, 2009, fully five years before the Peshawar APS catastrophe:  (In hindsight, the piece was harsher than it should have been on the political establishment for security policies were then, as they are now, in 'other' hands).
A paragraph in the article reads: "… the COAS, Gen Ashfaq Kayani, says several weeks after the army handed Swat over to the Taliban that it was ready to face any threat, internal or external! Can you even believe any of this? What is happening to this country of ours; how long will we live in denial; when will we realise that if we don`t act now it will all be over; that the Taliban will simply take over the state using the shock and awe that comes from killing wantonly and cruelly?"
Now, friends, if the APS attack was not to kill 'wantonly and cruelly' (and heartlessly), what else was it? Yet, no one took notice of what I wrote until the TTP moved into a village in District Haripur, Hazara, K-P, and all hell broke loose, resulting in an army assault on the TTP in Swat, all but defeating it.
Exactly like the March of the Taliban, once again it has taken an atrocity like the APS massacre of innocent children to galvanise the nation; even prompting parliament to willingly hand over great powers to the military, powers that could be greatly misused against anyone.
Anyway, here we go: hoping that the new army leadership is as clear-eyed as we think it is. As I have said before, we have rather overstayed our welcome at the Last Chance Saloon and the turkeys are coming home to roost in their droves.
Source:
http://tribune.com.pk/story/818856/daish-ever-closer/
Comments
comments
Tags: Al-Qaeda, ISIS Daesh ISIL, Kamran Shafi, Pakistan Army, Peshawar School Attack, Religious extremism & fundamentalism & radicalism, Shia Genocide & Persecution, Sipah-e-Sahaba Pakistan (SSP) & Lashkar-e-Jhangvi (LeJ) & Ahle Sunnat Wal Jamaat (ASWJ), Takfiri Deobandis & Wahhabi Salafis & Khawarij, Taliban & TTP, Terrorism