PMLN supports LeJ – by Arshad Syed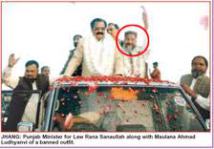 LeJ, banned sectarian organization, took responsibility for recent bomb blast at Quetta which killed innocents Hazara Shias. But more shameful thing I found is alliance of so called national political party PMLN with LeJ. What's the rationale behind this alliance & for what benefits PMLN is supporting banned organization LeJ. PMLN's Punjab government is providing safe havens to LeJ in Punjab where they are operating with impunity. It's been reported in media but PMLN's leaders are denying this alliance & are not naming LeJ for their heinous attacks in Quetta or anywhere.
PMLN's MNA Khurram Dastigar Khan & Ahsan Iqbal, PMLN official twitter account & PMLN Social Media activist Faiza are refusing their association with LeJ.
CM Shehbaz Sharif is reluctant to name & condemn LeJ.
When LeJ's leader was in jail his family was getting monthly stipend from PMLN's government
http://t.co/UGyRBnf7
Sheikh Waqas also told in TV show that PMLN is protecting & sponsoring LeJ.
https://lubpak.com/archives/244017
Najam Sethi also exposed nexus between PMLN & LeJ.
http://t.co/SDDlEh4k
For the sake of few seats PMLN made electoral alliance with LeJ.Despicable.
http://t.co/pbDhd2PE
https://lubpak.com/archives/229229

PMLN is also responsible for LeJ's crimes by their association with them.
Source:
https://arshad001.wordpress.com/2013/02/19/pmln-supports-lej/
Comments
comments