Ahmadiyya killings: Call for action against Aamir Liaquat Hussain and Geo TV – by Abdul Nishapuri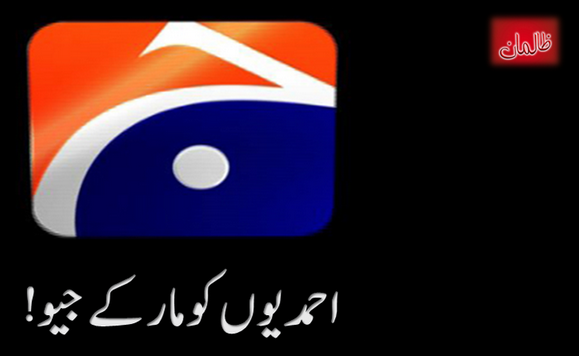 In the aftermath of blatant incitement to violence in a recent TV programme hosted by Aamir Liaquat Hussain, aired on Jang Group's Geo TV, an Ahmadi have been target killed in Pakistan by fanatic Sunni and Deobandi Muslims.
On Aamir Liaquat's morning show "Subh-e-Pakistan" aired on December 22, 2014, Sunni and Deobandi clerics accused Pakistan's peaceful and persecuted Ahmadi community of backing terrorism in the country while the Shia cleric insensitively nodded to such hate speech. The Sunni and Deobandi clerics labelled Ahmadis as "Jewish agents" and traitors in this inflammatory segment. They urged Muslims to unite against and recognize this "root cause of terrorism" in the country. This is yet another blatant attempt by Geo TV/Jang Group to divert attention from Deobandi takfiri terrorists of Taliban (TTP) and Sipah-e-Sahaba (ASWJ-LeJ) and incite violence against persecuted communities.
It's not the first time that Jang Group / Geo TV gave airtime to hate clerics who incite hatred and violence against Ahmadis, Shias, Christians and other persecuted communities. In the past, Aamir Liaquat (2008) and other Geo TV anchors including Hamid Mir, Najam Sethi and Saleem Safi have been regularly providing free air time to hate clerics namely Ludhyanvi, Fazl ur Rehman Khalil, Abdul Aziz, Mufti Naeem etc thus enabling massacres of more than 45,000 Sunni Sufis and Barelvis, 22,000 Shias and hundreds of Ahmadis and Christians.
We demand that Aamir Liaquat Hussain and all of those clerics who incited to violence against Ahmadis in his programme be arrested and prosecuted along with Mir Shakil ur Rehman (owner of Jang/Geo), Hamid Mir, Najam Sethi, Saleem Safi and other hate mongers and senior officials of the Geo TV network.
While Deobandi and Sunni Sufi clerics in Aamir Liaquat Hussain's programme wrongly and dishonestly attributed the Deobandi TTP-ASWJ terrorism to Ahmadis and Jews, the Shia cleric's insensitive nodding to such remarks was equally condemnable. Although the three points raised by the Shia cleric in that programme were not anti-Ahmadi per se, he should have clearly dissociated from the Deobandi and Sunni Barelvi clerics' hate remarks against Ahmadis and Jews.
People who were directly involved in hate speech against Ahmadis:
– Hamza Ali Qadri
– Muhammad Arif Shah Awaisi
– Aamir Liaqat Hussain
People who appreciated the hate speech indirectly or remained silent were:
– Muft Imran ul Haq Kalyanvi
– Qari Usman
– Shabir Hussain Meethi
– Muhammad Younis Siddiqui
– Mir Shakil ur Rehman
This hate speech incited violence and resulted in the target killing of a 27 year old Ahmadi Luqman Shehzad in Gujranwala on 27 Dec 2014. It is the same city where more three Ahmadis including two minors and a woman were burnt alive by a Deobandi mob a few months ago and not a single perpetrator has been arrested and charged by the Shahbaz Sharif administration.
Register your protest and trend #TakeAmirLiaquatToCourt #BanGeoTV #NoMoreHateSpeech on Twitter and Facebook.
Also, please sign this online petition aganst Amir Liaqat and Geo TV for their HIGHLY IRRESPONSIBLE and VIOLENCE INCITING air time.
https://www.change.org/p/pemra-hold-geo-tv-aamir-liaquat-accountable-for-hate-speech
Link tp the programme :
https://facebook.com/story.php?story_fbid=760044760738379&id=130730020336526
We suggest that the target killed Shias, Sunni Sufis, Ahmadis, Christians and other persecuted groups treat each other with respect and equality, support each other and refrain from disunity against each other and beware of Jang/Geo's plan to deflect attention from takfiri Deobandi kharijites of TTP-ASWJ-LeJ who are killing not only Sunni Sufis and Shias but also Ahmadis, Christians, Hindus and other communities.
While we condemn those Sunni Sufis and Shias who hate Ahmadis, we also condemn two fake liberal Ahmadis namely Malik Omaid and Tahir Imran Mian who continue to flatter fake liberal elites such as Najam Sethi, Beena Sarwar, Sherry Rehman etc and are working on an agenda to sow disunity in persecuted communities and deflect attention from Deobandi takfiri terrorists and their fake liberal comrades.
Any Sunni Sufi, Shia, Ahmadi or Christian who is maligning each other's sect helping the Deobandi plan to divert attention from TTP-ASWJ. Through the Aamir Liaquat Saga, Geo TV is tyring to divide momentum and focus on takfiri Deobandis. Victim communities must support, not attak each other. Ahmadis, Sunni Sufis, Shias, Christians etc may differ with each other but all of us must clealry condemn hate speech and incitement to violence against Ahmdis and all other sects and religions.
We loudly and clearly condemn murder of Ahmadis in Pakistan. We know the pain because we have lost 22,000 Shias and 45,000 Sunni Sufis at the hands of Deobandi takfiri terrorists.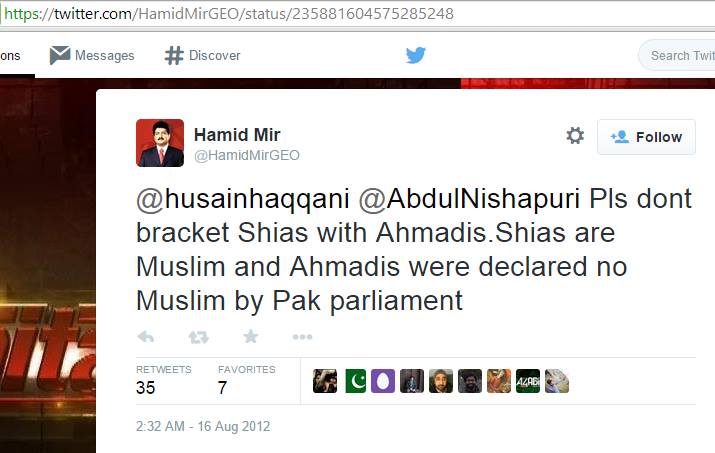 We are sharing Geo TV Hamid Mir's tweet as an exmple of how Deobandi Mafia/Geo Network wants to wedge differences among persecuted communities.
In plain words, Hamid Mir, the supporter of Deobandi ASWJ-TTP terrorists who killed more than 100 Ahmadis in Lahore and elsewhere and 22,000 Shias across Pakistan, is saying that: let my friends kill Ahmadis while they also continue to massacre Shias, Sunni Sufis, Barelvis and Christians.
This hypocrisy reminds us of some bigots who want us to treat Ahmadis as lesser equal than Shias and Sunnis. All mazlooms (opppressed) are equal and must unite against takfiri Deobandi terrorism.
We urge Pakistanis living in North America, Europe, Australia etc to lodge formal and legal complaints against Geo TV and its owners.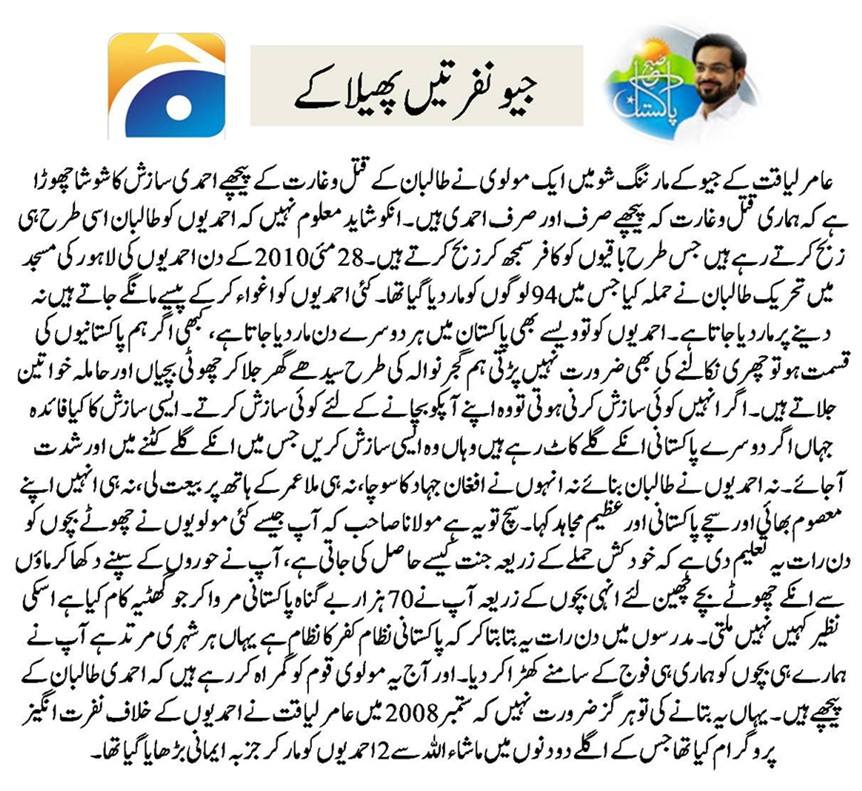 Extracts from: Taliban are Zaliman, CFRM etc
Comments
comments