Deobandi hypocrisy on the Blasphemy Issue
The mere hint of blasphemy allegations is a death knell for Christians, Shias and Ahmadis in Pakistan. However, there are clearly different standards for the powerful Deobandi establishment, which is the primary supplier of militants to various terrorist organizations like the Taliban, ASWJ-LeJ,
Jundullah, JeM, Ahrar etc. Not only can Deobandi mullahs get away with incitement to murder and Blasphemy – as per the law formulated General Zia ul Haq and Nawaz Sharif. They also get to pass incite more hatred against targeted communities like the Shias.
Junaid Jamshed, pop-star turned Deobandi proselytizer was caught on tape uttering unflattering historical details about a revered historical figure for Sunni muslims. His motive was to drive home his misogynist agenda. To quell the public outrage against him, the powerful Deobandi establishment swung into action. Not only did Junaid Jamshed get away with comments that would have lead to wide scale murders of Christians, Shias, Sunni Barelvis and Ahmadis. In close coordination with Binoria Media, Junaid Jamshed issued a statement where his sniveling apology served as a platform to incite more sectarian hate against Sunni Barelvis and Shias.
While Junaid Jamshed cools off in secular England, his Deobandi backers are busy in coordinating their efforts to incite violence against others. Maulana Jameel is busy meeting with the terrorist leaders of ASWJ-LeJ.
The Blasphemy Law is a tool used to shut down free speech in Pakistan. Its biggest beneficiaries are the powerful Deobandi lobby that is aligned with the PML N and uses this law to conduct pogroms against innocent Christians. ASWJ-LeJ (then known as Sipah Sahaba) used the Blasphemy Law in the mid-1990's to attack Christians and grab their property. The expansion of the Blasphemy Law to squash any criticism of Caliph Yazeed has also been undertaken by ASWJ-LeJ.
Nawaz Sharif changed the existing Blasphemy Law and converted it to an offense punishable by death. However, his ASWJ-LeJ never needed the Blasphemy Law to conduct their Genocidal campaigns against Sunni Barelvis and Shias. The estimated 20,000 Shia muslims and 10,000 Sunni Barelvi muslims killed by Deobandi terrorist groups like ASWJ-LeJ were not killed under the Blasphemy Law. They were killed in cold blood by terrorists who place themselves above the law.
This is one of the many questions that are barely touched upon – especially by the Fake Liberal Mafia with their cosmetic and selective activism on this issue.
This is the first instance that the law has rebounded on the powerful Deobandi establishment.  No one should be killed for what they say ; included misogynist sectarian bigots like Junaid Jamshed. However, with the Deobandi mafia backing him to the hilt, it is strange that he was allowed asylum in England. This is the same Junaid Jamshed how runs a constant campaign against the basic rights of women.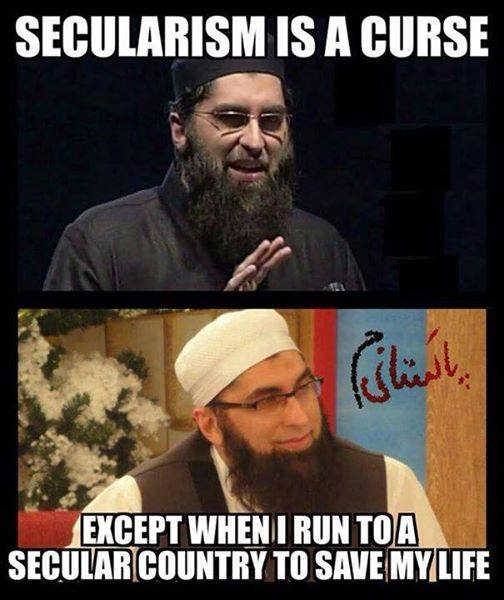 Comments
comments