I prayed for your success during Haj, ex-ISI chief told PM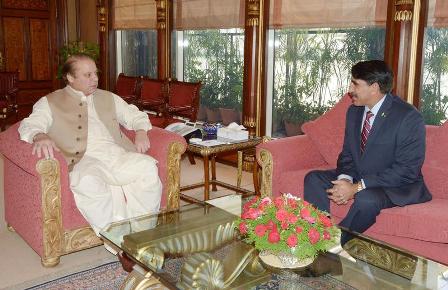 ISLAMABAD: "Sir, I take it an opportunity to tell you that I had prayed for you and your success during Haj," former ISI Director General Lt. Gen. Zaheerul Islam told Prime Minister Muhammad Nawaz Sharif during his farewell meeting at the Prime Minister's House on Nov 5, sources privy to the meeting told The News/ Geo News.
Donning the traditional Shalwar Qameez and waistcoat, Nawaz passed a smile and thanked the outgoing ISI boss.Sources claim that around a week back the prime minister asked super bureaucrat Fawad Hassan Fawad, a trusted DMG officer, to draft a letter thanking Gen. Zaheer for the prayers he had offered for him during Haj.Fawad drafted the letter and put it before the prime minister. The premier went through the text and signed the letter with his green-inked pen.
Source:
http://www.thenews.com.pk/Todays-News-13-34315-I-prayed-for-your-success-during-Haj-ex-ISI-chief-told-PM
Comments
comments