Daily Times and The Nation's editorials on Deobandi terrorism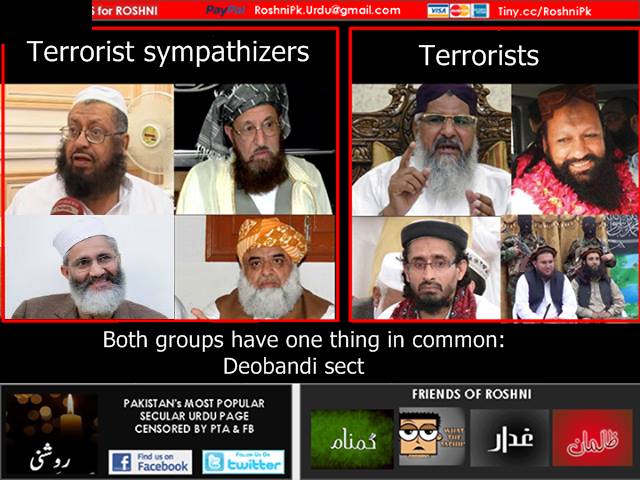 The Nation: Revolutionary Religion
With Operation Zarb-e-Azb in full swing, can a politicised silent Shia-Sunni majority challenge the prevalent status-quo sponsored narrative of religion? Tahir ul Qadri has pitted himself against more extremist Deobandi groups and sectarian issues boil just below the surface. The Shuhada Foundation of the Lal Masjid clique openly call him a terrorist while Qadri rejects any comparison of the Model Town massacre to the Lal Masjid incident. He says the Pakistan Awami Tehreek (PAT) workers are not demanding Sharia by force, ordering people to close down markets, banning female education, or restricting their free movement as is being enforced by their ideological brethren in the Middle East. With the rise of Dr Qadri, Deobandi hardliners and TTP sympathizers appear to be wary of the alliance of Shia and Sunni Barelvis… a rare occurrence. The Ahl-e-Sunnah-Wal-Jamaat (ASWJ), formerly Sipah-e Sahaba Pakistan, a Takfiri faction of Deobandis, has said this is an internationally sponsored conspiracy to start a civil war in the country.
Apart from using Qadri to balance PML-N in the Punjab by state created parties like PML-Q, Qadri has also been important for the MQM. His Barelvi support base can be instrumental in countering the Taliban influence and the militant Sunni Tehreek. PAT's struggle is as political, constitutional and democratic as PTI's and if compared with other religious entities, they have not attacked anyone nor made any threatening statements against the army. Rather, they are constantly expressing full support of the Zarb-e-Azb operation, and have portrayed their inclusive stance reaching out to the Majlis-e-Wahadatul Muslimeen and even Non-Muslim groups.
One of the biggest gripes that Barelvi mullahs had was that their madrassas and mosques were being forcibly occupied by Deobandis as they had greater money to spend and modern weapons to intimidate. Now the Sunni Ittehad Council, a large alliance of Sunni Barelvis that opposes the Taliban ideologically, supports him. His long march has been well organized and peaceful. His 10-point normative agenda is also clear. He wants social welfare and condemns terrorism (in his famous 600 word fatwa). What is questionable is the funding behind him, the actual extent of political power he has acquired and the sustainability of such a movement already laden with enormous opposition and structural thorns. As for huge public support, let us not forget that agencies can easily put processions together. Qadri is not in charge of a monolithic Barelvi movement as much as he would like to believe. The Barelvi vote does not follow closed-group dynamics so it is unclear how deep Qadri's tendrils are into the Sunni population.
Source:
http://nation.com.pk/edi…/18-Aug-2014/revolutionary-religion
Daily Times: Heads in the sand
November 19, 2014
With the defection of terrorist splinter group Jundullah to the Islamic State (IS), the growing IS presence presents a viable threat to Pakistan but officials continue denying a problem exists despite evidence of IS and its affiliates' global intentions. On Monday, Jundullah spokesperson Fahad Marwat informed the press that his group had met a three-person IS delegation and decided to back IS, saying: "They are our brothers. Whatever plan they have we will support them." Jundullah is responsible for the 2013 bombing of a church in Peshawar that killed 86 people and the massacre of eight foreign tourists and their guide at Nanga Parbat base camp last year.
The group has an anti-Shia agenda and claimed responsibility for the February 2012 Kohistan massacre, in which 18 Shias were singled out and executed after their bus was stopped by the terrorists. Jundullah's announcement throws further light on the confluence between IS and extremist groups in Pakistan that is quickly becoming an operational relationship. Pamphlets with IS literature were recently found circulating in Peshawar while on Monday police in Lahore arrested two men for spraying pro-IS graffiti on walls. The National Counter-Terrorism Authority reportedly sent a letter to law enforcement officials warning them to be wary of pro-IS messages being spread. Reports say that five of the militants killed in an attack on a Pakistan Air Force base in Quetta this August had returned from fighting with IS in Iraq. An official estimated that the group may have as many as 10-15,000 fighters in Pakistan and noted that IS's success has attracted Pakistani sectarian organisations to its banner. Despite these obvious warning signs, Interior Minister Chaudhry Nisar insisted recently: "There is no presence of IS in the country."
Nisar's statement typifies the inability of the security establishment to accurately gauge the threat of global terrorism. A decade ago similar statements were made about Taliban influence in Khyber Pakhtunkhwa, which was brushed off as hooligans burning DVD stores. The perpetuation of the extremist mindset and impunity for imposing their ideology led extremist malcontents to join the Taliban in droves, eventually turning their guns on Pakistan in an ideological war. For IS, Pakistan, with a history of religious militancy and a radicalising society, presents it with a strategic opportunity and a resource-rich nation that is susceptible to the terrorist narrative. One of the differences between al Qaeda-affiliated groups and IS is the latter's focus on a sectarian war with Shias, which was not an al Qaeda priority. IS shares this goal with Pakistani extremist groups that are categorised as sectarian but not 'anti-state'.
The question the security establishment must consider is whether so-called sectarian groups are not also inherently anti-state, as their existence challenges the state's legal monopoly on the use of force. The much discussed Deobandi-Wahabi ideological synergy plays an important role in preparing these groups for their role in a wider global war. They have the manpower and IS, recently categorised as the richest terrorist group in the world, has the resources, strategic thinking, popularity and a claim to ideological supremacy through its 'caliphate'. IS's claims of divine mandate are validated in the extremist view by its expansion in Iraq and Syria. In terms of global terrorism, its territorial gains and wealth are a quantum leap in capability and ambition. IS's success also came with bold tactical and strategic decisions that could inspire terrorists in other parts of the world.
This is the danger the group presents to Pakistan, but in an interview the other day, Advisor on Foreign Affairs Sartaj Aziz went so far as to ask: "Why should action against extremist groups that do not threaten the state be undertaken?" The willingness to ignore and deny clear threats indicates that the strategy to defeat terrorism does not include the state renouncing the idea of using terrorism as strategic leverage where necessary. This in turn provides extremist groups with leverage over the state. The state must carefully weigh the distinctions it is willing to draw between different terrorist groups and sectarian organisations. As recent events show, they are becoming increasingly linked operationally and ideologically. Right now Pakistan has the time to quash this synergy in its infancy; the alternative, continuing denial, is alarming.
Source:
http://www.dailytimes.com.pk/editorial/19-Nov-2014/heads-in-the-sand
Comments
comments