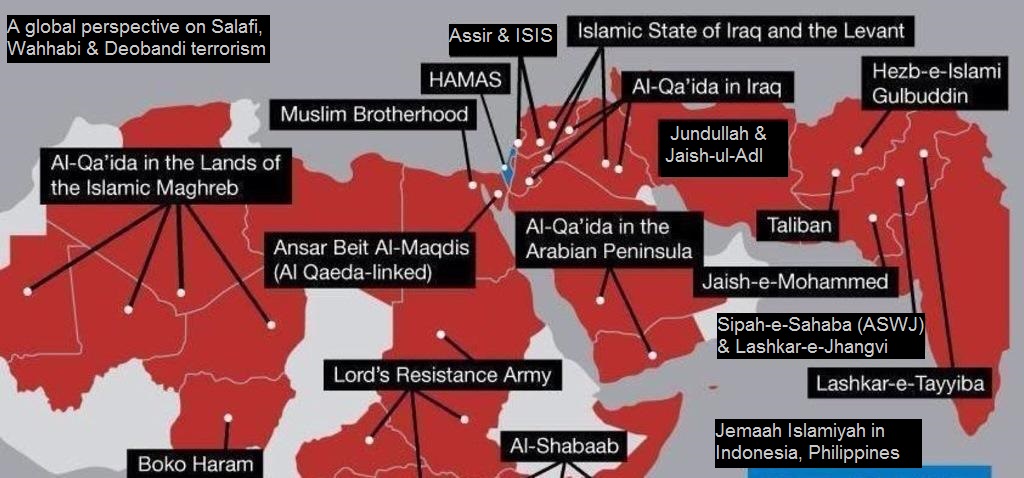 SRINAGAR/MUMBAI: The unexpected appearance of Islamic State of Iraq and Syria, or ISIS flags during recent anti-Israel protests in Srinagar has left government authorities, Sunni-Barelvi scholars and even Kashmiri separatists searching for answers.
Masked Kashmiri youngsters were seen carrying ISIS flags on at least two occasions: first outside the Jamia Masjid on July 11 and then on July 29, the day of Eid. The J&K police have so far been unable to round up the masked men who held up the outfit's flags during the recent protests.
Separatist leaders, expressing displeasure, said, "We're unable to control the youth who are drifting towards the Deobandi school of thought, which is more or less aligned to the Wahhabis," said a senior separatist leader. "This is a disturbing trend in the Kashmir valley, which is of predominately Barelvi thought. The trend may disturb the social fabric and trigger sectarian clashes in the future."
The Valley's Shia population, too, expressed unease. "We fear this may put our lives at risk since the ISIS leader is targeting the Shias, besides Islamic shrines and monuments," said Mirza Hussian, a resident of the old city in Srinagar.
In Mumbai, experts said Barelvi is not a sect. Barelvis are followers of Aala Hazrat Maulana Ahmed Raza Khan (1856-1921), a Sunni scholar from Bareilly in UP who fought against Wahhabism. These scholars like to be called Sunni-Barelvis.
"We oppose the Israeli attacks on Gaza, but are shocked at the appearance of ISIS flags in Kashmir during the protest on Eid," said Maulana Tauqeer Raza, a leading Sunni-Barelvi scholar and chief of Ittihad-e-Millat Tanzeem. "The ISIS jihadis are terrorists and can't be called Sunnis. They're defaming Islam and acting at the behest of the enemies of Islam. They've demolished shrines of prophets as they're opposed to visiting shrines of Sufis. Some Kashmiri youths might have got influenced by their ideology…"
Saeed Noorie, secretary of the Mumbai-based Raza Academy, a socio-religious institution established to propagate Barelvi thought, said, "ISIS has nothing to do with Islam. It's ideologically close to Wahhabis and harming the cause of Muslims. They call themselves Sunnis but act against the values taught by Sunni Islam. Its leader Abu Baqar al-Baghdadi is a self-declared caliph. But he's deceiving people and is a fake caliph because he lacks the qualities of a caliph."
Moin Ashraf Kadri, a Sunni leader, insisted on not being called a Barelvi but just a Sunni. "It's unfortunate and dangerous that some youths displayed ISIS flags in Kashmir," Kadri said. "ISIS is a terrorist group and its actions are anti-Islamic. They're killing innocent people and forcefully converting Christians, which is against the principles of Islam. Islam teaches compassion but ISIS is spreading hatred. They cannot be called Muslims or Sunni Muslims."
Source:
http://timesofindia.indiatimes.com/india/Pro-ISIS-stir-a-disturbing-trend-in-Valley-Separatists/articleshow/39450949.cms