Truth of Darul Uloom Deoband 's Fatwa against Terrorism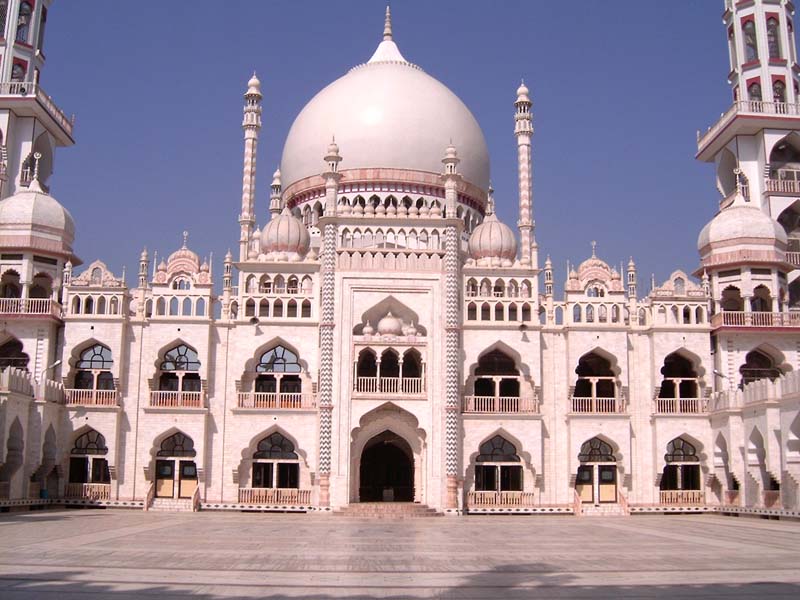 Deoband fatwa terms terrorism an enemy: All kinds of 'unjust violence' rejected
NEW DELHI, June 1: One of the largest Indian seminaries, which is said to have inspired the Taliban, has issued a fatwa against terrorism at a conference attended by thousands of clerics and students.

The Darul Uloom Deoband, a 150-year-old institute controlling thousands of smaller madressahs in the country, vowed to wipe out terrorism late on Saturday in New Delhi, an elderly rector said.

"Islam rejects all kinds of unjust violence, breach of peace, bloodshed, murder and plunder and does not allow it in any form," Habibur Rehman, a senior rector said.

The Truth of Fatwas-
Much hyped Fatwa and Anti Terrorism Conferences by Daul Uloom Deoband against terrorism have less depth and more Pomp Show.As it is well recognized fact that Taliban Ideology has its roots in Deoband teachings and its So Called Jehadis are studying in Deoband Madarsas of Pakistan , Afghanistan and Bangladesh .They have Continued their Illegal and Unjust Violence against Innocent People of South Asia on the Pretext of Islam.
The Double Standards of Deoband Madarasa are not hidden from the eyes of reasonable Person.As not even a Single just Person on the Earth will Support UnJust Violence against any One.
,Now the question is raised by not issuing a direct Fatwa against most active terrorist Organizations of South Asia Like Hizbul Mujahideen,Lashkar-e-Jhangvi,Lashkar-e-Taiba ,Sipah sahaba, Do the Darul Uloom Deoband want us to belive that these are engaged in Just Violence or These Outfits are not terrorist Outfits?
The Intention of Deobandi Clerics is not Honest behind Issuing this Media attracting Verdict.On the One hand they wish to go with the mainstream Muslims Who have rejected Violence but on the Other hand they are hiding the truth from the World about the Involvement of their Clerics and madrsas in terrorism.
According to Deoband fatwas the Killers and Murderers of Innocent Human beings should not be Muslims.And Islam dont preach Violence it is a religion of Peace.
So why it is hesitating to declare all these so Called Jehadi Outfits as terrorist Organizations and People behind those ghastly Incidents of Killing of Thousands of Innocent Muslims of Pakistan, India, Bagladesh as Non Muslims.
As fatwas of Darul Uloom are Followed in Pakistan also so It would have been better for Deoband to Publicize and propagate the Verdict in all its Madrasas and Masajids.
Terrorist Activities-
Sipah-e-Sahaba Pakistan (SSP), formerly Anjuman-e-Sipah-e-Sahaba, is a sectarian outfit involved in terrorist violence, primarily targeting minority Shia and Sufi Muslims in Pakistan. The outfit has also operated as a political party, having contested elections, and an SSP leader was a minister in the Coalition Government in Punjab in 1993. The SSP is one of the five outfits declared to be terrorist organizations by President Pervez Musharraf on January 12, 2002. After this event, the outfit changed their name to Millat-e-Islamia Pakistan.
The SSP came into existence in September, 1985, having broken away from Jamiat Ulema-e-Islam (JUI), Pakistan's main organization in the Deobandi school. It was founded by controversial anti-Shia cleric Maulana Haq Nawaz Jhangvi, Maulana Zia-ur-Rehman Farooqi, Maulana Eesar-ul-Haq Qasmi and Maulana Azam Tariq.
The SSP is also alleged to have been set up at the behest of the Zia-ul-Haq regime as part of the efforts to resist pro-democracy forces ranged against it.
The SSP was linked to Ramzi Yousef, an accused in the New York World Trade Center bombing of February 1993, captured by the US authorities in February 1995.
In 1996, the more radical elements of the SSP left to form the Lashkar-e-Jhangvi (LeJ), which is widely considered to be the armed wing of the Sipah-e-Sahaba, despite official SSP denials.
President Pervez Musharraf declared the SSP a terrorist organization on January 12, 2002, after which, the outfit changed their name to Millat-e-Islamia Pakistan. In 2003, Musharraf re-designated the group as a terrorist organization.
On October 10, 2005, Great Britain's Home Office banned Sipah-e-Sahaba Pakistan and fourteen other militant groups from operating in the United Kingdom. Under Britains' Terrorism Act 2000, being a member of a Sipah-e-Sahaba Pakistan is punishable by a 10-year prison term.
Many SSP cadres have received arms training from the Harkat-ul-Mujahideen (HuM) and the Taliban regime in Afghanistan. The organization is reported to be closely linked to the Jaish-e-Mohammed (JeM), a Pakistan-based terrorist outfit active in Jammu and Kashmir.
Although the SSP tries to maintain a political role, having a seat on Punjab's coalition government, it is still responsible for the murder of hundreds of Shia, killing not only prominent Shia people, but targeting Shia worshippers in mosques as well. The organization appears to hold Iran as a sponsor of Shiite outfits in Pakistan, and therefore the assassination of major Sunni Muslims is followed by the killing of Iranians in Pakistan as retribution.
When Maulana Masood Azhar formed the Jaish-e-Mohammed (JeM) in the aftermath of his release in Kandahar, Afghanistan, following the hijacking of an Indian aircraft in December 1999, Azam Tariq reportedly 'pledged' to send 500,000 Jehadis to J&K to fight Indian security forces. According to an October 2003 report in the Daily Times, 65 cases were registered against him, including 28 cases relating to terrorist acts.[http://www.satp.org/satporgtp/countries/pakistan/terroristoutfits/Ssp.htm].
[http://www.jamestown.org/publications_details.php?volume_id=411&issue_id=3213&article_id=2369166]
The Lal Masjid Jehad-
Don't we remeber the So Called rejected Jehad of Deoband Lala Masjid of pakistan on which Darul Uloom Deoband kept a Criminal silence.when people were discussing its legality and Validity of torturing general Muslims in the city Pakistan.The Lal Masjid incident was  nothing but a Open Challenge of the So Called terrorist looby against the Sate to destabilize it.
Barelwi Community target of Deobandi terrorism –
At least 57 people were killed and over 200 injured when a bomb ripped through a religious congregation in Karachi on April 11, 2006. Called to celebrate the birthday of the Prophet Mohammad, the congregation had been organised by the Jamaat Ahl-e-Sunnat, a Barelvi organisation that is opposed to Islamist groups affiliated to the Deobandi and Salafi traditions, such as the Jamaat-ud-Dawa, the Tablighi Jamaat.Experts believe that the bombers targeted Abbas Qadri, Amir or supreme leader of the Sunni Tehreek, a Barelwi organisation.In May 2001, murderous sectarian riots broke out after Sunni Tehreek leader Saleem Qadri was assassinated by the Sipah Sahaba Pakistan(SSP), a Deoband-affiliated terrorist group.

When the SSP's Karachi finance secretary was arrested after the murder of Sunni Tehreek chief Saleem Qadri , he revealed that his organisation received 32 lakh rupees a year from Karachi for the purposes of posting bail, assisting its imprisoned activists and the families of deceased activists. This entire amount was reportedly kept as "amanat" (safe custody) with one Maulvi Saadur Rehman, head of a religious school in Karachi and the withdrawals were made through written messages.source
Source:
http://sunninews.wordpress.com/2008/06/04/truth-of-darul-uloom-deoband-s-fatwa-against-terrorism/
Comments
comments