Geo TV and other channels must stop highlighting banned terror outfit ASWJ – Ahmed Noorani
Geo TV and others channels and newspapers are highlighting ASWJ activities breaking law. Official document declares that LeJ, SSP, ASWJ are banned terrorist organisations. Even PEMRA is silent. It is bound to stop media from promoting terrorism and these organisations are declared terrorist by Govt of Pakistan.
The continued promotion of banned Deobandi terrorist groups by Nawaz Sharif-backed JANG/GEO group is very dangerous for the Sunni Barelvi, Sufi, Shia, Christian and Ahmadi victims of ASWJ-LeJ-TTP terror. PEMRA has not taken any action; proving that once again that they do not operate independantly and are themselves a pliant organization in the hands of Saudi establishment backed PM Nawaz Sharif.

On this topic, we have not heard one protest from Pakistan's famed liberal champions. Not one statement by Asma Jehangir who continues to dent her credibility as a human rights campaigner by placing her corporate legal practice interests above those of human rights. Asma Jehangir represents Nawaz Sharif. Similarly, not one word of condemnation from Pakistan's Fake Leftists/Marxist posers/Civil society types. One would think that they would place the principle of protecting targetted groups above their sectarian prejudices but clearly not in this case. Or most others.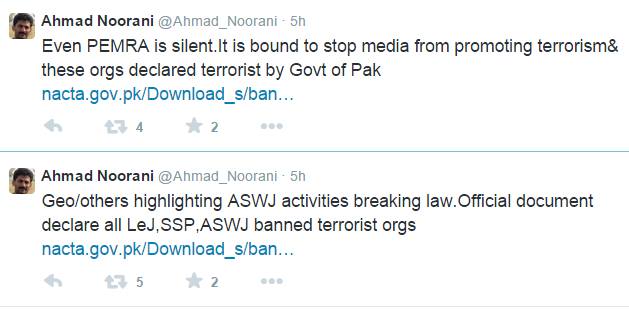 GEO has a history of promoting extremist Deobandi terrorist groups – a process facilitated by its stable of hacks like Ansar Abbasi, Najam Sethi and Hamid Mir. It certainly comes as no surprise to see them promoting banned terrorist groups like ASWJ-LeJ who glorify and celebrate their genocidal campaigns. They have a sordid past of promoting these organizations on a consistent basis. In line with their backers like PM Nawaz Sharif, they are notorious for being unabashedly in favour of Deobandi terrorist organizations like ASWJ-LeJ.

The blood of innocent Sunni Barelvis, Sufis, Shias, Christians and Ahmadis – the victims of the Deobandi ASWJ-LeJ does not seem to bother powerful, PML N-backed media corporations like JANG/GEO.
The misogyny promoted by the Taliban has some of its most vocal advocates in GEO.

Ansar Abbasi is one of Pakistan's most pro Taliban advocates – his claim to fame being his ability to glorify the inhumane crimes of the Taliban. His seeming justification of the Taliban whipping girls lives on in infamy. Next up is Hamid Mir; who besides providing unchallenged air time to the Taliban and their counterparts like the ASWJ-LeJ leadership, is also famous for his role in getting moles killed by the Taliban. Najam Sethi, a leading and powerful media operator, was one of the first people to provide airtime to ASWJ-LeJ chief, Ludhyanvi.

Some months back, when GEO was facing curbs due to its wild and unsubstantiated claims, Pakistan's commercially motivated "liberals" and self-anointed civil society made loud protests. Despite being a mouthpiece of the Taliban, corrupt judges and right-wing nut jobs, we at LUBP also voiced our protest at the curbs to media freedom. Even though the same Hamid Mir/GEO/JANG had slandered and attacked us from their powerful corporate pulpit.

When ARY and its popular anchor, Mubasher Luqman was banned by the Government for exposing its corruption, we registered our protest. The same "liberal" champions stayed mostly mute because of their subservience to the PML N regime.

We request our readers to raise this issue on social media and confront the (fake) liberal/lefty types on why they are not protesting or objecting to the promotion and glorification of banned terrorist organizations by their favourite media mouthpiece.
Comments
comments