سیکولر لبرل دوست اورعاشورہ – علی ناطق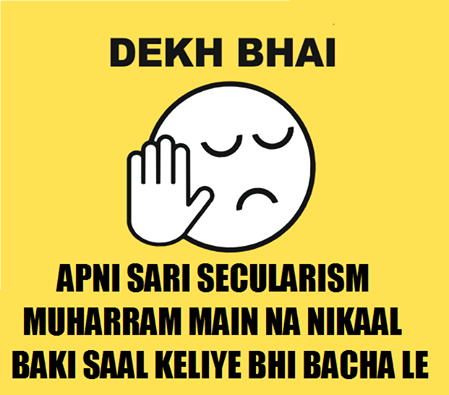 ایک سوال مرے ذہن میں کئی سال سے ہے پر کوئی جواب نہیں ملا. پچھلے سال بھی میں نے یہ سوال دوستوں سے پوچھا پر کوئی خاطر خواہ جواب نہ ملا. سوال ہمارے سیکولر لبرل دوستوں سے ہے. ہر سال مختلف مذاہب اور کمیونٹیز کے اہم دن آتے ہیں جیسے کرسمس، دیوالی، گرپورب، دسہرہ وغیرہ. ہمارے دوست بہت اچھا کرتے ہیں کہ یہ تہوار منانے کیلئے ہندو، مسیحی، سکھ بھائیوں کا یا تو ساتھ دیتے ہیں یا کم سے کم انکو مبارکی پیغام ضرور دیتے ہیں. بہت اچھی بات ہے.
نہ تو کرسمس منانے کیلئے آپکو مسیحی ہونا پڑتا ہے نہ دیوالی کی مبارک کیلئے ہندو مذہب پر یقین لانا پڑتا ہے اور نہ ہی گرپورب یا دسہرہ کا پرساد کھاتے وقت آپ کسی مذہب یا عقیدہ کو تسلیم کرتے ہیں. تو سوال یہ بنتا ہے کہ آپکے ہی ملک کے چار کروڑ لوگوں کے کیلنڈر میں سال کا سب سے اہم دن عاشور ہوتا ہے . اس دن بجائے تعزیتی پیغام اور عزاداری میں ٹوکن شرکت کے بجائے آپ سب کو نام نہاد سیکولرزم، مذہب مخالفت اور عجیب و غریب دانشوری کے دورے کیوں پڑتے ہیں؟
Comment by Abdul Nishapuir: I agree. Moreover, token greeting or condolence is less important than refraining from attacking and criticizing the Ashura rituals of Shias, Sunni Sufis, Hindus, Sikhs and Christians. This is not only a part of faith but also very much a part of local culture which should be appreciated and respected. Those who show humanity and kindness on Divali and Christmas should not lose their humanity on Meelad and Ashura.
Comments
comments