Once again, Shia Muslims massacred by Salafi Deobandi terrorists in Nigeria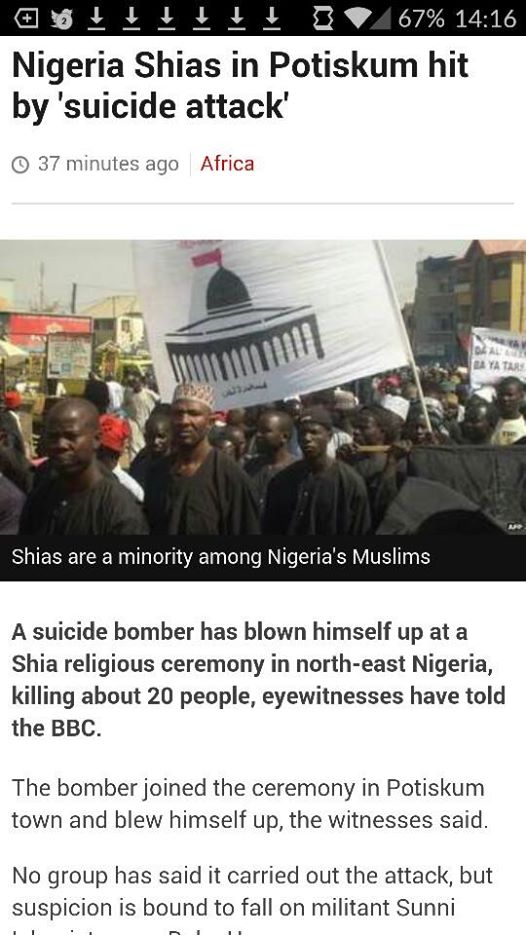 Today's tragedy in Nigeria where Shia mourners were attacked – yet again – by Salafi Wahhabi terrorist groups affiliated with the Boko Haram, is an apt reminder of the failure in specifically identifying terrorist groups. As long as we are using generic, sweeping and vague terms like "Sunni" "Islamist" instead of Wahhabi Salafi and Deobandi identity of terrorists, this is bound to happen and will keep on increasing.
Unfortunately, those muslims who pose as "liberal" champions in the West – like Tarek Fatah are the ones who abet such acts by consistently obscuring the specific ideology of extremist terrorists. It is propagandists like him who lump Shia, Sunni Barelvi/Sufi victims of Salafi-Deobandi terrorism in the same category as the Deobandi and Salafi perpetrators.
These are the intellectually dishonest mouthpieces who issue the odd token article on the attacks facing Shias but spend more time creating further hatred against Shias by actively promoting media materials that places Shias under greater threat.
A suicide bomber has killed 15 worshippers at a Shia religious ceremony in north-eastern Nigeria's Potiskum town, a Shia leader has said.

Security forces killed another five people after arriving at the scene and opening fire, he said.

The military has not commented on the allegation.

No group has said it carried out the attack, but suspicion is bound to fall on militant Sunni Islamist group Boko Haram.

It denounces Shias, a minority in Nigeria, as non-Muslims.

The bomber detonated himself after joining worshippers who were marching to mark Ashura, a solemn day when Shias mourn the martyrdom of Hussein, a grandson of the Prophet Muhammad, in 680 AD at Karbala in modern-day Iraq, witnesses told the BBC Hausa service.

A police officer at the scene who requested anonymity told the AFP news agency: "It was a huge crowd and many of them were affected."

http://www.bbc.com/news/world-africa-29882218


Mohammed Gana, whose brother was killed in the attack, said he counted 23 bodies at the scene. Another Potiskum resident, Abubakar Saliu, said soldiers started shooting immediately after the explosion, but it was not clear who they fired at or if anyone was hit by the gunfire.

Ashura marks the death at the Battle of Karbala more than 1,300 years ago of the prophet Muhammad's grandson, Hussein.

Boko Haram's five-year campaign for an Islamic state, which has killed thousands, is seen as the main security threat to Nigeria, Africa's biggest economy and its leading oil producer.

Omale said 26 of the Lokoja prison inmates freed in the Kogi raid had been recaptured. He did not comment on whether any of the escaped prisoners were Boko Haram members.

Nigeria's government announced last month that a ceasefire had been agreed with Boko Haram and that talks were under way in neighbouring Chad for the release of more than 200 Nigerian schoolgirls abducted in April by the Islamist rebels.

But although Chad, which is mediating, has said the negotiations are still continuing, a spate of recent attacks across north-east Nigeria by suspected Boko Haram fighters has raised serious doubts about whether a lasting peace pact can be achieved.

http://www.theguardian.com/world/2014/nov/03/nigeria-suicide-bomber-shia-muslims-potiskum

 
Source:
http://www.shiapac.org/2014/11/03/nigeria-shia-mourners-were-attacked-yet-again-by-salafist-deoabndi-inspired-khawarij/
Comments
comments