Baby Batool, the terrorist – by Riaz Al-Malik Hajjaji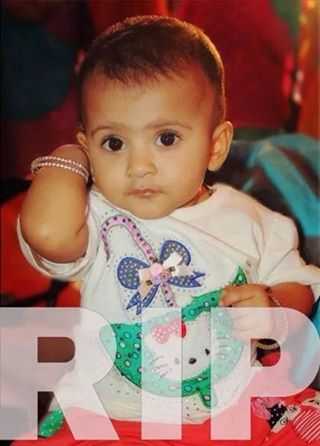 "Let me introduce this baby girl. These are the pictures of Batool. A girl, who was a terrorist i think. She belongs from a Kaafir (Shia) family. Last night, she travelled last from Federal B Area blk-5 to Aisha Manzil for Majlis e Aza. Then, some real muslims attack there and Batool lost her life in the age of just 09 months. 8 persons also injured in that attack. Anyway, Batool is no more now.
Batool!! I know you can see, read and hear. Listen to me. Dont be sad from everyone's silence. I can feel that if you have question in your mind that everyone, who supports or speaks for Malala, why not for You and Mahzar Zahra? So, keep in mind that you both are not good as Malala. Ok?? I cant write anymore. Takecare of yourself without beloved mother. Lots of Love, Hugs and Kisses. May God bless your soul in Shehzada Ali Asghar as, name."
Oh, this is a Shia baby from Pakistan who was killed by the Deobandi ASWJ-LeJ (Pakistani ISIS). Sorry for bothering you all. Go back to what you were doing. Better yet, please try and make up some dishonest argument that justifies this murder. She was probably an Iranian agent – because we all know that one of the best ways to justify Shia Genocide is to peddle that Shia = Iran. This tactic a favourite for some Muslim "progressives" "liberals" to stifle debate and misinform.
Comments
comments