HRCP's 2014 report on human rights: 200,000 Shia Muslims have shifted from Balochistan – by Abdul Nishapuri

LUBP's note: We welcome HRCP's report on human rights situation in Balochistan. We suggest that the report could become more effective and useful if there was a clearer mention of the faith identity of the most killed community of Balochistan, i.e., Shia Muslims of Hazara, Baloch, Pashtun, Punjabi, Saraiki and Mohajir backgrounds. At least 25% of Shia Muslim killed in Quetta and other parts of Balochistan belong to non-Hazara backgrounds. Also, the report should have provided some data on the systematic attacks on Sunni Sufi / Barelvi Muslims. The report should also make clear mention of the faith/sect identity of the terrorist group target killing Shias, Sunni Sufis, Zikris, Hindus etc, i.e., Deobandi terrorists operating as Ahle Sunnat Wal Jamaat (ASWJ), new name of the banned Deobandi terrorist outfit Sipah-e-Sahaba Pakistan (SSP) aka Lashkar-e-Jhangvi (LeJ). We also note that the report provides no statistical data on the total number of Shias, Sunni Sufis and other communities killed by Deoband takfiri terrorists in Balochistan in 2014 and before. This data is available through Shaheed Foundation and LUBP and further details can be provided upon request.
The report must also clearly mention the fact that Ramzan Mengal Deobandi, head of ASWJ Balochistan, enjoys full support of Pakistan army (FC, ISI), freely holds public rallies spewing sectarian hatred against Shia Muslims, and publicly roams with armed terrorists of ASWJ.
We hope that Asma Jahangir and Zohra Yusuf will consider our concerns and suggestions and issue a revised report to provide exact and accurate situation of the systematic genocide of Shia and Sunni Sufi Muslims in Balochistan at the hands of Deobandi takfiri terrorists. (end note)
*********************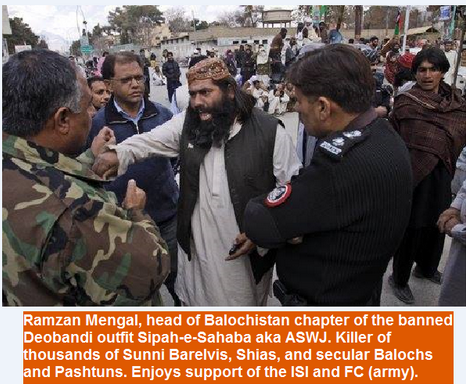 HRCP's Press Release
QUETTA (12 October 2014): Human Rights Commission of Pakistan (HRCP) while terming health, education and economic activities as disappointing said that banned religious outfits (in particular Deobandi takfiri terrorist outfit Sipah-e-Sahaba Pakistan aka ASWJ) were gaining roots in the province. No headway has been made for talks with separatists in Balochistan. Two hundred thousand Hazara Shia and non-Hazara Shia community people, one hundred thousand settlers and 10 thousand Hindu community people besides Supreme Court lawyers, former member of assembly, Christian community and Persian speaking tribe and Grade 19 and 20 officers have migrated to other provinces and foreign countries in view of prevailing situation in Balochistan.
This was stated by Chairperson Human Rights Communizing of Pakistan (HRCP) Zohra Yusuf at a Press conference here Sunday. Founder member HRCP and known lawyer Asma Jahangir was also present.
Zohra Yusuf said that participating in election by nationalists was a good step but as expected no headway could be made in talks with Baloch separatists. Problem of missing persons is a serious issue. It has minimized to some extent but still mutilated dead bodies were found.
Zohra Yusuf said that during past five years two lakh (200,000) Shia community, one lakh (100,000) settlers and 10 thousand Hindus have shifted from Balochistan. Mine workers were working under insecure conditions. Journalists entry into Civil Secretariat has been banned. Government has not taken sufficient measures for providing employment. Federal government should meet requirements of Balochistan.
She said HRCP was not allowed to go to affected areas of Kalat to take stock of massive graves. Owing to poverty and tension in situation people were headings towards civil war. Local Bodies elections were held in Balochistan in December last but this system has not been made functional yet. There is need to making this system functional.
A new process of targeting Zikri sect in Balochistan has started which is of grave concern. None of the 40 killers of journalists was caught so far. Under a plan banned religious organizations in were being strengthened.
It may be noted that banned Deobandi terrorist outfit Sipah-e-Sahaba Pakistan (ASWJ) under the lreadership of Ramzan Mengal freely operats in Quetta and other parts of Balochistan and is involved in targetted attacks on Shia, Sunni Sufi, Barelvi, Zikir, Hindu and Christian communities.
Zohra Yusuf said she had contacted Balochistan Chief Minister, Chief Secretary and Home Secretary to visit Tutak area of Khuzdar where reportedly 40 dead bodies were found but was not allowed to go there. Report presented by Judicial Commission HRCP is not satisfied with it because dead bodies of two brothers were found form Tutak.
She said migration from Balochistan was continuing and more than one lakh (100,000) settlers has shifted during the past five years while more than 10 thousand Hazara community has also gone. Among migrants included a former MPA.
Zohra Yusuf said people's expectations from positive changes under democratic system following 2013 elections were not met which has created disappointment among masses. Government could not start talks process with those sitting out of country. It should be started immediately so that situation in Balochistan improves and results of democracy reach to the people.
HRCP Chairperson was of the view that incidents of recovery of mutilated dead bodies and picking people illegally have reduced.
Comments
comments