Picutres of 3 Deobandi terrorists who tried to kill Malala Yousafzai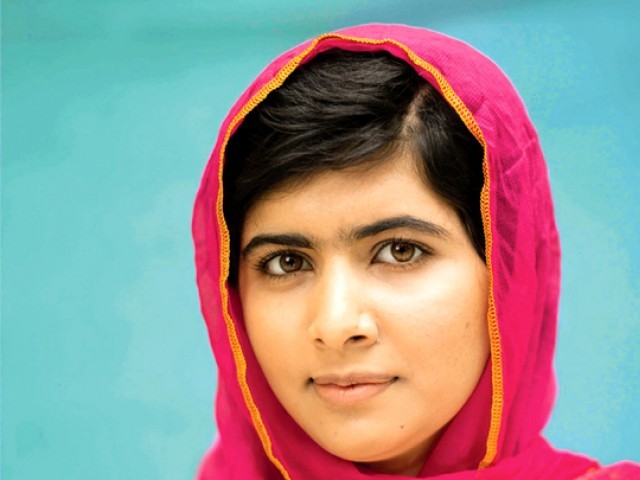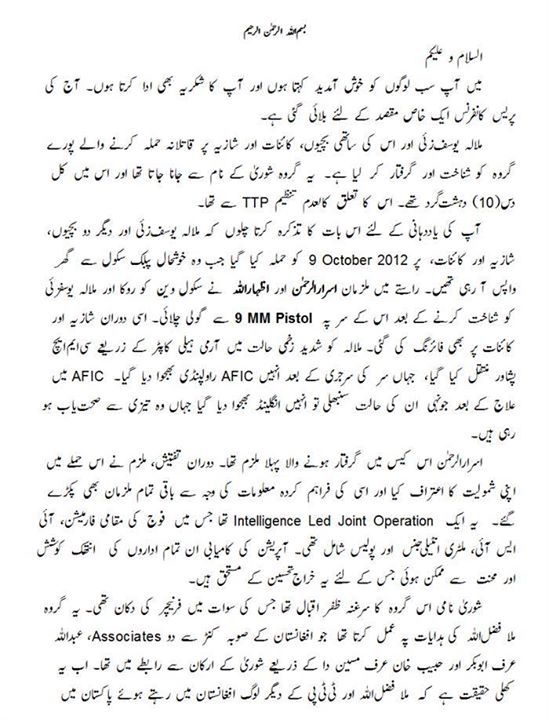 Press Release
No PR197/2014-ISPR Dated: September 12, 2014
Rawalpindi – September 12, 2014:
Statement – DG ISPR

1. Ladies and Gentlemen. Thank you very much for coming here. Today's press conference is on a single point agenda.
2. The entire gang involved in the murder attempt of Malala Yousafzai, Kainat and Shazia has been busted. The gang known as "Shura" comprised 10 terrorists and all of them have been arrested. The group was part of TTP.
3. It may be recalled that on 9th October 2012 Malala, Kainat and Shazia were attacked when they were returning from their school i.e., Khushal Public School. On their way back, terrorists Israr ur Rehman and Izhar Ullah stopped the school van and after identifying Malala Yousufzai, fired at her head with 9mm pistol, meanwhile Kainat and Shazia were also fired upon. Malala was evacuated to CMH Peshawar in critically injured condition by Army Helicopter. She under-went head surgery in CMH Peshawar and was subsequently shifted to AFIC, Rawalpindi. After treatment in AFIC, she was sent to UK for rehabilitation and further treatment.
4. Accused Israr ur Rehman was the first one to be apprehended. During investigation, he confessed his involvement in this case. On the basis of information provided by Israr ur Rehman, the remaining terrorists were also arrested. This was an Intelligence Led Joint Operation that involved Local formation, ISI, Military Intelligence and Police. The success of this operation is attributed to the hard work and tireless efforts of these agencies for which they deserve appreciation.
5. 'Shura' group was led by Zafar Iqbal, who owned a furniture shop in Swat. The group acted upon the instructions of Mullah Fazlullah, who, while based in Kunar, Afghanistan passed instructions through his two associates, Abdullah alias Abu Bakar and Habib Khan alias Maseen Da,. It is a known fact now that Mullah Fazlullah and other TTP terrorists in Afghanistan are involved in terrorists activities in Pakistan and are wanted by Government of Pakistan.
6. All ten terrorists from "Shura" are residents of Malakand.
7. During interrogation, the terrorists revealed that the plan was conceived by Mullah Fazlullah and Shura group was given the responsibility to execute it. The group also confessed its involvement in murder of Abdul Rasheed, watchman of Swat College of Science and Technology, back in November 2012. The terrorists also revealed that had they not been arrested, they had plans to murder 22 significant locals, including Aman Committee members and notables from Swat, according to the list, provided by Fazlullah.
8. The weapons used in these incidents have also been recovered. All terrorists will be produced before Anti Terrorist Court and would be tried under Anti Terrorism Act.
9. Operation Zarb e Azb is proceeding as per plan and the desired targets are being achieved. Alongside Zarb-e-Azb, operations are also being conducted across the country, in accordance with Integrated Security Plan and there have been significant successes. So far, more than 2200 operations have been conducted wherein 45 Terrorists have been killed and more than 120 hard core terrorists have been arrested.
10. Besides busting Shura Gang, terrorists involved in attacking Quaid-e-Azam Residency, Ziarat have also been arrested. Moreover, terrorists involved in attack on Quetta Airport and Khalid Aviation Base have been killed. The terrorists involved in Raiwind, Lahore and Naval Dockyard, Karachi attack have been arrested. These operations will continue till the menace of terrorism is completely eliminated from the country.
Comments
comments